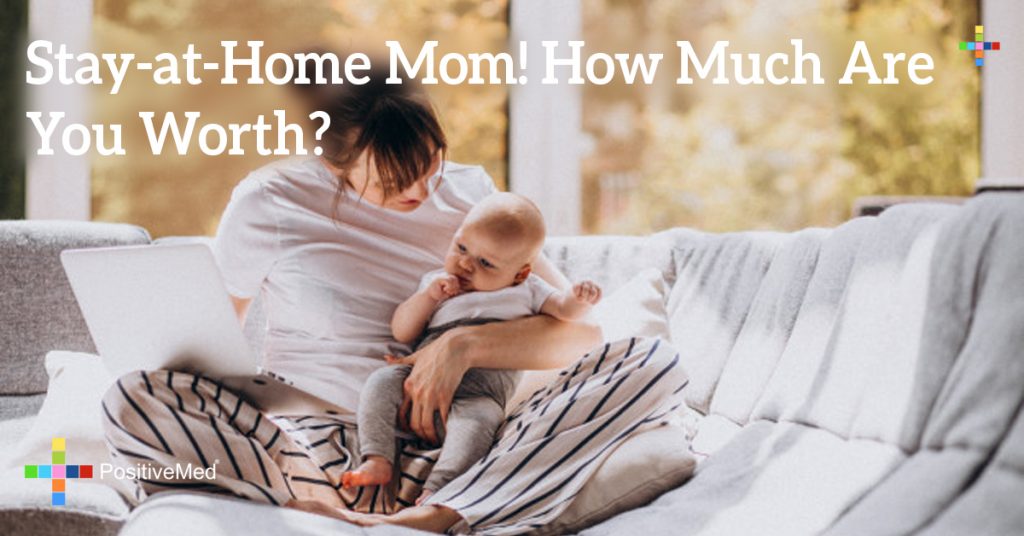 Stay-at-Home Mom! How Much Are You Worth?
Having children means making a lot of very difficult choices, right from the start!! New parents must decide who will be taking care of the children on a daily basis. A rising number of moms today opt to stay home and raise the children themselves. In fact, most recent studies show that 29 percent of US moms stay at home with their children. Often, women forgo a career to stay home and do the hardest job of their lives! The job of a stay-at-home mom does not end at 5 PM but rather is a round-the-clock, lifelong, 24/7 position! While these moms do not collect a formal paycheck, they are worth plenty. They earn more than money can buy!
It's midnight and you are awakened by a shrill scream. You arise from your bed faster than a speeding train and run to find a soaking wet toddler who just had a bad dream. You have to strip the child and the bed, run a load of wash, and comfort the child, pretty much all at the same time.
You sit at the dinner table trying to coax a 5-year-old that ketchup does not count as a vegetable and he must eat some of his carrots before he can have dessert. Meanwhile, you stare at your uneaten dinner, cold, as usual.
You collapse on the sofa, having not showered for a day and a half. You are turning the pages of a book for a preschooler, snacking on the banana that has become your lunch for the day, and texting a payment to the bank to avoid late charges.
If you recognize any or all of the above scenarios, you are probably a stay-at-home mom. While you may have worked in the corporate world and thought you had a challenging boss, stay-at-home moms know that they have the most demanding bosses around!
RELATED ARTICLE: IS COLLEGE WORTH IT? 10 WELL PAID JOBS THAT DON'T REQUIRE A COLLEGE DEGREE!
Stay-at-home moms realize that they are not collecting a formal paycheck but what do they really earn? Most importantly, they earn millions of hugs and kisses, endless love, and all the everlasting memories they create for their kids. If one tallies the figures, however, stay-at-home moms should be earning quite a large paycheck.
First off, he job description of a stay-at-home mom is daunting to say the least. It might list such obligations like cooking, cleaning, and chauffeuring. It might even go further and say that the applicant needs to be able to mediate arguments, entertain the "bosses" at all hours of the day or night, teach many new skills (i.e. using a spoon or even using the toilet!), and coordinate a variety of schedules all at once.
This "job" is one of the most difficult ones out there and one that many just can't do. Not only is it often physically difficult, such as carrying a squirmy baby for long periods, it is often a psychological predicament. Since they stay at home, many of these moms are physically isolated from other adults most of the time. Talking to the cashier at the grocery store can be the most stimulating conversation of the day! In fact, a Gallup poll reveals that stay-at-home moms have significantly more sadness, worry, and depression than those moms who work outside of the home! One possible cause of worry and stress may be the fact that stay-at-home moms typically have to find a way to provide health insurance for themselves. Some may be able to join a spouse's plan and others may purchase an individual plan, but both options are costly for a woman who is not actually earning a paycheck!
But, what do they earn? The website, www.salary.com estimates that a stay-at-home mom should earn approximately $118,000 in 2014. If you were to add up the costs of all of the services a stay-at-home mom provides for her family, you will be amazed to find how much it will total annually.
So, yes, stay-at-home moms work hard. They work more hours than any corporate employment would entail. They get no paycheck, but they earn so much love and make so many memories and raise children who benefit from all of their mother's attention. (www.gsb.stanford.edu). While not the job for everyone, stay-at-home moms are a huge asset to their childrens' lives!