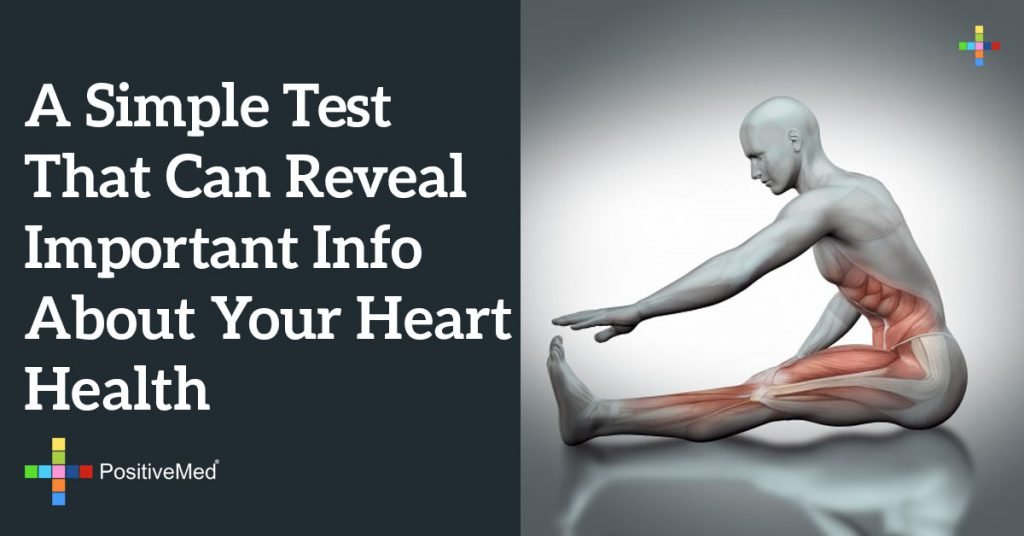 A Simple Test That Can Reveal Important Info About Your Heart Health
[nextpage title="…"]
If you are like most people, you care about your heart. You want to do everything possible to make sure it is healthy. That includes going to the doctor for regular examinations, eating foods that are good for your heart, and getting regular exercise. Avoiding smoking, getting enough sleep, and staying away from stress can help you to keep your heart at its best as well. You may wonder if all of your efforts are paying off. There is a simple test that you can do to check your heart and see if it is healthy. All it takes is touching your toes.
If You Can Touch Your Toes, You're on Track
It might sound strange, but touching your toes is a simple test that can reveal important insights to your heart health. You can try the test yourself. Simply sit down on the floor with your legs stretched out in front of you. Bend over and touch your toes. If you can touch your toes, you are headed in the right direction. If you have a problem, it could mean more than an issue with your flexibility. Your heart could be in trouble too.
RELATED ARTICLE: You Can Reduce Risk Of Heart Attack By Doing These 5 Easy Things
What Does Touching Your Toes Have to Do with Cardiovascular Health?
According to a recent study in the Journal of American Physiology, researchers discovered a possible correlation between flexibility of the body and the arteries. The primary focus was on subjects who were at least 40 or older. Those who could touch their toes were considered to be at less of a risk of having a stroke or heart disease. Those who couldn't were at greater risk because their lack of flexibility could be connected to hardened arteries.
[/nextpage] [nextpage title="…"]
Looking Beyond the Outside to Study the Inside
Participants in the study were all considered to have an average weight, ruling out any issues with obesity. They varied in age. Some subjects were as young as 20 while others were as old as 83. They were asked to sit on the floor and touch their toes. They were then classified as having a range of flexibility, beginning with poor and ending with high. The classification depended on how far they could reach when touching their toes. In addition to looking at outward observations, researchers measured blood pressure, pulse, and cardio-respiratory functioning. The end results indicated that subjects who were middle aged and had stiffness in their trunks were more likely to have hardening in the arteries and higher blood pressure.
RELATED ARTICLE: 7 Life- Saving Ways to Protect Women from Heart Diseases
What Does this Test Mean for You?
While more research will need to be performed in order to support the results of this new study, it does give you food for thought. If you are curious about your own cardiovascular health, you can try the test for yourself. All it takes is enough space to sit down and touch your toes. The further you can stretch, the more flexible you are, the more likely you are to have arteries that have maintained their elasticity.
You Don't Have to Accept Your Results
If you do the test and can't touch your toes, don't be alarmed. If you are under 40, researchers do not believe there is a correlation between the flexibility of your arteries and the flexibility of your body. Even if there is a possible connection and you don't pass the test, there is something you can do about it. You can begin stretching on a regular basis, through yoga and other activities in order to improve your flexibility. Stay away from smoking, get exercise, eat a balanced diet, and see your doctor regularly to stay on top of your heart health. Touching your toes is only the beginning. Having a healthy heart means making a lifetime of good choices.
[/nextpage]