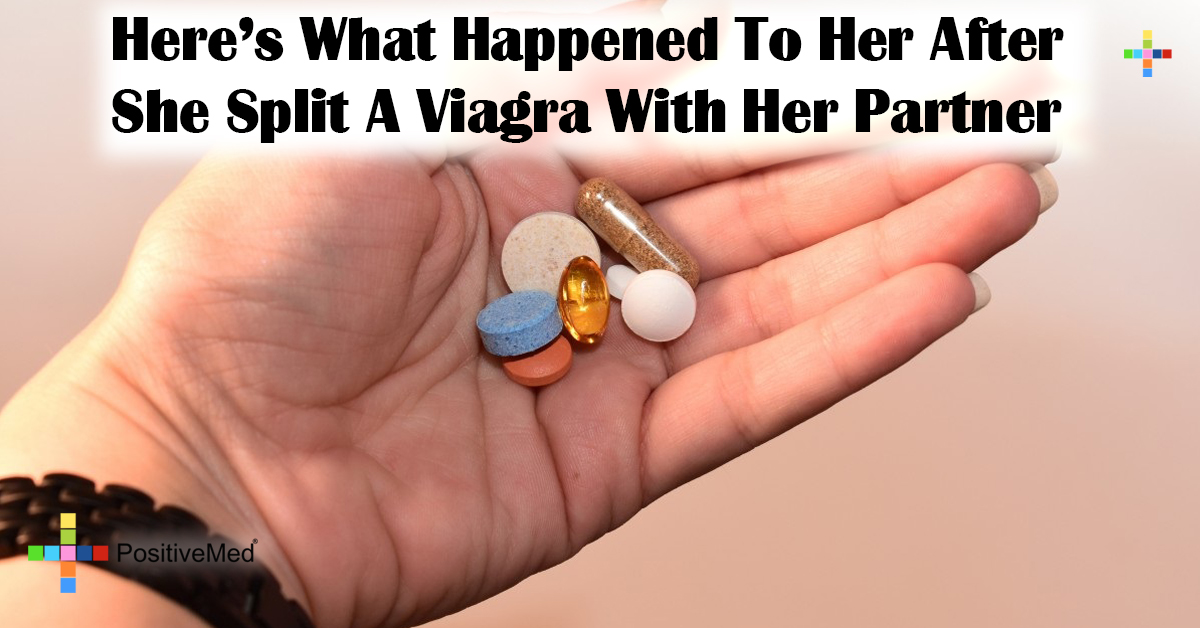 Here's What Happened To Her After She Split A Viagra With Her Partner
You know about Viagra. You've been inundated with commercials, magazine ads, and talk everywhere you go. You know that it's supposed to give a boost to men when it comes to performance in the bedroom. What you may not know is that Viagra actually has an effect on women as well.
According to ABC News, recent research suggests that the benefits that are experienced by men taking Viagra could be shared by women who take the drug as well. In a study that spanned the course of three months, 202 women took part in an experiment that involved the use of Viagra. All of the women involved in the study were either in full menopause or had a hysterectomy. Every participant in the study complained of having an arousal disorder that placed a strain on their relations in the bedroom. As part of the experiment, the women in the study took Viagra before each encounter in the bedroom. They reported that they had a much more satisfying experience after taking the drug.
Why Does Viagra Help Women as Well?
Viagra proves to be effective for both men and women because of its effect on blood flow in the body, including the reproductive parts of the body. The Superdrug Online doctor notes that this improved circulation increases a sensation of fullness, warmth, and enhanced sensitivity in the parts of the body that need it most when it comes to interactions with a partner in the bedroom. While studies have been inconclusive, results from one trial do show promise. Viagra could help women in a host of ways, such as in improving fertility and easing the symptoms of menopause. More research needs to be conducted for definitive answers. However, research to date is pointing to Viagra as a drug that could be beneficial to both men and women, no longer restricting it to men alone. Only time will tell if its use becomes widespread for women.
Learn from One Woman's Firsthand Experience with Viagra
In an interesting case involving Viagra and its effects on females, a young woman's boyfriend was about to use a Viagra pill for an enhanced experience in the bedroom. She didn't really think that her young man needed any help and then she had an inspiration. She suggested splitting the pill to see what would happen. It was a spur of the moment decision with no scientists, people in white coats, or laboratories, just two, young people in love. The woman was curious. She'd heard that Viagra might enhance her experience and she really wanted to tone down the experience for her boyfriend, a healthy man who truly didn't need any assistance from a drug when it came to that part of their relationship. After splitting the pill, they had an amazing night together. She couldn't help but wonder if Viagra was a wonder drug for men and women alike.
RELATED ARTICLE: 
What Happened the Morning After
The next morning, the young woman went to the bathroom, still in a state of pleasure after their wonderful night together. She returned to the bedroom to find a stunning sight. There, on the table at the side of the bed, were an assortment of pills, such as Aleve and vitamins. The Viagra pill was still waiting as well. In their haste and excitement, they had grabbed the wrong blue pill. She couldn't help but wonder if they had experienced the Placebo Effect.
Understanding the Placebo Effect
The Placebo Effect is often observed in scientific studies. Pills that contain no medication, known as the placebo, are administered to a control group while the others involved in the study take the drug that is being tested. No one knows who is taking a placebo and who is taking the actual drug except for the researchers involved in the study.
From that point, results are gathered to see what kind of effects participants experience during the experiment. What has been found to be remarkable is that many patients taking the placebo pills noticed positive results during the study. It appears that having positive expectations can actually stimulate a positive reaction in the body. In some cases, actual healing has occurred. This amazing process was observed in WW II when a nurse ran out of the powerful pain reliever, morphine. With nothing else on hand to relieve her patients, she used saline solution and told the soldiers that she was giving them a powerful drug to ease their pain. The results were phenomenal, helping her patients as they struggled with their terrible injuries.
What Does This Woman's Story Teach Others?
After the young woman experienced the Placebo Effect, she went on a journey of discovery, trying all types of methods to enhance her relationship with her boyfriend inside and outside of the bedroom. While she had positive results, she also found that it was exhausting. She even tried an actual Viagra pill and they had similar results. In the end, the woman would suggest that it is about balance, being willing to try new things, and having high expectations. Taking a Viagra now and then wouldn't hurt.