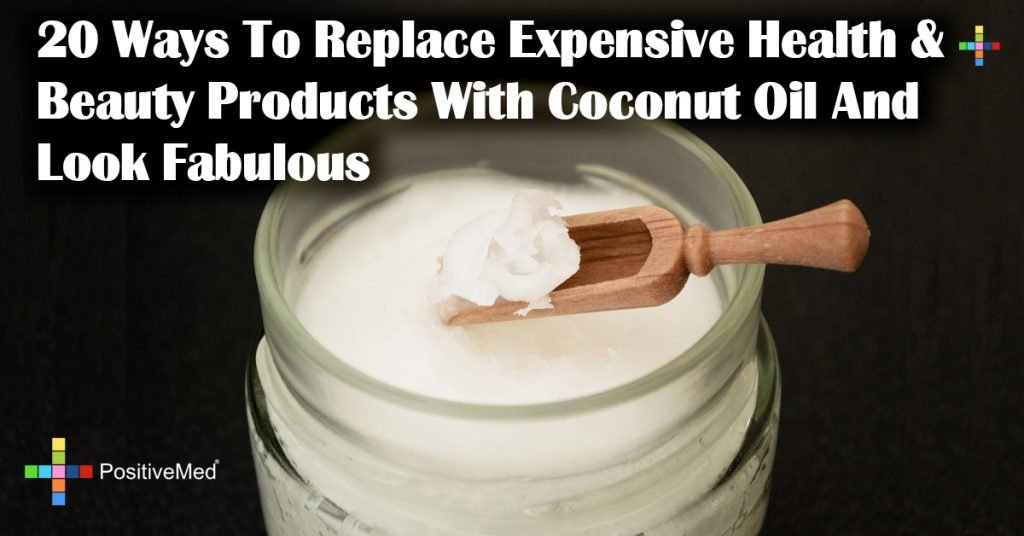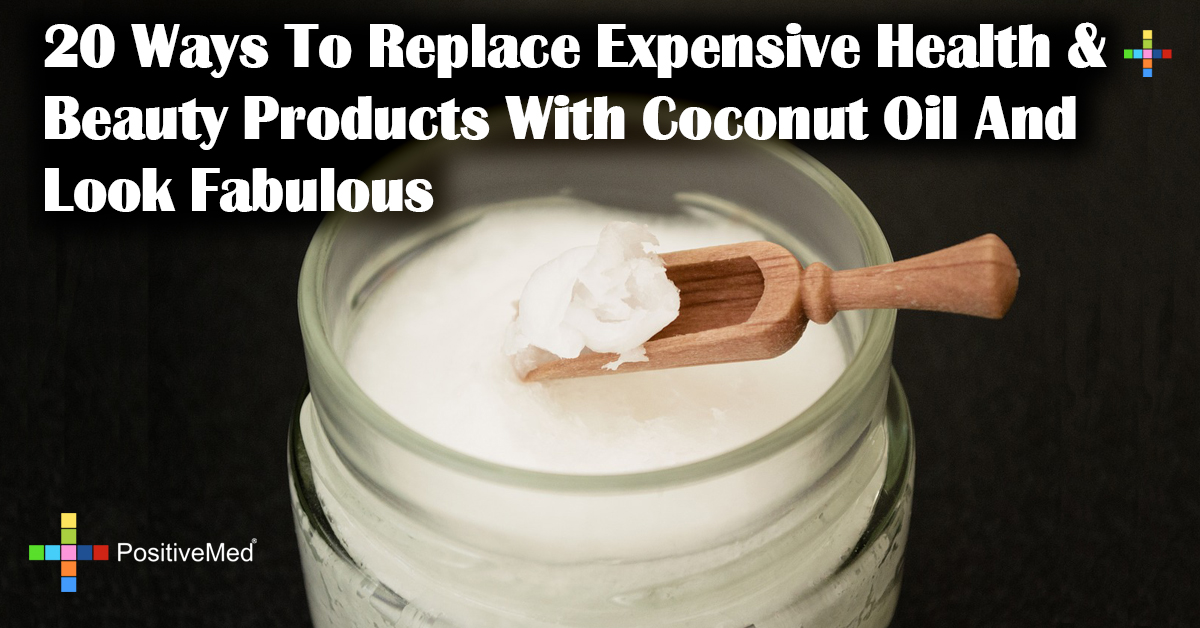 Several studies have been performed revealing the many health benefits of coconut. When incorporated into a daily diet, its properties can reduce the rate of seizures in children with epilepsy, promote heart health, fight off viruses, bacteria and fungi, and increase energy expenditure aiding in increased fat burning.
Considered a natural "superfood," coconut oil also offers many benefits when used on the body, as well as in it. Many people are reaping the cosmetic benefits that coconut oil has on the appearance of skin and hair. Studies have even shown that people with dry skin can improve the moisture and lipid content of their skin by using coconut oil. It is also excellent for preventing damage to hair and as a sunscreen.
20 do-it-yourself homemade coconut oil recipes are revealed below that are simple and cost-efficient ways to promote and maintain beautiful, youthful skin:
#1. Homemade Body Butter
To make a nourishing body butter for your skin; mix together coconut oil, shea butter, jojoba oil and an essential oil of your choice. Use it after a bath or shower to conceal the moisture in.
#2. Body or Facial Scrub
RELATED ARTICLE: The Many Benefits of Coconut Oil you Didn't Know About
Rejuvenate your skin cells while moisturizing at the same time. Simply mix together coconut oil and coconut sugar and apply the mixture a few times a week to reveal youthful skin.
#3. Body Oil
Studies show that coconut oil can heal dry skin. So, instead of using body lotion on dry areas, warm coconut oil in your hands and apply it to the problem spots.
#4. Cold Sore Therapy
Coconut oil's bacterial fighting properties were mentioned earlier. Keep your lips happy and healthy with dabs of coconut oil. This can help prevent and heal cold sores and relieve the discomfort associated with them.
#5. Cuticle Oil
Add coconut oil into your manicure routine at home. Applying the oil to the cuticles helps to ward off germs and makes your cuticles easier to maneuver back or cut.
#6. Body Detoxification
By adding a couple ingredients to your hot bath you can have the added benefit of eliminating toxins from your body. While preparing your bath, add ¼ cup of coconut oil and ¼ cup of Epsom salts. To pamper yourself even further, add a few drops of your favorite essential oil for aromatherapy.
#7. Dry Hand Relief
Our hands are exposed to various activities and weather conditions that are harsh on the skin. If your hands are suffering from very dry skin, remedy them with a rub of coconut oil. When finished, apply gloves to seal in the moisture affording smooth, soft skin.
#8. Face Wash
Put your best face forward by allowing the coconut oil to moisturize, provide nutrients and defend your skin from bacteria. By following this simple recipe, you will have an ample supply of face wash to maintain supple, beautiful skin:
Ingredients
• 1 cup coconut oil
• 1 tablespoon baking soda
• 5 drops lavender essential oil
• 5 drops frankincense essential oil
• 5 drops lemon essential oil
• Glass or Mason Jar
Simply melt the coconut oil in a pan using low heat. Remove from heat once it is melted and add the remaining ingredients. Store your do-it-yourself facial rejuvenator in an air tight jar in a cool location.
#9. DIY Lip Balm
Soothe and heal dry lips with antioxidant rich, moisturizing homemade lip balm.
Ingredients
• 1 tablespoon grated beeswax
• 1 tablespoon coconut oil
• A dash of raw honey
• 2 Vitamin E capsules
• Several drops of your favorite essential oil
• Lip balm tins
Melt down the beeswax in a double boiler. When the beeswax is only about half solid, add the coconut oil and honey. Blend together well when all ingredients are melted. Lastly, stir in the contents of the Vitamin E capsules, pour into containers and let them cool.
#10. Makeup Remover
Cleanse your eyes of makeup without store-brand irritating products and help reduce the appearance of wrinkles at the same time. Simply rub coconut oil into your eye lids gently and dab off makeup with a warm washcloth.
#11. Homemade Massage Oil
Avoid the expense of purchasing massage oil, while tailoring the scent to your own fragrance preference. Combine coconut oil with several drops of your chosen essential oil to relieve stress on both the mind and body.
#12. Night-Time Hydration
By simply applying coconut oil gently to your face before bedtime you are giving your skin exactly what it needs to remain hydrated and repair itself while you sleep.
#13. Dandruff Relief
Get control over your dry, flaky scalp without the chemicals from prescription or over-the-counter remedies.
Ingredients
• 2 teaspoons coconut oil
• 5 drops of lavender, wintergreen, thyme or tea tree essential oils (only 1, your choice)
Combine the two ingredients and massage into your scalp thoroughly. Cover your hair with a shower cap and add heat to intensify the effects by sitting in the sun or using a low heat blow dryer for 20 to 30 minutes. When done, remove the cap and wash hair normally. You can repeat this as often as you desire to keep your scalp moisturized.
#14. Shaving Gel
Give yourself a smooth shave without the risk of razor burn with coconut oil. Gently run it into your skin, shave and pat the area dry.
#15. Stretch Marks
During pregnancy or weight loss/gain, stretch marks can develop as the skin's elasticity changes. Gently rubbing coconut oil to your problem areas helps to fade stretch marks while keeping your skin well moisturized at the same time.
#16. Coconut Oil Cellulite Treatment
With only these three ingredients, you can win the battle against cellulite when combined with diet and exercise.
Ingredients
• 1 Cup Pure Organic Coconut Oil
• 15 Drops Young Living's Lemon Essential Oil
• 5 Drops Young Living's Peppermint Essential Oil
(The chemistry is not the same in all essential oils, so for this recipe the essential oils must be from Young Living's)
Combine the three ingredients in a glass bowl and mix with a metal whisk until the cream has a "whipped" appearance.
It is recommended to apply once daily after a shower of bath.
#17. 2 Ingredient Eye Cream
This is a simple, inexpensive way to relieve and rejuvenate tired and stressed-looking eyes.
Ingredients
• A small container of coconut oil (between a half to one ounce)
• 3 Vitamin E capsules
Place the container of coconut oil into the microwave for only a few seconds to allow it to begin melting, then stir in the contents of the Vitamin E capsules. When mixed well, place in the refrigerator to allow it to become solid again. Once at a solid state, the cream can be maintained at room temperature.
Another coconut oil cream for eye:
Ingredients:
Thyme essential oil – 2 drops
Vitamin E tablets – 2 blisters
Coconut oil – 1 tablespoon
Preparation And Use
Incorporate your thyme essential oil, coconut oil and vitamin E tablets in a small bowl and mix the ingredients very well.
Once you have mixed the ingredients pour it in a plastic container and refrigerate.
Just massage a little amount of the cream around your eyes two hours prior to bedtime. If you use too much, make sure to clean out the excess cream.
With regular use you will soon notice remarkable improvements in the appearance of wrinkles around your eyes, as they will be less visible.
#18. Homemade Deep Conditioner & Hot Oil Treatment
Many women swear by this recipe for hair health and beauty and never purchase in-store products again. You will need a small container as this recipe is for approximately a 7 to 8-ounce batch.
Ingredients
• 2 parts coconut oil to 1-part jojoba oil
• A few drops of tea tree oil
Start by stirring the coconut oil in a bowl to form a smooth, silky consistency. Add the jojoba and tea tree oils and beat with a whisk until it is thoroughly mixed. Store in a sealed container, such as a couple 4-ounce mason jars.
#19. Coconut Oil Toothpaste
Your teeth will not only benefit from the antimicrobial properties of coconut oil, but shine brightly too, as coconut oil is a natural teeth whitener.
RELATED ARTICLE: She Switched From Conventional Toothpaste To Homemade Toothpaste For 2 Weeks. This Is What She Found
Ingredients
• 6 tablespoons baking soda
• 6 tablespoons coconut oil
• 25 drops of essential oil (Your choice, eucalyptus for minty, grapefruit for citrusy etc.)
• 1 teaspoon stevia
Simply mix all ingredients until it forms a light, creamy texture and store in a mason jar.
#20. Coconut Salt Foot Scrub
This is a simple and cost-efficient way to sooth dry and cracked heels naturally.
Ingredients
• 1 cup coarse salt
• ¼ cup coconut oil
• ¼ cup Vitamin E oil
• 3 to 4 drops of your favorite essential oil
Mix all the ingredients in a bowl and stir until mixed well. Also, coconut oil becomes solid when cool. The scrub is still effective, but you may heat the jar in warm water to restore the coconut oil to liquid form.
As you can see, there are several ways you can supplement or even replace some of your health and beauty products. When you follow a recipe, you not only have enough product for yourself, but in some cases there is plenty left to share with friends or family members. Everyone should have the benefit of knowing not only the health benefits of coconut oil, but the beauty benefits as well.