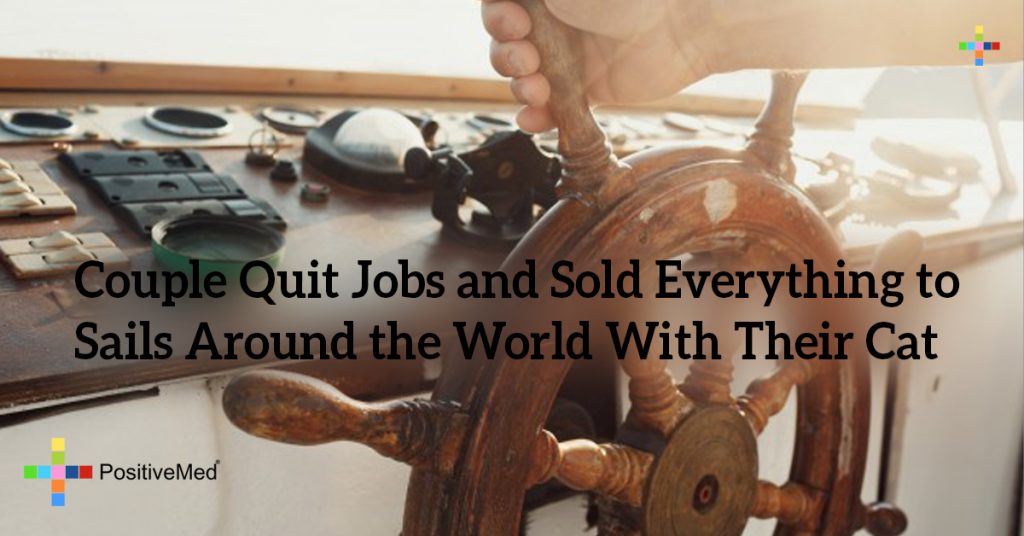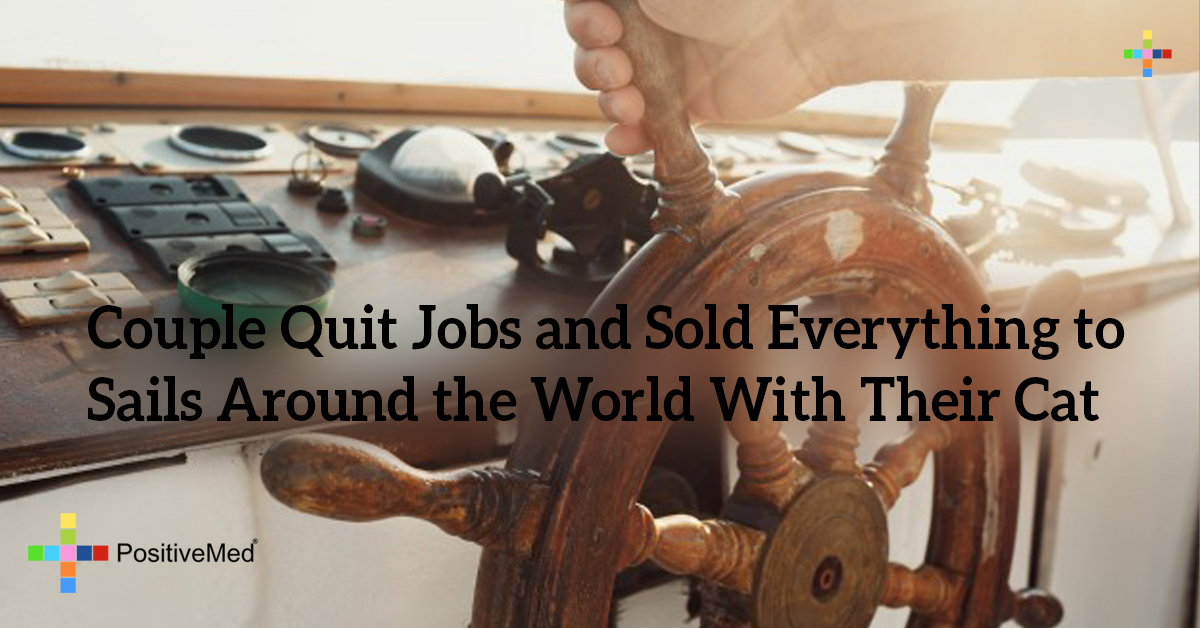 Couple Quit Jobs and Sold Everything to Sails Around the World With Their Cat
Once upon a time, Matt and Jessica Johnson were a typical couple. Describing themselves as subscribers to an "all-American" life, they met, got married, settled into their careers and even adopted a pet cat named Georgie.
Then they decided to quit their jobs and explore the world in a sailboat.
According to Jessica, they were growing increasingly bored with their 9-to-5 lives. They weren't exactly unhappy, but they realized that they were spending all day at work and all weekend "in front of the TV without ever doing anything productive."
Deciding on a Change of Pace
The idea of living on a sailboat came to them while they were out on Lake Michigan one day.
"Matt would look at the sailboats on the water," Jessica says, "and comment on how he'd like to try that someday."
Spurred by a mutual desire to shake themselves out of their existential stupor, they decided in 2008 to quit their jobs, spend all of their savings on a sailboat and explore the world at their leisure.
"We [could] either get a piece of property or spend the money to get a sailboat," Matt explains.
Living on the Water
As of 2015, Matt and Jessica have visited more than a dozen countries, including Cuba, Peru, Jamaica and the Bahamas. They've surfed waves, battled storms and gone swimming with dolphins. They say they have no regrets about giving up their conventional lifestyle to do something completely crazy.
"It's been amazing," says Matt, a former sales manager.
"At first it was scary jumping into the unknown, but it's been fantastic so far," says Jessica, who worked in insurance.
As for Georgie, he absolutely loves his life on the water. He can swim, so there's no danger of drowning, and the couple also puts him on a leash or locks him in their quarters when the weather is strong. He especially loves "sitting on the deck and watching the fish over the side of the boat."
Surviving the Ups and Downs
Of course, it isn't all blue skies and white sand when you're stuck at sea 24/7. The couple has admitted to the occasional argument, and they say that close quarters tend to exacerbate even small problems because they can't get away from each other when they're irritated.
"There's no walking away from an argument when one person gets mad at the other," they shared. On the other hand, forced proximity also leads to quicker reconciliations.
"You have to keep working together until the job is done," they explained.
As for the strength of their marriage, they're both unanimous.
"Sailing the world has been great for our relationship."
Sharing Their Story
The Johnsons have both a personal website and a Facebook page for anyone who wants to learn more about their journey. They also share tips, tricks and motivational quotes for those who are thinking about following their own crazy dreams!