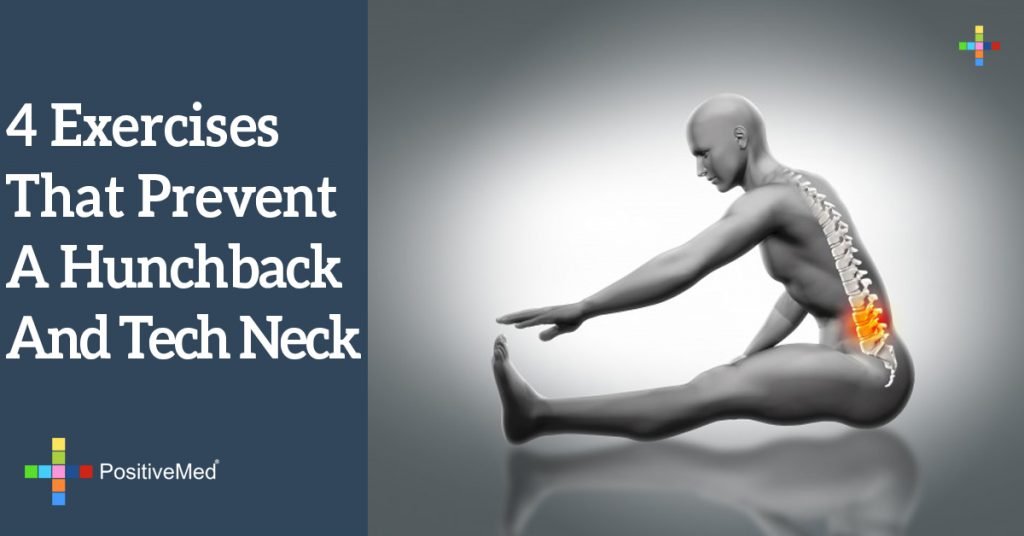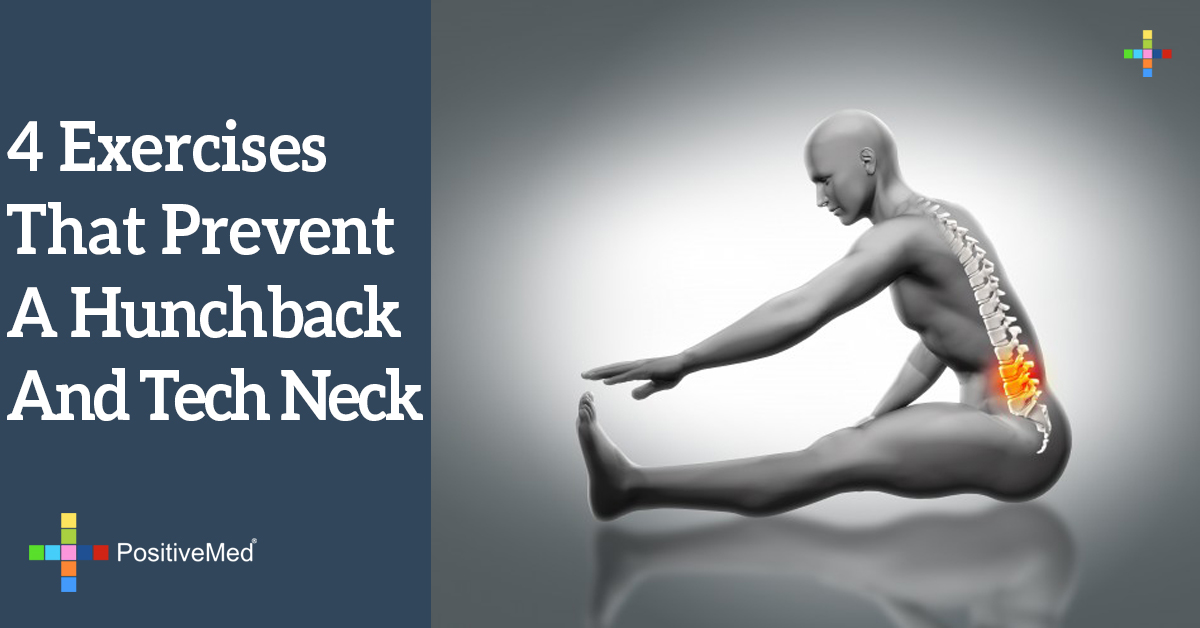 4 Exercises That Prevent A Hunchback And Tech Neck
You're starting to see it everywhere. It's those people that are slouching around with caved-in chests and heads that look like they're about to fall off.
This is known as Tech Neck: the mid and upper spine hunching over from sitting down for long periods of time and leaning over a desk. Maybe you even have it yourself! If you do, or even if you don't, it's important to know how counteract this so that YOU don't end up living in a cathedral bell tower (or unable to look up or lift your arms…). Remember, by ages 70-79, 21% of all adults are hunched, and nearly two thirds of the population will suffer from degenerative cervical spine conditions– don't be one of them.
First, an anatomy lesson: your mid to upper spine already has a natural bend in it that curves towards your back. An abnormally large, permanent curvature is called hyperkyphosis, or in the old days, "hunchback." In the sitting position, the spine naturally wants to curve a little bit more, which is fine… unless you do it for several hours every day. Eventually the body adapts to this position– the chest, front shoulders and abs tighten while the back and neck muscles relax, which literally pulls your spine and shoulders further forward, out of their proper alignment. The head falls forward, out of its neutral position, weakening posterior erectors and causing pain. These conditions not only make the entire body weak and unaesthetic, they can result in horrific injury and costly hospital bills.
It takes consistent effort to fix these issues and maintain proper posture, but thankfully it's simple: stretch your tight chest and ab muscles and strengthen your weak back muscles, then keeping your head neutral.
For those so inclined, that could mean hitting the weights. Any back exercise, such as pullups, rows, and deadlifts, will tighten the back and pull your spine back into proper alignment.
Most of us don't have the time or will to lift the weights though, and that's fine. For the rest of us, here are four exercises that will fix you right up!
1. The Superman (or Y Stretch)
-Lay face down on the floor, with your arms in a Y shape.
-Then, slowly lift your arms up off the floor, maintaining the Y shape, and keeping your shoulder from lifting.
-You should feel your shoulder blades retract together and your back muscles activate.
-Optionally, you may lift your legs up as well to stretch your abs and tighten your lower back.
-Hold this position for at least 20 seconds, working your way up as you get more flexible.
This exercise pulls your spine back into alignment by pulling it the other direction. It uses the posterior deltoids, latissimus dorsi, and trapezius to pull your arms up and back, which opens up your chest and allows your overly-tight pectoralis and anterior deltoid muscles to relax.
2. The Bow Stretch
-Wear loose clothes, and stand with your feet a little more than shoulder width apart, firmly planted.
-With your arms up and over your head and your thumbs pointed behind you, slowly bend backwards at the knees, hips, back, shoulders, and neck (relax your head backwards, don't force it). Let your jaw hang open and breathe deeply and slowly through your mouth.
-Lean back as far as you can and hold it for at least 10 seconds, working your way up as you get more flexible.
This focuses primarily on using what's called full body extension, which relaxes all anterior (frontal) muscles, including the neck, chest, shoulders, and hips (another muscle group that becomes unbalanced with excessive sitting!). This stretch takes work, especially if you're not very flexible or mobile, but keep working at it! Eventually you'll be able to lean back farther and hold it for longer.
3. Neutral Position Head Placement
-Stand up as straight as you can.
-Pull your shoulders down and back.
-Pull your neck up and back, bringing your ears directly above your shoulders
Think of this movement as trying to pull your whole upper body back and then making your ears as far apart from your shoulders as possible. This isn't an exercise or stretch per se, but more a habit to get into. Try to do this every time you're standing up. Don't worry, you won't look weird, you'll look confident.
4. Mid-back Foam Roller Stretch
-Buy a hard foam roller. These are cheap and incredibly useful.
-Place the foam roller on the ground, and then lay across it perpendicularly (the roller and your body should make a "t" in other words), resting on the foam roller just under your shoulder blades.
-Plant your feet on the ground, bending your legs and keeping your butt off the ground, then place your hands behind your head and relax.
-Do this for at least 30 seconds, working your way up as you become more flexible.
This exercise follows the same trend the others do: by relaxing, you're reversing the over-arching of your spine and opening your chest cavity.
One last piece of advice: do these things daily! Make a ritual out of it, and if you keep it up, you can say goodbye to "tech-neck" forever and say hello to your new healthy and confident posture.