Rosewater Poached Fruit with Easy Vegan Pistachio Ice Cream
This recipe is perfect for a healthy Vegan dessert to have at home or a friendly coffee afternoon, I've used soft fruits here, but other fruits such as pears would work perfectly too. Check out the healthy vegan dessert for a perfect afternoon infographic.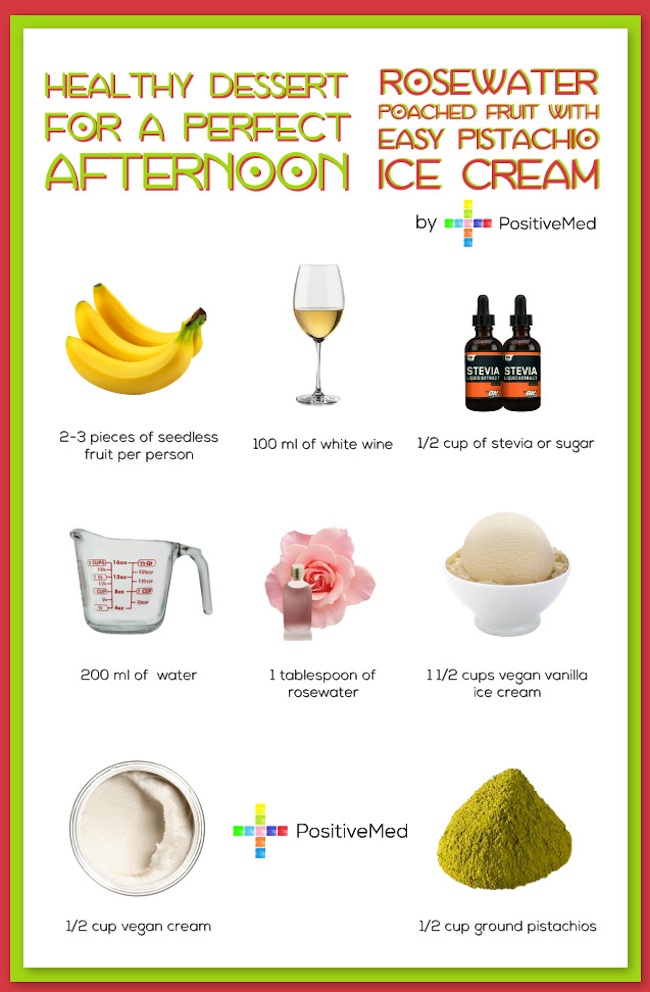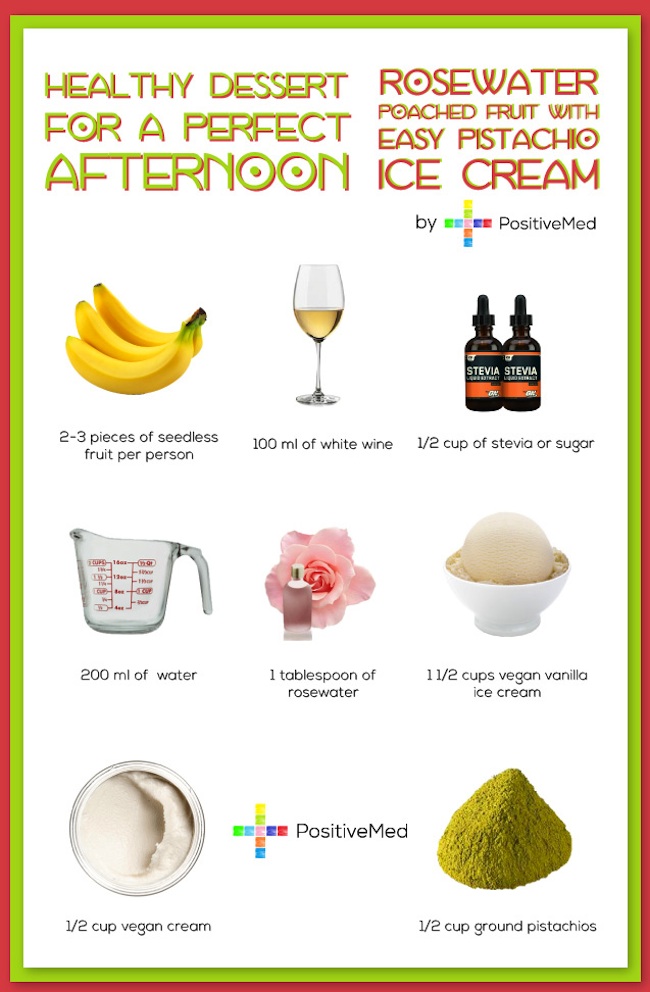 All you need is:
Rosewater Poached Fruit

• 2-3 pieces of seedless fruit per person
• 200 ml of water
• 100 ml of white wine
• 1/2 cup sugar or stevia
• 1Tablespoon rosewater
Directions are really easy so this won't take too long, first place all the ingredients into a large saucepan and bring to a boil, reduce the heat to simmer (20 minutes)
Vegan pistachio ice cream
Vegan dessert with pistachio ice cream is one of my favorites. As you may know, following a vegan diet is one of the key changes we have to accomplish to save our planet. There is no planet B and all we have is the planet Earth!
I have been vegan for a long time and today you can even have more vegan options than diary options in most supermarkets around the world. Most dairy companies now realize the increasing demand for non-dairy products and in all major grocery stores, you can find the vegan alternatives which are incredible, affordable, and healthy.
Having an afternoon with your family and knowing that the vegan dessert you have on the table is a healthy choice for your family is more satisfying than having animal products, knowing what you served for your family may have caused an animal to suffer her whole life. 
Here's what you need:
• 1 1/2 cups vegan vanilla ice cream
• 1/2 cup vegan cream
• 1/2 cup ground pistachios
Mix well all ingredients and place them in a plastic container, freeze until firm, it won't take too long.
Serve both together and enjoy it!
Source: http://www.veganeasy.org/Rosewater-Poached-Fruit-with-Easy-Pistachio-IceCream