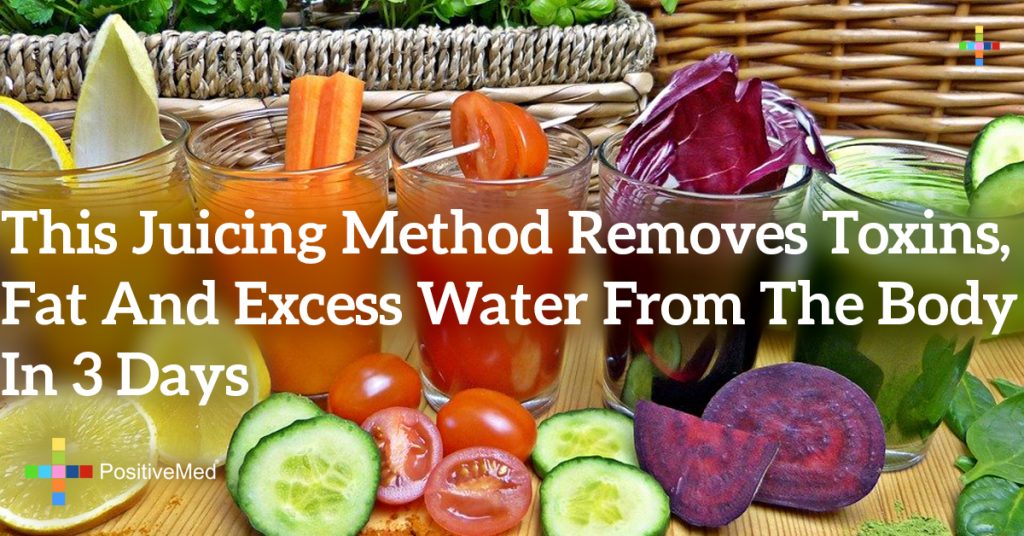 This Juicing Method Removes Toxins, Fat and Excess Water From the Body in 3 Days
[nextpage title="…"]
Consuming processed foods, drinking and smoking on a regular basis not only cause harm to your organs, but these habits also cause toxins to accumulate in your body over time. While it may be hard to avoid them, you don't have to live with the damage permanently. Many people practice juicing as a means of detoxing the body and gaining necessary nutrients.
What is Juicing?
A juice cleanse offers a means to detoxify your body while also increasing your nutritional intake. When your body becomes flushed with tons of necessary nutrients that is isn't used to absorbing, they help to flush out the many toxins being stored there. The process involves using fresh fruits and vegetables to create beverages that you consume in place of meals.
When you begin juicing, your digestive system is put on hold because you won't consume many fibers to be digested. Instead, your body is subjected to a supply of powerful nutrients that can be better absorbed into your system. You may also notice an increase in energy due to the fact that it's saved from not being expended on digestion.
Some people also do juice cleanses to help lose weight. The process of juicing is different for each person. Some people become accustomed to it and are capable of juicing for up to a month or more. Other people try it for a day, while some do it every so often for a few days at a time. If you've never done it before, you should try juicing gradually and work your way into it to avoid the consequences of detoxing too quickly.
Juicing Ingredients
Make bananas, spinach, kale or broccoli a regular part of your juices as they help add potassium to your diet. Studies show that people who consume more potassium have lower blood pressure and risk for stroke compared to those with low potassium intake. Other important ingredients include:
Blueberries: They're rich in vitamin C and antioxidants, and they can help protect brain cells to slow cognitive decline.
Lemons: They offer antioxidants, vitamin C and beta-carotene to support bones and eyes.
Tomatoes: They provide vitamins A, B, C and K along with zinc, iron and lycopene as a powerful antioxidant.
RELATED ARTICLE: 6 Cancer-Causing Toxins You Should Avoid When Buying A Shampoo
How to Start Juicing
Before
Before you begin a cleanse, try to drink eight glasses of water each day to keep your body hydrated. Eliminate any bad foods from your diet and work your way into a healthier one. Make sure to avoid alcohol, processed foods, sugar, caffeine and red meat. Eating fresh organic fruits, vegetables and eggs will help you resist cravings during the cleansing process.
Two days before starting, eliminate dairy products as they are slow to be digested, and this can affect the GI tract's ability to cleanse. The night before you start, drink a cup of herbal laxative tea. This will help clean your intestines and prevent constipation. Aside from your body, you must also prepare your mind. Set aside time to reflect on your journey, and make sure not to take on a cleansing during an emotional time or during a major life transition. Determine what you want as a result of your cleanse. Decide what you want to improve and how you'll know if your cleanse was successful.
During
It's best to take on a cleanse of nothing but juice as eating solid foods will slow down the cleansing process. If you do choose to eat during the cleanse, pick organic fruits, organic vegetables, soaked nuts and seeds or other raw foods. While juicing, start each day with a glass of water with lemon juice by using two whole lemons to a half of a cup of water. Drinking it before breakfast will help keep your body alkalized.
[/nextpage] [nextpage title="…"]
Drink six juices per day in increments of two hours, and if you exercise, limit it to only light activity. Walking, stretching and performing yoga are mild enough that your body will be able to adjust to your energy levels. Pay attention to how you feel before you decide to exercise, and avoid it if you don't have the energy. You should also use this time to reflect on yourself by meditating, keeping a journal, listening to relaxing music or taking scenic walks. Leaving this free time to take care of your mind and body will make the transition much easier.
After
After your cleanse, you should slowly return to eating solid foods again. During the three days following your juicing, you should follow eating patterns similar to those you had before the cleanse. The first day after your cleanse, you should add organic fruits and green vegetables along with lots of water. On the second day, you can add in nuts, brown rice, eggs and yogurt. Between the third and fifth day, you can begin eating organic chicken, fish and meats again. Make sure not to engage in strenuous activity immediately after your cleanse. Continue to take things slowly as you evaluate your results and decide if you would like to juice again in the future.
Daily Juicing Program
Breakfast: Make a juice of 3 carrots, 2 apples and a 1-inch chunk of ginger.
Mid-Morning: This juice consists of 8 leaves of kale, 4 stalks of celery, 2 apples, half a lemon and another chunk of ginger. Kale offers potassium, and studies show that people who consume more potassium have lower blood pressure and risk for stroke compared to those with low potassium intake.
Lunch: Juice 4 plum tomatoes, 2 cups of parsley, 2 stalks of celery, 1 cucumber, 1 red bell pepper and 1 lime.
Afternoon: This juice should contain 8 leaves of kale, 8 leaves of Swiss chard, 6 clementines and 1 cucumber.
Dinner: The last juice should be made with 2 red beets, 2 apples, 1 sweet potato, 1 carrot and ¼ cup of blueberries. Blueberries are rich in vitamin C and antioxidants, and they can help protect brain cells to slow cognitive decline.
Like any other practice involving your body, you should take up your decision to begin juicing with a medical professional to determine if it's safe for you. You can use this experience not only to detox your body but to help you create better eating habits as well.
[/nextpage]