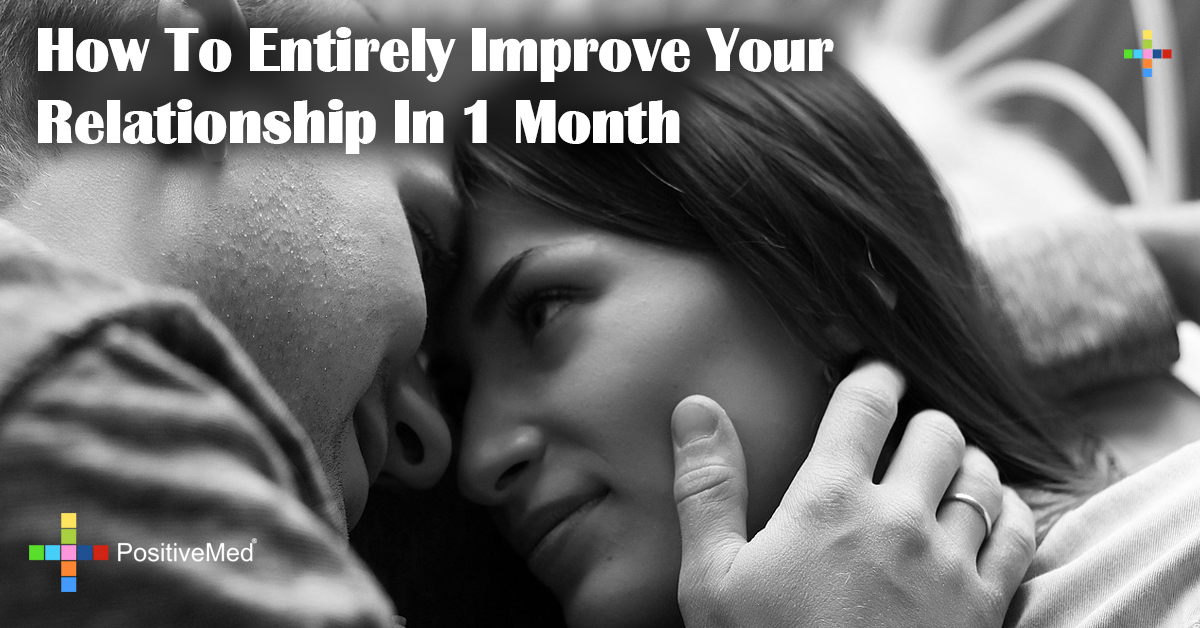 How To Entirely Improve Your Relationship In 1 Month
[nextpage title="…"]
Relationships change over time. They have high points and low points, times when things are going great and times when you're sure that you're never going to figure out how to navigate life as a team. If your relationship has been going through a dry spell, the fact that you're eager to improve it is the first step in the path to success! Take the next thirty days and dedicate yourself to seeing an improvement in your relationship.
Why 30 Days?
It takes about 21 days-at least 3 weeks-to develop a new habit and start to react to this new pattern. If you make a change to your relationship today, you'll have a positive day. If you make a long-term change to your relationship over the next three weeks, you'll develop new patterns of behavior that will show significant, permanent improvement in your relationship.
Getting Started
If you're really going to bring about change in your relationship, it starts with an attitude change. You may have been blaming your partner for the problems in your relationship. "Well, if he would just spend less time in front of the television, we would be a lot happier." "Well, if she would stop spending all her time complaining to her mom, we'd be doing a lot better." Instead of looking for things to complain about, start looking for the positives in your relationship. He may still not be able to get his dirty clothes in the hamper instead of leaving them piled on the sides. She may still spend half of her break time shopping online. However, when you look for the good things in your relationship, you'll find that you have a more positive outlook that makes it easier to appreciate the things you love most about your partner.
RELATED ARTICLE: 10 Things Every Man Should Do To Improve His Relationship
[/nextpage] [nextpage title="…"]
Taking the Challenge
There are plenty of 30 day challenges out there that will give you an exciting new challenge every day, from challenges that offer small opportunities to show your partner how much you love them to challenges that offer you a list of things to do together to help build your commitment to one another. These challenges are great inspiration! Remember, however, that you have to go into them with the right attitude. It's not about checking off a list of things that will make your relationship perfect. Instead, it's about growing closer together and learning to appreciate one another.
Start by learning your partner's love language-and your own. Pay particular attention to the different ways you show and receive love. For example, if your partner thrives on acts of service, they may consider it loving to take care of chores that need done around the house-but if you prefer quality time, you might wonder why they won't sit down on the couch and talk to you! Once you understand the way your partner communicates love, it becomes easier to appreciate what they're doing for you and why they choose to do it that way.
The rest of the challenge has two steps: first, commit to acknowledging each time your partner tries to speak love to you, even if it's in their language instead of yours. Acknowledge the little things they do for you, whether it's a hug when you need it most or a quiet word of appreciation that you would have let slip by unnoticed. Then, commit to deliberately performing an act of love in their preferred style every day for the next thirty days.
There are opportunities to show love in every day. As you learn to seek them out, you'll find that your relationship improves and that both you and your partner are happier. The exhilarating roller coaster feeling of early love fades with time, but the longer you're with your partner, the more comfortable you'll grow with one another, and the deeper your love will be. Start today to see what a difference thirty days can make in your lives.
[/nextpage]