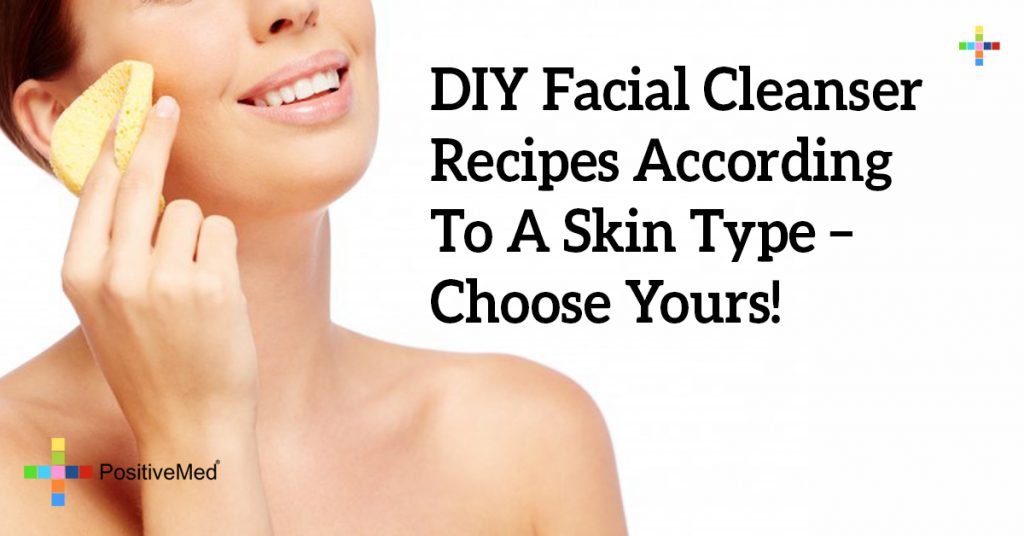 DIY Facial Cleanser Recipes According To A Skin Type – Choose Yours!
When selecting a skincare regime, it's crucial to know and understand your individual skin type and its needs. Selecting a face cleanser is the primary step toward assembling a solid skincare routine. Choosing the right one can help clear up pre-existing problems such as blackheads and acne breakouts, leaving your skin smoother, softer and more luminous than ever, while accidentally picking the wrong type of face cleanser can cause unexpected skin problems like redness, dryness, and flaking.
Read on to discover your skin type, as well as a recipe for an easy do-it-yourself face cleanser that you can whip up today and be on your way toward a glowing complexion.
The 5 Skin Types
Normal
Normal skin types don't suffer from any particular afflictions, aren't prone to extreme or frequent breakouts, and don't experience any oiliness or dryness. The complexion is fresh, elastic and supple. This is the least ideal skin type that most people aspire to attain, and is the easiest to take care of. Face washes and cleansers for normal skin types are meant to cleanse, refresh and moisturize the overall skin rather than treat any specific conditions or problem areas.
RELATED ARTICLE: See How She Does A Toothbrush Skincare Treatment For Her Gorgeous Skin
Dry
Those with a dry skin type will often experience flaking, as well as sensations of tightness after washing. This skin tone is prone to the development of a sallow complexion, fine lines and wrinkles and fine pores. An ideal DIY face cleanser for dry skin will moisturize and nourish dry skin, keeping it healthy and vibrant will minimizing cracked skin, dry patches and flakiness.
Oily
Oily skin comes in many variations and is one of the most distressing to those who have it. Those with oily skin are most prone to breakouts and bouts of acne, as well as an overall course, greasy and/or shiny appearance.
Although it can be difficult to tackle at first, once you find the right oily skin face wash, you should experience minimal complications. The keys to treating oily skin are having a good cleanser and cleaning ritual, minimizing of carbohydrate consumption, and avoiding rich creams, moisturizers, and many standard face washes.
Combination
Those with combination skin tend to experience a mixture of oiliness and dryness in their "T-zone", the area comprised of the forehead, nose, and chin. Different types of face washes and cleansers are needed to treat the different areas of the face. A face cleanser that moisturizes and freshens the skin will be best on the cheeks and nose, where combination skin types usually experience the most dryness, and a non-irritating, simple cleanser is best for those portions of the face that are oily.
Sensitive
Sensitive skin experiences frequent irritation, which makes finding a face product in the store difficult. Usually sensitive skin types suffer from acne, leading them to require special products that are higher priced than standard skincare lines. Tightness, inflammation, redness, and irritation are all common problems for those with sensitive skin, so a very particular type of care is needed to avoid any further irritation.
DIY Face Cleansers for Every Skin Type
DIY Face Cleanser for Normal Skin Type
Normal skin is fortunate enough to be able to try out the large variety of homemade face washes, scrubs and masks on the web today without worrying about irritation or reactions. One super easy and quick DIY face cleanser for normal skin by Live Simply calls for just 1 tablespoon of honey, 1/3 cup of castile soap, 3 tablespoons of distilled water and 2 tablespoons of nourishing oil like avocado or almond.
Combine all of these ingredients together and pour them into a plastic soap dispenser. Shake to mix, and wash your face as normal. The honey and oils mixed with the soothing castile soap will clean your skin, brighten your complexion and leave you fresh and invigorated.
DIY Face Cleanser for Dry Skin
Olive and Essential Oil Face Wash
This recipe is extremely simple and easy to make. Simply combine one of your favorite essential oils such as vanilla or lavender with 1 tsp of extra virgin olive oil and apply to your face. Exfoliate for one to two minutes before rinsing well with warm water.
DIY Face Cleanser for Oily Skin
Honey & Lemon Oily Skin Face Wash
Ingredients:
1/2 fresh lemon
1 tbsp raw honey
Combine the juice from 1/2 of a fresh lemon with 1 tablespoon of raw honey into a small container and add about 1/4 of warm water. Mix thoroughly, wash your face as normal and rinse well.
RELATED ARTICLE: She Lost 27 Pounds And Solved Her Skin Problems When She Stopped Eating THIS
DIY Face Cleanser for Combination Skin
DIY Oatmeal Face Cleanser for Combo Skin
Ingredients:
1 1/2 raw honey
1 1/2 tbsp lemon juice
1/3 cup of oatmeal
Blend oatmeal until it is reduced to a powdery substance. Combine powder, honey and lemon juice in a bowl. Open pores with warm water, mix face wash and massage dime-sized amount into skin. Leave for several minutes before rinsing thoroughly.
DIY Face Cleanser for Sensitive Skin
Coconut Oil & Honey Face Cleanser.
Ingredients
3 tbsp Organic extra virgin coconut oil
1 tsp raw honey
1 tsp baking soda
1 small container with lid
Combine ingredients into a bowl and press with spatula. Apply to face and exfoliate using the tips of your fingers. Allow the mix to sit for several minutes to purify skin and remove toxins. Rinse with warm water. Instead of using a store-brand moisturizer afterward, apply a small amount of the raw coconut oil.