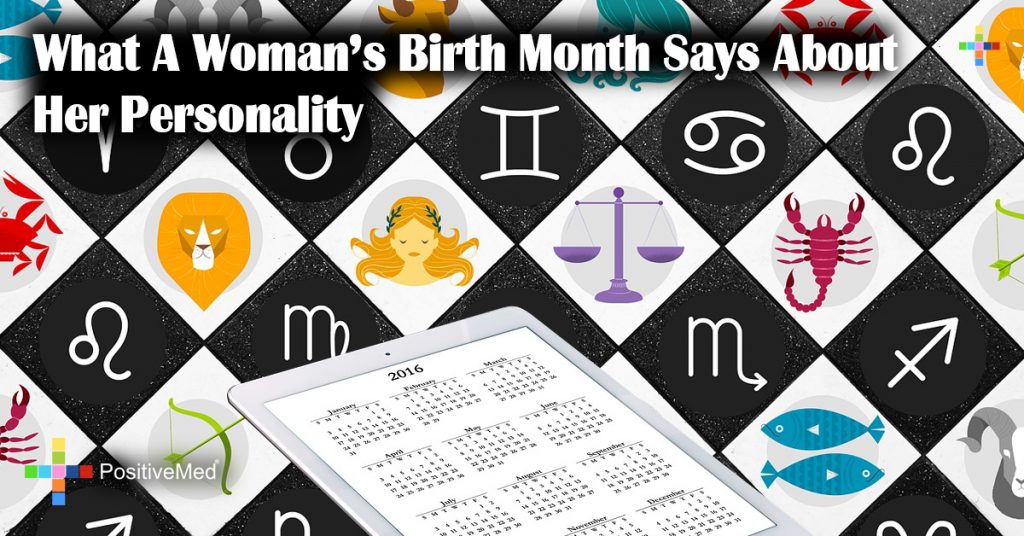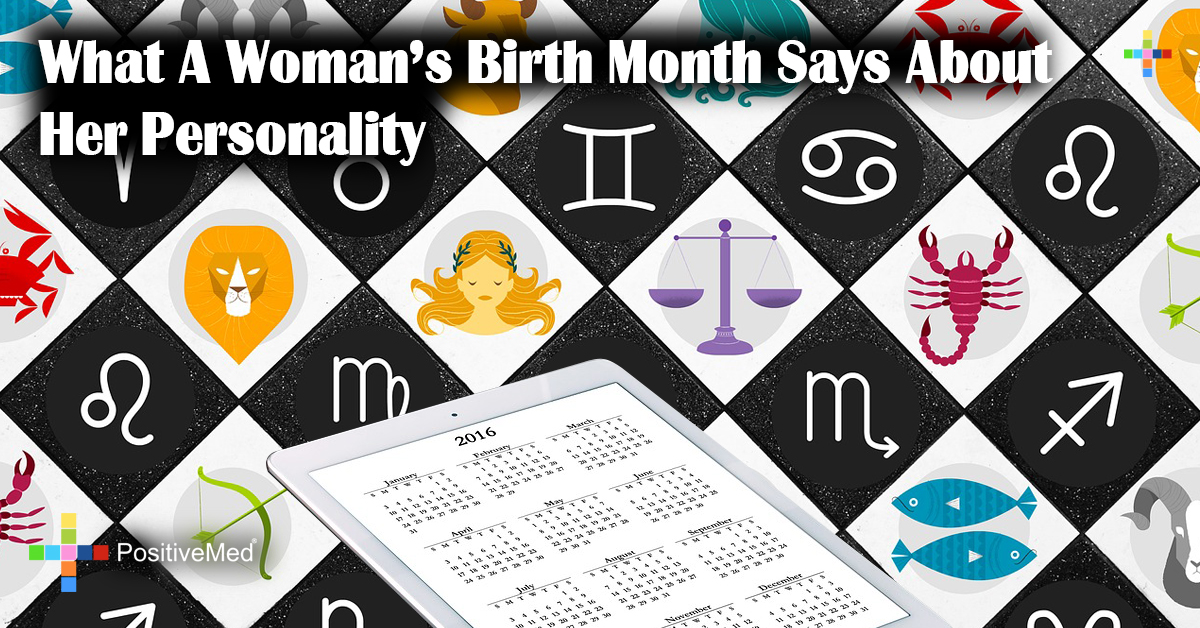 [nextpage title="…"]
What A Woman's Birth Month Says About Her Personality
Are you familiar with astrology? It's the study of how the stars, moons, and planets affect our lives. Scientists believe their position at the time of birth forecast personality. Your birth month, in particular, plays a definitive role. The astrological insights below will enhance self-understanding. Discover how the month of your birth impacts your existence here on earth.
ASTROLOGICAL TOOLS
Some of our greatest scholars were astrologers. Their findings are the foundations of modern science. There are several branches of astrology. Natal astrology concerns individuals. Its primary tool is the birth chart. This is a diagram of the sky at the time a person entered the world, viewed from their birthplace.
A second tool for evaluating character is the sun sign. This is determined by the month and day of birth. The sun sign represents your basic self and refers to one of 12 constellations. This is the area of astrology that forms the basis of horoscopes. Your sun sign reflects your personality, behavior, relationships, and economic fortune.
[/nextpage] [nextpage title="…"]
LANDMARK STUDIES
2014 – A study published in Comprehensive Psychology explored the effects of seasons on personality. The research was conducted by Mark Hamilton, a scientist at the University of Connecticut. He based the study on the profiles of 300 celebrities in various fields, including sports, science, politics, public service, literature, and art. He considered the influence of natural elements, such as water, air, fire, and earth. He factored in the dark and bright aspects of light.
Lastly, he examined the three "qualities" that comprise the constellations. The qualities are seasonal time frames. "Cardinal" describes the first month of a season. "Fixed" refers to the second month. "Mutable" is the final month in a season. Being born in a cardinal month correlates with creativity. Birth during a fixed month reflects persistence. If you're native to a mutable month, you're flexible.
2014 – At Semmelweis University in Budapest, scientists studied the influence of seasons on attitudes. It's known that natural light affects temperament. During winter, when daylight hours are shorter, some people are prone to depression. This condition is termed "seasonal affective disorder" or "SAD." Decreased daylight reduces the levels of serotonin and dopamine, brain chemicals that induce happiness. Study subjects born during winter were inclined to have a serious view of life. Spring babies had a tendency to think positively. Summer subjects were emotional. Autumn's children were upbeat.
RELATED ARTICLE: What You Should Be Eating, According To Your Zodiac Sign
2012 – A study presented in the scientific journal PLOS ONE found that people born in January and February exhibit the most creativity.
[/nextpage] [nextpage title="…"]
CALENDAR YOUR CHARACTERISTICS
Now let's tour the calendar and probe the influences of each birth month.
January
If you're a January angel, you're ambitious and strong-willed. You tend to be reserved and rarely get emotional. Motivated and enduring, you excel as a leader. You also have a knack for teaching. A strong work ethic propels your career, making you highly productive. You like your environment to be organized and neat. You're sensitive and attuned to people's feelings.
February
If you're a February lady, you're free-spirited and adventurous. Your cup of tea is spontaneity. You don't hesitate to jump on a plane and tour the world. Your emotions run deep, and you love passionately. You'll do everything possible to make your man happy. Friendships are also a priority. Creative and imaginative, you enjoy working on new projects. You're romantic, open-minded, and idealistic. You're also very honest.
March
If you're a March charmer, you're cute as a button. Quiet and introverted, you shy away from crowds. You enjoy expressing yourself artistically and being alone. You enchant the heart of your beloved and are affectionate and loyal. You're known for being kind and sweet, putting the needs of others first. People easily trust you.
[/nextpage] [nextpage title="…"]
April
If you're an April flower, you're a social butterfly. Since you enjoy being the center of attention, you shine as a leader. Being diplomatic, you find it easy to communicate and form decisions. However, you tend to be private concerning your own matters.
Your mate considers himself fortunate since you're selective in relationships. Your energy is dynamic, making you quick-witted and brave.
May
If you're a May queen, you're rather unpredictable. You easily change preferences from day to day. However, you do have basic unwavering principles. Talkative and expressive, you have an active social life. You enjoy learning and traveling. As a lover of literature and the arts, you find museums and cultural centers especially fascinating. You care deeply about people and are a faithful partner.
RELATED ARTICLE: How Boozy You Can Get, According To Your Zodiac Sign
June
If you're a June cutie, you're forward-thinking, with an eye on the future. Soft-spoken and funny, you don't force opinions. You have a creative spirit and perceptive mind. Your nature is quite inquisitive. You're very understanding and sympathetic. Your partner is putty in your hands. He'll do whatever you ask since he loves you dearly.
[/nextpage] [nextpage title="…"]
July
If you're a July jewel, you're spontaneous, confident, and cheerful. Fun-loving and energetic, you seek adventure. You're sensitive and emotional, yet tend to hide your feelings. Although you're very intelligent, you never boast or brag. Peace-loving, you avoid conflict. With a genuine concern for people, you're empathetic and caring. The man who pledges his heart to you considers himself most fortunate.
August
If you're an August belle, you're practical and analytical. You have a logical, methodical way of doing things. These qualities enable you to excel in the fields of engineering, accounting, investigation, and insurance. Positive and generous, people look up to you. They also admire your brave, fearless nature. Your fantastic sense of humor is legendary. Men swoon in your presence.
September
As a September sweetie, you hold yourself to high standards. You're a kind, humble soul, always eager to help others. You're creative and innovative. You seek longstanding relationships and desire commitment. You're cautious, organized, and like to plan ahead. You're loved for your thoughtful and caring ways.
[/nextpage] [nextpage title="…"]
October
If you're an October doll, you're friendly and social. You're the life of the Halloween party. Even under adverse conditions, you remain positive and upbeat. You're strong and independent. You go out of your way to avoid confrontation and seek a life of balance. People find you charming and attractive. You're a loyal lover.
RELATED ARTICLE: What Your Zodiac Sign Says About Your Love Life
November
If you're a November princess, you wear a cloak of mystery, hiding your true feelings. Self-motivated and ambitious, you need little praise from others. You enjoy doing research and learning new things. You have a sharp mind and persevering nature. You're accepting and accommodating. People admire your fearlessness.
December
If you're a December dame, you're a dynamo! Fun-loving and energetic, you're always on the go. You're skilled in surmounting adversity and always come out on top. Known for being generous, you enjoy entertaining. You love jokes and playing games. No one can remain in a foul mood around you.
REACH FOR THE STARS!
Now, with your insight into what makes you tick, wholeheartedly pursue your dreams. Grasp every chance to fulfill your potential. Your good fortune is foretold by your birth month. Take hold of your talents, and run with the wind!
[/nextpage]