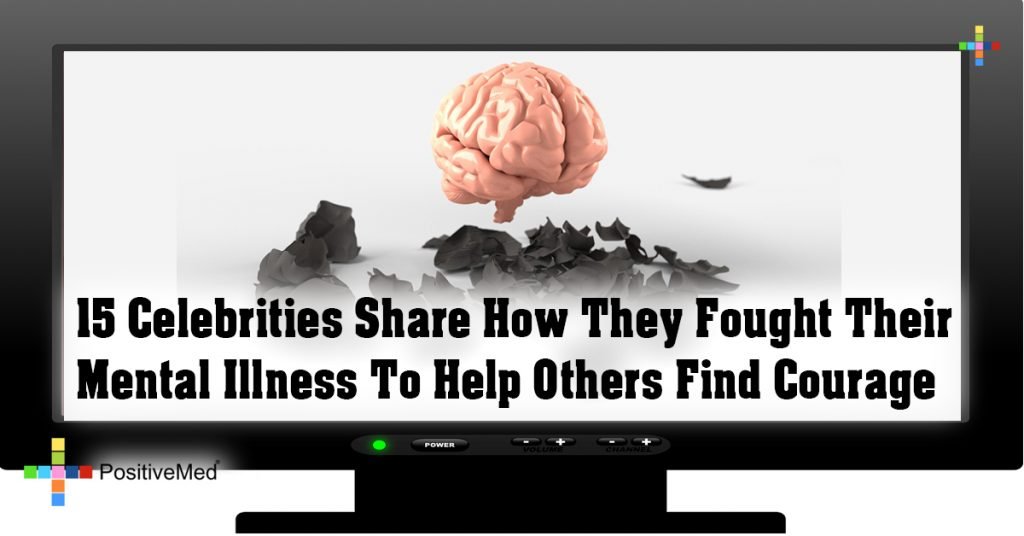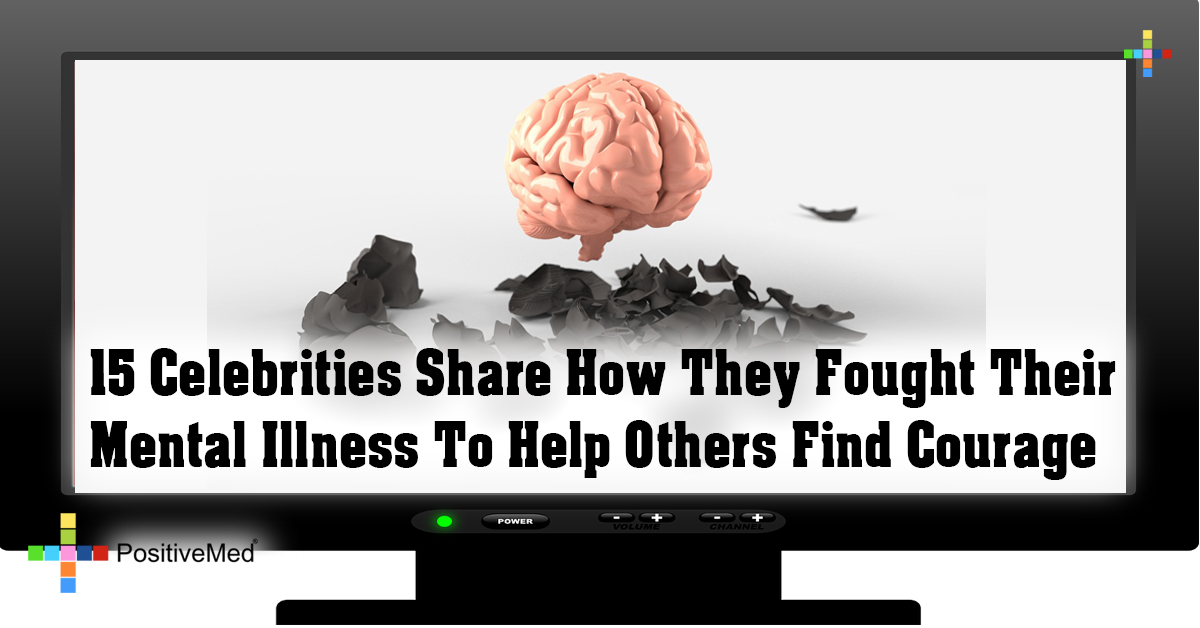 15 Celebrities Share How They Fought Their Mental Illness To Help Others Find Courage
According to the National Alliance on Mental Illness, 18 percent of American adults experience some form of mental illness. That's one in five individuals. Four percent experience disabling symptoms that impact daily activities. Despite the prevalence of mental illness, many people avoid discussing it. This is certainly the case for celebrities, who run the risk of ruined reputations. Nevertheless, 15 highly-regarded stars have publicly shared their mental health challenges. They jeopardized their careers so others could be encouraged and empowered. Here are their inspiring stories, bright beacons of light on the path to mental wellness.
1. Ellen DeGeneres – Depression
Low Point – In 1997, Ellen publicly disclosed her lesbian identity on her television show, "Ellen." Advertisers withdrew their support, and the show was canceled. Ellen's relationship with Anne Heche became grist for the tabloid gossip mills. Ellen sank into deep depression, and her career went dormant.
High Point – Hosting the Emmy Awards Show shortly after 9/11/01.
Winning the War – When Ellen divulged her lesbianism, she received letters from gay teenagers who refrained from committing suicide after she went public. Knowing that her disclosure was helping others gave her strength. She resolutely worked through fear and dejection. She says, "Everything bad that happened to me taught me compassion." Ellen believes the most important goals in life are to have integrity and contribute to the welfare of others. Her lifestyle and work are a profound testimony to this principle.
RELATED ARTICLE: 13 Warning Signs of Mental Illness
2. Leonardo DiCaprio – Obsessive Compulsive Disorder (OCD)
Low Point – In 2004, while playing the lead character in "The Aviator," OCD symptoms surfaced in full fury. Repetitive tendencies were reinforced by portraying Howard Hughes, who also suffered from OCD. It was many months before Leonard regained stability.
High Point – Winning the Golden Globe Award in 1997 for his role as Jack Dawson in "Titanic."
Winning the War – Leonard DiCaprio uses his strong will to combat OCD urges. He says he has to resist the temptation to walk through a doorway several times and step on every sidewalk blob of chewing gum. He has vowed to himself that OCD will not rule his life. In fact, he uses the condition to enhance his craft. Leonard says, "Portraying emotionally ill characters gives me the chance to really act." Isn't that a resourceful spin on a limitation?
3. Hayden Panettiere – Postpartum Depression
Low Point – During mid-October 2015, Hayden Panettiere realized she needed help to overcome postpartum depression. She had been battling the disorder for 10 months, since the birth of her daughter in December 2014. Beset by moodiness, sadness, and feelings of doom, she admitted herself into a treatment facility.
High Point – Receiving the Academy Award in 2007 for the film "Heroes."
Winning the War – As of November 5, 2015, Hayden says she's starting to feel like herself again. She states, "Women need to know they're not alone, and that they can heal from postpartum depression. It's painful and scary, and women need a lot of support." Let's applaud Hayden for being proactive in seeking professional help! WebMD advises that early treatment of mental illness offers the greatest chance of recovery.
4. J.K. Rowling – Depression
Low Point – As a single mother in her 20s, the acclaimed author of the Harry Potter book series battled severe depression and contemplated suicide. Separation from her husband triggered the condition. However, the sense of responsibility for her daughter spurred her to get professional help.
RELATED ARTICLE: 10 Things You Should Never Say to Someone With Depression
High Point – After nine months of cognitive behavioral therapy, Ms. Rowling overcame depression and suicidal thoughts.
Winning the War – While depressed, Ms. Rowling channeled her energy into authoring her first Harry Potter novel. Dark feelings were embodied in book characters known as "evil dementors." Writing the fictional story was the first step in her healing process. Ms. Rowling has shared her experience of mental illness to dispel the stigma associated with it. She states, "I was never ashamed of being depressed. I went through a very tough time, and I'm proud I got out of it." How fortunate for all Harry Potter fans! Since 1997, the seven-book series has sold more than 450 million copies and has been translated into 67 languages.
5. Jared Padalecki – Depression
Low Point – At the age of 25, anxiety and depression hit Jared "like a sack of bricks." Despite TV fame, friends, fans, and enjoyable work, he battled mental illness. He couldn't figure out why.
High Point – October 7, 2015, starting Season 11 of the television series "Supernatural."
Winning the War – Now, seven years after a diagnosis of clinical depression, Jared is championing the cause for mental illness treatment. In July 2015, he launched a charity T-shirt campaign to benefit "Write Love on Her Arms." This nonprofit organization provides support to individuals who wrestle with depression, self-injury, and suicidal thoughts. Jared says, "You may not win every battle. There may be some really tough days. You have to tell yourself, 'Although this isn't easy, I'm going to keep fighting.'" Broadcasting this message, the slogan on Jared's fundraising T-shirt is, "Always Keep Fighting." Jared overcame depression by persistently fighting symptoms, working, and helping other vulnerable people.
6. Brad Pitt – Depression
Low Point – During the 1990s, Brad Pitt was battling depression and marijuana. Drugs were his escape from the spotlight. Trips to Yugoslavia and Morocco served as a wake-up call. The shock of seeing the extreme poverty of the people jolted him out of an apathetic state. He decided it was time to change his life and stopped the drugs cold turkey. A desire to help others became his aim, taking inspiration from Angelina Jolie.
High Point – Receiving a Golden Globe Award in 1995, for his starring role as a mental patient in the film "Twelve Monkeys."
Winning the War – In January 2012, Brad revealed his previous struggles. He's now at peace with his past. He considers it a learning experience, saying, "I see my history as a great education, as a season in my life or a semester. That semester, I was majoring in depression. But the dark moments fuel you for the next bright moments. Each one helps you appreciate the other."
7. Carrie Fisher – Bipolar Disorder
Low Point – Actor, author, and mental health advocate Carrie Fisher was diagnosed with bipolar disorder at age 29. It was 10 years after her acclaimed role as Princess Leia in the first "Star Wars" movie. Prior to receiving treatment, she sought relief through recreational drugs and alcohol. In 1978, while filming "The Star Wars Holiday Special," her on-screen performance showed obvious drug use. In 1980, while working on "The Blues Brothers" movie, the problem was so severe she was almost fired. Her illness is hereditary, inherited from her father.
High Point – Beginning the filming of "Star Wars: The Force Awakens" in April 2014.
Winning the War – After Carrie was almost ousted from "The Blues Brothers," she joined Narcotics Anonymous and Alcoholics Anonymous. Therapy dog Gary currently helps the actress manage the condition. Gary is a calming and comforting influence. Carrie is also careful to avoid sleep deprivation, which worsens bipolar symptoms.
An interviewer for the Sarasota Herald-Tribune asked Carrie what advice she had for people with mental illness who are afraid to pursue their dreams. She replied, "Stay afraid that do it regardless. What's important is the action. You don't have to wait to feel confident. Just do it, and the confidence will follow."
8. Adam Levine – Attention Deficit Hyperactivity Disorder (ADHD)
Low Point – Lead songwriter and guitarist for the band "Maroon 5," Adam Levine was diagnosed with ADHD as a teenager. He had the primary symptoms of the disorder – inattention, impulsiveness, and hyperactivity. The school was especially challenging, with Adam struggling to focus. Adam found relief in being diagnosed. It explained his learning difficulties.
High Point – In 2005, Adam Levine's band "Maroon 5" received the first of three Grammy Awards as "Best New Artist."
Winning the War – Although Adam's treatment plan for ADHD includes taking medication, there are other treatment options. Dr. Jeff Ball of the LA-based PCH Treatment Center advises that the best treatment approach is a holistic one. Such a protocol includes exercise, psychotherapy, biofeedback, and art therapy. Adam Levine went public with ADHD to encourage others with symptoms to seek help. Here's a standing ovation for Adam Levine!
9. Demi Lovato – Bipolar Disorder
Low Point – Demi Lovato suffered for years with depressive and manic episodes and didn't know why. She was relieved when she finally received a diagnosis in 2011. She'd been trapped in the throes of addiction, cutting, and bulimia.
RELATED ARTICLE: 10 Signs To Identify Bipolar Disorder And How To deal With It
High Point – As a platinum-selling recording artist, songwriter, actress, and Disney star, Demi is successfully managing bipolar disorder.
Winning the War – Demi treats the disorder with medication. She states, "Not everybody does this, but it works for me." She also maintains a healthy lifestyle by eating nutritious food and engaging in regular exercise. Another coping method is participating in support groups. Her message to other people with bipolar is to "Reach out." Toward that end, Demi is a spokeswoman for the "Be Vocal: Speak Up for Mental Health Campaign." This partnership of mental health advocacy organizations has a goal of encouraging Americans to support mental health programs. Demi has also shared her story in the MTV documentary entitled "Stay Strong."
10. Jim Carrey – Depression and ADHD
Low Point – Comedic actor Jim Carrey has dealt with depression for most of his life. He also suffers from ADHD. At one point, his symptoms were so debilitating, he thought he would never recover. Seeking medical help resulted in a prescription for Prozac.
RELATED ARTICLE: Loving Someone With Mental Illness
High Point – In 2009, Jim spoke openly about his experience with depression. He's no longer taking antidepressant medication. He found that it didn't help and actually made him feel worse.
Winning the War – Jim now manages the two disorders by re-framing perceptions, being purposeful, and keeping spiritually connected. Acting provides a reprieve from unpleasant emotions. Jim also avoids drugs and alcohol. Having a sense of humor helps as well. His motto is, "Reduce the pain of life, forget the pain, and laugh."
11. Elton John – Bulimia
Low Point – Pop legend Elton John's bulimia was rooted in feelings of isolation. Perpetual dissatisfaction led to drug addiction. He suffered for 16 years. In 1990, deep fear of a dismal future prompted him to take control of his life. However, it was difficult to obtain treatment, as there were no clinics in LA that addressed both bulimia and addiction. After an extensive search, he found a medical center in Chicago and began rehab.
High Point – In 1992, Elton John broke Elvis Presley's record for the most consecutive years of top 40 hits. That same year, he publicly revealed his private battle with bulimia.
Winning the War – Sir Elton now enjoys life. He overcame bulimia and addiction with professional rehab treatment. He says, "I'm the luckiest guy in the world. I have a child, which I thought I'd never have. My life is a constant delight."
12. John Hamm – Depression
Low Point – "Mad Men" star John Hamm struggled emotionally throughout his life. His parents divorced when he was a toddler, his mother died when John was 10, and his father passed away when John was 20. At that point, depression hit him hard.
High Point – In 2007, John received his breakthrough role, playing ad exec Don Draper in the TV drama series "Mad Men." He auditioned seven times to get the part! In 2010, John spoke publicly about his recovery from depression.
Winning the War – A short course of antidepressants and psychotherapy resolved the disorder. Regarding this approach, he states, "It gives you another perspective when you're stuck in a spiral."
13. Angelina Jolie – Depression
Low Points – During her teens and early 20s, Angelina Jolie had bouts of severe depression. Cutting her arms became a coping mechanism. After the death of her mother in 2007, the depression resurfaced.
High Points – Angelina received Golden Globe awards in three consecutive years, from 1997-1999. In 1999, she won an Academy Award for her performance in "Girl Interrupted." Angelina was honored in 1998 and 1999 with the Screen Actors Guild Award.
Winning the War – Angelina has passionately and generously contributed to numerous humanitarian causes. This has made depression flee. Angelina supports 29 charities. The Jolie-Pitt Foundation, dedicated to eradicating rural poverty, has donated $1 million to Doctors Without Borders. Angelina has traveled to 30 countries, working on behalf of the homeless. She also lobbies for humanitarian interests in Washington, DC.
14. Gwyneth Paltrow – Postpartum Depression
Low Point – Gwyneth first slipped into depression following her father's death in 2002. Four years later, after giving birth to her first child, Gwyneth went through a second dark emotional period, lasting five months. She was numb, unable to connect with her feelings. She regards it as one of the most painful chapters in her life.
High Points – In 1999, Gwyneth won Oscar, Golden Globe, and MTV Movie awards for her performance in "Shakespeare in Love." In 2011, she received a Prime Time Emmy for her role as Holly Holliday in "Glee."
Winning the War – Gwyneth's husband urged her to seek help. She was able to recover with therapy, exercise, and the support of friends. She's now very content. She states, "There's so much shame regarding postpartum depression, and there shouldn't be. It's something that befalls many women after childbirth."
Gwyneth's statement is verified by research. A 2013 study published in JAMA found that one in seven women suffers from postpartum depression following delivery. Having a supportive partner is key to recovery.
15. David Beckham – Obsessive Compulsive Disorder (OCD)
Low Point – In 2006, British athlete David Beckham openly spoke about his lifelong challenges with OCD. In a TV interview, he confessed to repetitively straightening items in his home and hotels. Everything must be in perfect order.
High Points – David was captain of the English national football team from 1998 to 2009. He has scored in three World Cups. In 2011 and 2012, David won the Major League Soccer Cup.
Winning the War – David has tried to eliminate OCD behaviors but has yet to find a solution. Instead, he's accepted the condition and is at peace with it. He states, "It's not something I worry about. I'm obsessive with certain things. That's just the way it is."
The World Health Organization reports that OCD is one of the top 10 causes of illness-related disability. The most effective treatment is cognitive behavioral therapy.
RELATED ARTICLE: 8 Common Actions That May Cause Mental Illness
The Silver Lining
Have you noticed a common denominator in the above accounts? Each celebrity discovered their passion and poured themselves into it. Then they offered the fruits of their labors to others. Though the managing mental illness is challenging, there's a silver lining in the cloud. Its energy can be channeled into productivity. As shown above, acting, writing, and supporting humanitarian causes are prime examples.
Identify what you do well and enjoy. Give it your earnest effort, dedicating it to the welfare of others. Try to adopt a healthy lifestyle. Eat nutritiously, exercise regularly, and take the time to relax. If the struggle with mental illness persists, seek professional help. Just like the celebrities mentioned here, you too can win the war!