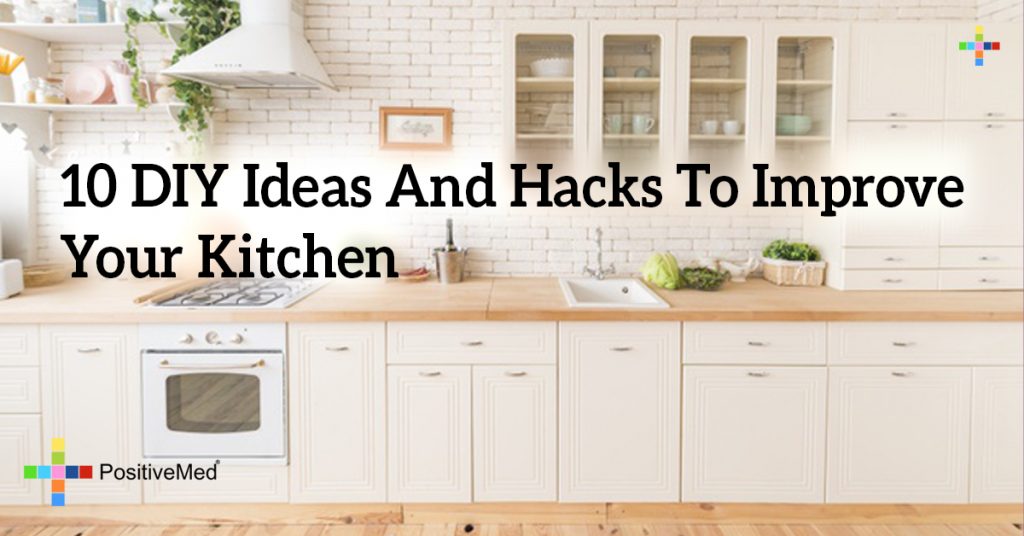 10 DIY Ideas And Hacks To Improve Your Kitchen
The kitchen is known as the heart of the home, we all spend much of our time in the kitchen making comfortable food and special treats. It should be well-organized, designed for practicality and beauty and ideally include all of the latest design trends since it tends to be the center point of a home.
If you are looking for some tips and tricks for your kitchen we can suggest some affordable tips:
• Kitchen island
Tired of your disorganized kitchen? Try this simple project to make it look more organized and spacious, add an island to the middle of your kitchen. You can have meals there and place some useful products in the lower portion, this works well for small kitchens.
• Old rake as wineglass holder
You can make smart use of an old rake and use it as a wineglass holder, your glasses will be safe and stay clean. Again this is a good idea for small kitchens without separate space for special glasses.
• Stud space as shelves
Another awesome space-saving idea is to use the recessed space inside your walls to add shelving, this needs pre-planning so that your electrician doesn't put electrical wires inside the space. You can use recycled doors hung on a track to cover the space.
• Add eye candy
Add something in your kitchen that catches your attention immediately as you walk in. You can use different colors of paint or pretty appliances, even interesting drawer pulls can change a space.
• DIY storage basket
Organize an overloaded shelf by shifting some items to a homemade basket. You just need a braided rope and a bowl with the desired shape, spiral 40-50 feet of rope around the bowl giving it a basket shape. Put every wrap on top of the previous wrap and secure it with glue. This will look funky and good.
• Custom cabinets
You can turn simple cabinets into beautiful ones on a budget by attaching sleek simple moulding for a custom look, add special hardware to complete the transition.
• DIY Clips
Use plastic hangers with clips at the ends and cut off their edges, use the clips to keep packets sealed. You can use them on clothes or any other object.
• Measuring equations
We often end up confused when recipe directions have measurements in liters, spoons, cups, or ounces. Solve this problem by doing a little hard work once, place equations on a sheet of paper, laminate it, and paste it on your cabinet, shelves, cupboard, or anywhere in the kitchen easy to find.
• DIY Bottle Rack
Cut a frame from square dowels, arrange into a rack that is going to sit on your kitchen counter. Paint it a bright color and put wine or other bottles in it to dress up your kitchen.
• Tissue box as plastic bag holder
Keep plastic bags handy by using an empty tissue box. Attach it using a thumb tack to a cabinet or anywhere convenient.