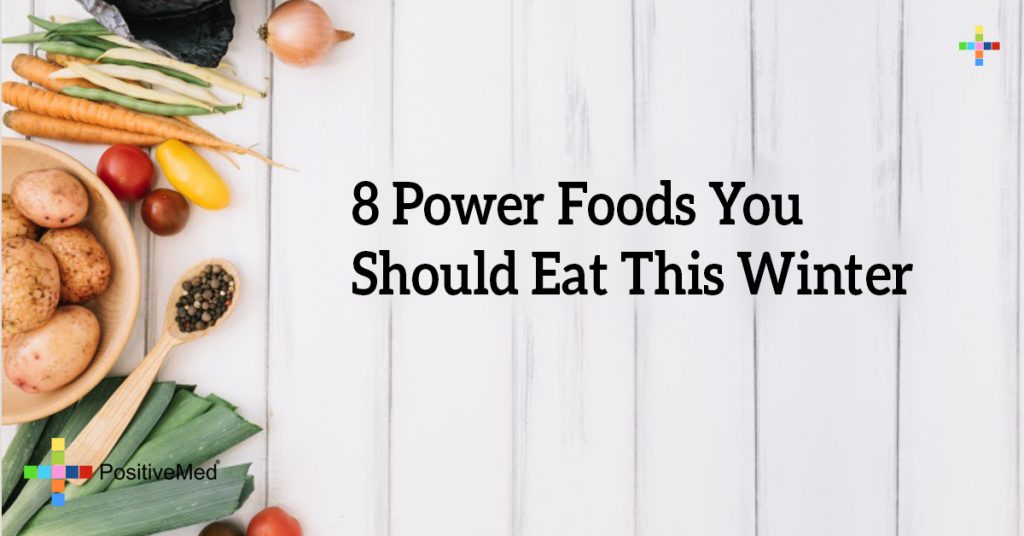 8 Power Foods You Should Eat This Winter

By Khrystyana Kirton

When most people think about winter, all that comes to mind is numbing cold, snow days, and a few holidays intermixed with some snowball fights and maybe a snowman or two. With it looking barren and desolate outside, one thing that's for sure is comfort food is at a premium and when people think "comfort" they don't always think "vegetables."
1- KALE
Almost everyone has heard about kale's pure awesomeness. Just a reminder, it's full of vitamin A, Vitamin C, as well as zeaxanthin and lutein (both of which are used to treat and even prevent different eye disorders). Next time you make a pizza at home, even if it's a store-bought frozen variety, add a bit of kale to the top. It adds an extra bit of deliciousness and requires little effort to include.
2- RED CABBAGE
There's tons of vitamin K, so eat up. A scrumptious stovetop recipe is simply to heat one Tablespoon olive oil in a large pan, sauté a medium-sized sliced onion until light brown. Add one pound sliced cabbage, ¼ teaspoon black pepper and 1 teaspoon caraway seeds. Cook for 30 minutes while stirring frequently. There you have a lovely, tasty, and healthy side dish for any meal.
3- BRUSSELS SPROUTS
Poor brussels sprouts, they've got it rough, being at the top of so many folks' Worst Veggies list. These little relatives of cabbage and collard greens are laughing all the way to the nutritional bank. Give them a second chance, they just want to help! One great suggestion is sauteing them in a little olive oil and minced garlic.
4- CELERY
It's mostly water, so you may be surprised by celery's vitamin content. Not only is it a useful source of beta-carotene, but you can count on it for vitamins A, B1, B6, B9, K and folate. Enjoy celery with assorted dips such as hummus or peanut butter for a crisp snack.
5- POTATOES
Potatoes are full of more than carbs. They're a great source of vitamin B6, vitamin C, potassium and iron. Plus they pack serious comforting power, especially when you mash them. For a healthier spin, use plain yogurt in place of heavy cream.
6- CARROTS
They're an amazing source of vitamin A and a great place to find beta-carotene. They're great additions to any broth-based soup or a salad and delicious all on their own.
7- CAULIFLOWER
Cauliflower is rich in vitamin C. It may sound weird, but it's true. After boiling a chopped-up medium head, drain and blot dry with paper towels. Then, in a bowl with an immersion blender or a food processor, puree the hot cauliflower with 1 Tablespoon cream cheese, ¼ cup Parmesan cheese, ½ teaspoon minced garlic, ⅛ teaspoon chicken bouillon (or ½ teaspoon salt), ⅛ teaspoon pepper until almost smooth for a great mashed potatoes replacement.
8- ONIONS
Another surprising vehicle for vitamin C, onions are also home to antioxidant flavonoids like quercetin. Onions are versatile and delicious in almost every savory food. Having pasta for dinner? Sauté onions with some green peppers and add them to the sauce or use them to help flavor the meat. Vegetarian or just want to raise the protein and vitamin quotient? Add at least a cup of fresh mushrooms as well!
Actually, you could always combine the whole lot into one nice warm-your-bones stew. It's winter, after all.
Sources:

Mock Garlic Mashed Potatoes – http://www.foodnetwork.com/recipes/george-stella/mock-garlic-mashed-potatoes-recipe/index.html
Mushroom's Protein Content – http://www.livestrong.com/article/556190-protein-content-in-mushrooms-vs-meat/
Red Cabbage Comfort Food – http://www.foodreference.com/html/cabbagecomfortr.html
Vegetable Nutrition Facts – http://www.nutrition-and-you.com/vegetable-nutrition.html