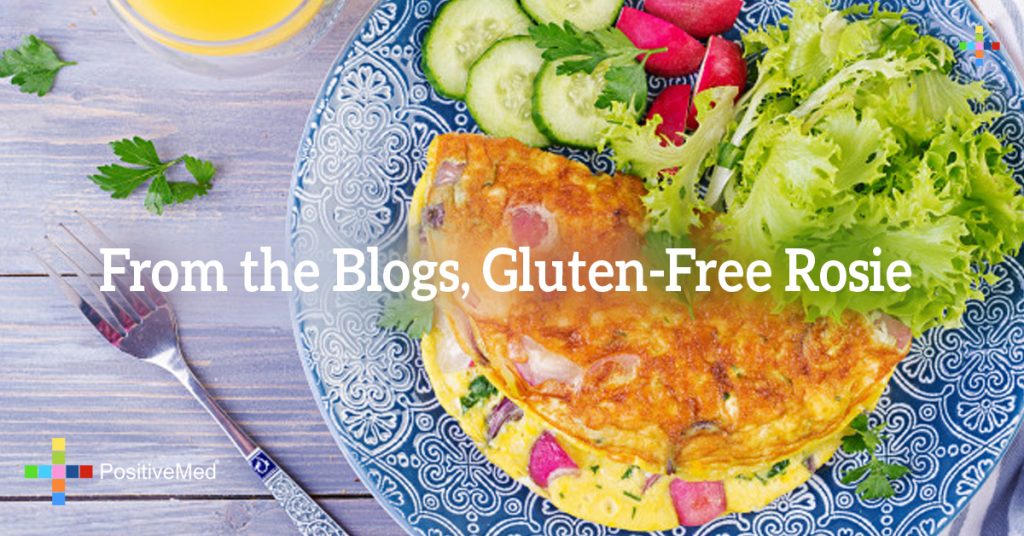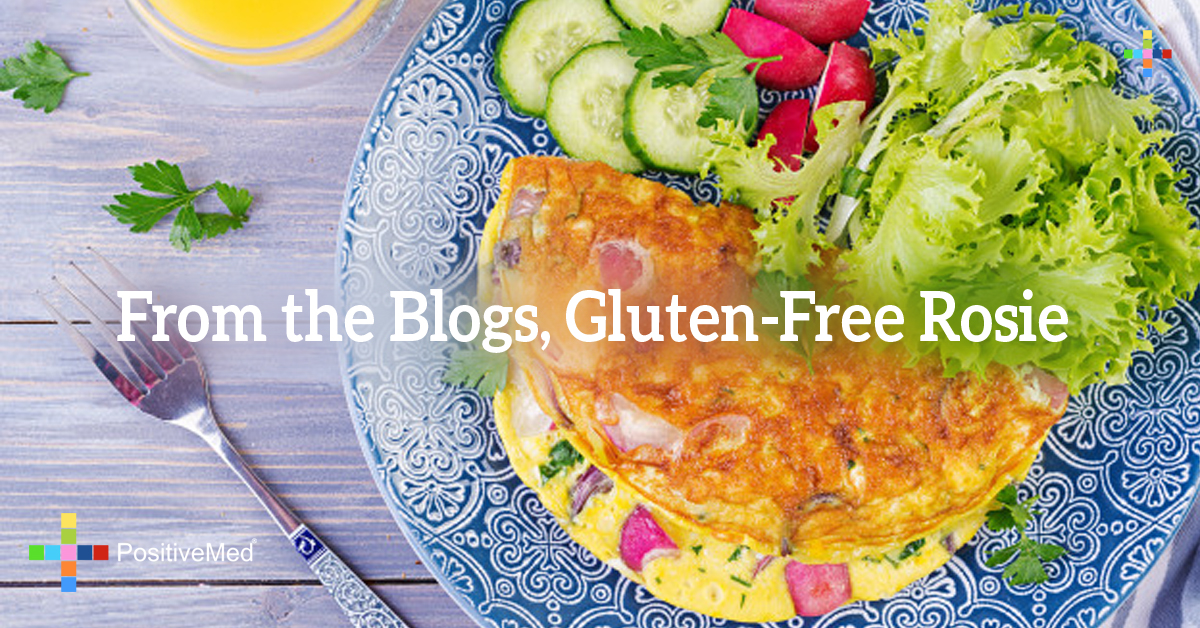 A new feature here at PositiveMed is a section with questions and answers from some of our favorite blogs. If you know of a blog you think should be featured send us an email and we will check it out!
(Author's note: I liked Rosie's answers so much I left them as is, no changes, she is English and her wording reflects that, she is awesome, I wish I could go eat at her flat!!)
https://www.facebook.com/GlutenFreeRosie
How and why did you start becoming gluten-free?
I was quite unwell at the age of 13 suffering from unexplained weight loss, vitamin deficiencies, anaemia and osteopenia (low bone density). It was at this time that I was diagnosed with coeliac disease and my life changed. This disease is not an allergy as commonly thought. Instead it's a serious auto-immune disease affecting about 1 in 100 where the body's immune system attacks itself upon gluten ingestion. This causes damage to the lining of the gut and means that the body cannot properly absorb nutrients causing potentially severe complications. The only way to currently manage this disease is to strictly avoid gluten for life.
What led to starting your blog?
Gluten Free Rosie is a blog for anyone interested in following a healthy lifestyle. I am currently training to be a dietitian and had the idea for Gluten Free Rosie when I realised there is a common misconception that gluten-free automatically means healthy! Although it is fantastic the gluten-free industry is growing so rapidly, packaged gluten-free foods are often filled with refined sugar and flour making them energy dense but not necessarily nutrient dense. Using my nutrition knowledge, this blog investigates simple ways to optimally nourish the body to boost all round healthy using nutritious gluten-free food that tastes awesome. I follow a largely plant-based diet which is free from gluten, wheat and refined sugar. For me this means my recipes mainly focus on fruits, vegetables, legumes, grains, nuts and oils with the occasional addition of high quality meat, fish, eggs or dairy. Although I am not vegan or vegetarian myself, many of my recipes are suitable for someone following this type of lifestyle. The response to my blog has been amazing and has led me to set up a monthly gluten-free supper club called The Camberwell Kitchen with my boyfriend (Ant) in our London flat.
What's an easy tip you can teach our readers?
Take advantage of the nutritional benefits of frozen berries as winter beckons. Berries are extremely nutritious, particularly because they contain high levels of antioxidants. I love adding these to my home-made Bircher muesli breakfast pots or smoothies. As the summer months fade, fresh berries are hard to come by and can be expensive. The good news is frozen berries are just as nutritious as fresh ones since they are frozen at their seasonal peak immediately after picking. This means they maintain their nutrients while making the long trip from the farm to your kitchen.
How easy is it to go gluten-free on a budget?
Packaged gluten-free options are often more expensive than 'regular' food. Going gluten-free on a budget does not have to be difficult but needs planning. I prefer to eat naturally gluten-free foods such as sweet potato, quinoa, legumes, seasonal vegetables and brown rice. Cooking in bulk and basing my meals around these whole food sources has proven to be cheaper and more nutritious. I've found it's important to be prepared with suitable food storage containers which are leakproof and freezable (I love GoodBox Co. Super Sturdy Storers)

Shared Recipe:
Quinoa & Beetroot Pancakes with Avocado Pea Purée & Crispy Kale (serves 2)
I adore savoury pancakes. I love experimenting with different flours, vegetables and toppings to create a beautiful, quick bite to eat. I had an idea for this recipe after imagining the wonderful contrast of colours it would create. I was surprised at the richness of the meal and really enjoyed the variety of textures between the crispy kale, the smooth puree and nutty quinoa pancake. This dish is also extremely nutritious and is free from: egg, dairy, refined sugar, wheat & gluten.
Ingredients
Crispy Kale
2 x large handfuls of chopped curly kale
1 tbs extra virgin olive oil
1 tsp salt
Avocado & Pea Purée
1 small avocado
1 large handful of frozen peas
1 x clove of crushed garlic
1 x pinch of salt
2 x tbs extra virgin olive oil (or an oil of your choice)
Pancake Batter
50g dried white quinoa
1/2 tsp vegetable stock powder
50g oat flour (or another gluten-free flour of your choice, brown rice or teff would work well)
2 x tbs ground flax seeds (these are a fantastic and nutritious substitute for eggs in cooking.
10 x tbs warm water (6 for the flax meal and 4 to loosen the batter)
1 x tbs extra virgin olive oil or coconut oil
50g freshly grated raw beetroot (keep a small amount aside for garnishing)
1 x handful of finely chopped coriander, stalks removed (keep a small amount aside for garnishing)
1 x tsp of ground cumin
1 x tsp of ground chilli powder
1 x clove of crushed garlic
1 x finely chopped medium chilli, seeds removed
1 x tsp salt
Preheat an oven to 180 degrees Celsius (350 degrees Fahrenheit, author's note). Wash the kale and remove any thick stalks. Spread the kale out evenly over a baking tray and rub in some olive oil and salt. Bake for about 10-15 minutes turning half way through until crispy.
While this is cooking mix together the ground flax seeds and 6 tbs of warm water in a small bowl. Set this aside to thicken up for about 15 minutes.
Next you can prepare the puree. Boil a large handful of frozen peas. After these have been cooked and drained add them to a food processor with a small avocado, clove of garlic, tbs of olive oil, salt and lemon. Blitz until smooth. Taste and check for seasoning.
Now you can prepare the batter. Boil a kettle of water, rinse the quinoa and cook it with the vegetable stock as per the instructions on the packet. I always take my quinoa off the heat before its finished cooking and leave it to steam with the lid on. This helps to create light and fluffy (rather than wet and soggy quinoa).
In a large bowl mix together the quinoa, oat flour, spices, fresh chili, beetroot, herbs and salt with a whisk.
Next you can add the wet ingredients. Add the 4 tbs water, extra virgin olive oil, crushed garlic and ground flax seed mixture. The batter will be quite thick.
Heat a medium-sized frying pan with some oil and add half the batter spreading the mixture out with a spoon until it's about 1/4 inch thick. Make sure you also neaten up the edges so make a circle shape. Sprinkle a small amount of salt on the up facing side of the pancake.
After about 3 minutes, flip the pancake over. At this point you can gently press down on the pancake using a spatula. This helps to make sure the pancake has been cooked through properly. After about 2-3 minutes slide the pancake off the pan onto a plate. Keep the pancake warm with tin foil.
Cook the second pancake following the same instructions.
On a plate add the pancake followed by a generous dollop of puree in its centre with some beetroot to garnish. Sprinkle over some crispy kale around the plate. Enjoy!