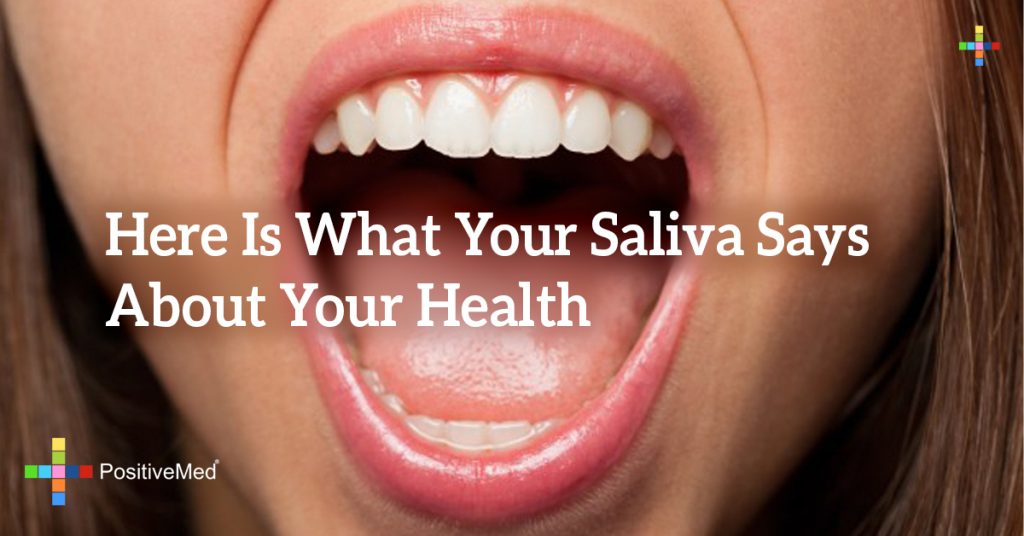 Here Is What Your Saliva Says About Your Health
Saliva contains 72 different types of bacteria and thousands of proteins, enzymes, minerals and hormones. It also has some components of DNA. Many secrets are revealed with just a dollop of drool. Not just to diagnosis problems with your oral health, but to measure your stress level and catch cancer and heart disease.
Saliva is produced around the clock, totaling two to four pints a day. Most people produce more saliva in the late afternoon and the least while sleeping. Saliva helps you digest food and rinses your mouth of food particles afterward. Healthy saliva keeps your teeth strong.
STRESSED OUT? YOUR SALIVA KNOWS
If the enzyme cortisol is too high, no doubt, you are stressed and anxious. This test is used with pregnant women to see how mom's stress is affecting the baby in prenatal stages. Women with high levels of cortisol are seven times more likely to have premature babies.
EARLY STAGES OF CANCER, PALSY, PARKINSON'S DISEASE, MORE
If you have constant dry mouth or drooling, get it tested. The combinations of all those minerals, enzymes and proteins work together to determine your risk of dozens of serious conditions. This is true not just for oral cancer, but most all cancers. Knowing your risks is knowing how to follow up.
RELATED ARTICLE: 10 Most Powerful Foods In The World Which Destroy Cancer Cells!
HOW'S YOUR TICKER?
By testing just one enzyme, your risk of heart disease can be easily assessed by a doctor. Early detection of this serious health complication can, literally, save your life.
ARE YOU IN PAIN?
Saliva contains a painkiller called Opiorphin. It's a super opioid, six times more potent than morphine. It blocks brain-based pain signals to your brain. Though we all produce the enzyme every day, Opiorphin is not overly prominent until pain actually occurs.
DRUG INTERACTIONS
If your mouth is dry and your saliva is thick or stringy, it may be caused by a medicine you take. Antipsychotics, most all antidepressants and many over-the-counter medicines (allergy medications especially) cause this condition. There are treatments, prescribed by your doctor, to help.
ABOUT THAT GOOK ON YOUR TONGUE …
Stick your tongue out. If it's pale, there's a good chance you have iron-deficiency anemia. Iron deficiency affects one in five women and can cause fatigue and serious problems. Diet and supplements can treat it. Examine your tongue often and see a dentist or doctor if there's anything amiss.
RELATED ARTICLE: 15 Signs You May Have Iron Deficiency And What To Do About It
What's going on under your tongue? Ask your primary care physician for a saliva test to find out what's happening with your overall health. (Doctors call it a sputum test.) Then you can investigate each imbalance to take further approaches.
Listen to your spit!