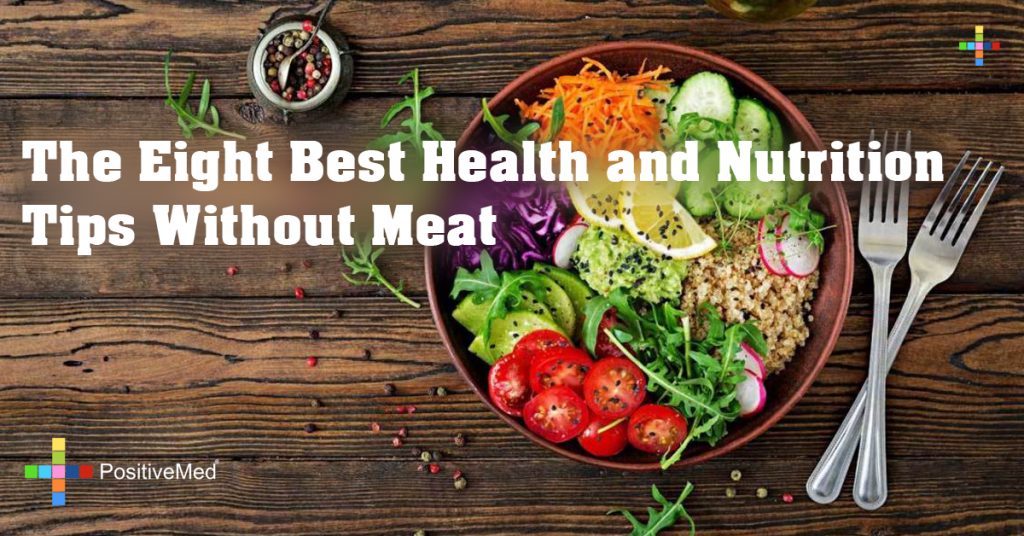 The Eight Best Health and Nutrition Tips Without Meat
As you get older, it becomes more and more important that you focus on your health. In order to have better results, you will have to work to provide your body with regular exercise and an adequate amount of healthy, nutritious food.
But what are some of the best health and nutrition tips? For many, this includes eating lean meats, but today we'll look at getting the right amount of health and nutrition completely without meat.
This is often harder than it looks because while you can eat until your full with a vegetarian diet, it's more important that you get the right amount of nutrients for a healthy body.
Let's look at the 8 best health and nutrition tips without meat.
#1 Focus on proteins
One of the easiest ways to ensure you have a balanced diet is by focusing on getting enough protein in your diet. This is not only necessary for your health, but it will also leave you feeling fuller for longer.
This can be accomplished without meat by making sure you eat a good amount of various plant foods. These include nuts, soy, beans and peas, and eggs and dairy.
#2 Don't over-complicate things
One big thing that affects people who want to increase their health and nutrition without meat is that they can complicate their food choices.
However, there are already many dishes that you eat on a regular basis that are meatless (or easily made meatless), such as soups, salads, pizza, etc. That way, instead of fretting over what you'll eat, you can simply focus on normal foods that don't take a lot of time or money to make.
#3 Beans, peas and other legumes
Beans, peas and other legumes like lentils have high nutrient content and it is recommended that everyone make it a part of their diet.
Make sure you include it in your meals on a regular basis. This can be foods such as bean salads, pea soup, vegetarian chili and even your favorite hummus. You can also eat foods common in other parts of the world, such as lentils and rice or beans and rice. Just use brown rice for better nutrition.
#4 Grill it
Grilled veggies are an underused outlet for great nutritious food that's not focused on health. This is normally because the grill space is occupied by meat.
However, you can slice zucchinis, eggplants, bell peppers, veggie burgers and many others for a filling, nutritious meal. The grilling process will also create a fantastic, smoky flavor that goes well with meatier vegetables such as mushrooms.
#5 Get your calcium
Calcium is very important to make your bones and teeth strong. Some vegetarians are fine with eating dairy products, which can be a great source of calcium.
Other plant-based sources of calcium include dark-green vegetables, such as mustard greens, bok choy, collard, etc. You can also get it from fortified soy milk or breakfast cereals.
#6 Switch up your diets
While many national cuisines are filled with meat options, there are still many cultures around the world that often go meatless on a regular basis.
For example, Middle Eastern/North African food often has a lot more vegetables in their diet than western diets do. These are often quite delicious options, depending on your own tastes. Falafels and shawarma are not only delicious and filling, but also available in many bigger western cities.
#7 Snack on nuts
Unsalted nuts can be a great snack, but you can also use them in your main dishes and salads. For example, you can add walnuts, pecans, and almonds in place of meats and cheeses to make your green salads more filling.
You can also snack on various seeds or a combination of seeds and nuts. One great thing to do is to roast your nuts and seeds together with a little bit of olive oil and some spices to have a fantastic, healthy and nutritious snack for your day.
#8 Get B12 in your diet
It's very important that you have adequate amounts of B12 in your diet. Normally you can find this naturally in animal products.
B12 is a very important vitamin that helps keep your blood cells healthy and is crucial in making DNA. Luckily, you can get this vitamin by eating fortified cereals or soy products. You can also take a B12 supplement to make sure you have a healthy amount.
The best health and nutrition tips
While you can find a lot of useful information around, it's important that you focus on what your tastes are. These tips above are great for a well-rounded, healthy and nutritious lifestyle that doesn't depend on meat.
If you follow these tips, you'll find yourself feeling healthier, fuller and more energetic.
Chef Jason Galletti's passion for exceptional and unique food inspired him to bring together G`dayChef to life. For over 10 years now, Jason and his team have provided Melbourne Catering and event services with the newest and most delicious culinary trends.