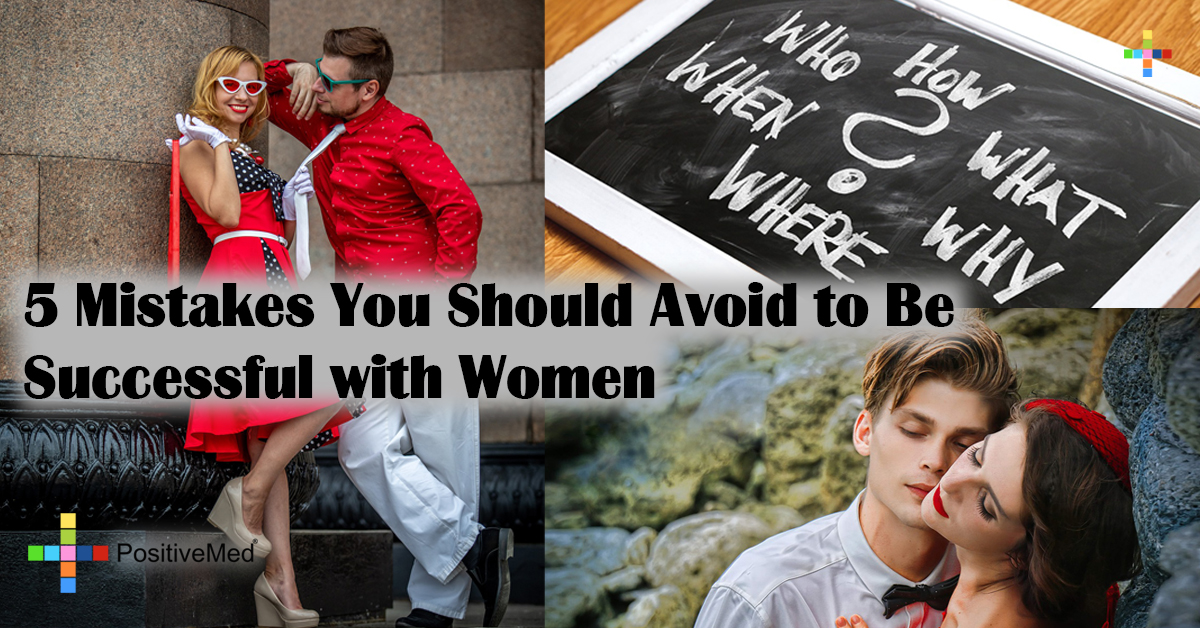 5 Mistakes You Should Avoid to Be Successful with Women
Communication with the opposite $ex is a real challenge for many guys. The things become more complicated when you like a woman and want to do everything to win her heart. When in love, men tend to go out of their way to please a girl. This is where the troubles begin. Usually, there are five common mistakes that men make with women. Dating experts from Maria Date have established those blunders and come up with possible ways to correct them.
Being too sweet to a woman.
Although women like nice guys, very often they don't take them seriously. If a man is too nice to a girl, she'll think he behaves in such a way because he thinks she is too good to be true for him. In order to prove the contrary, treat her not as a goddess but as an average girl. For example, banter with her or tease her a bit in a playful manner to show that you are on equal terms. However, the main thing here is not come across as cheeky, so don't go too far.
Hesitating out of the fear to be rejected.
Over centuries, men have lost a plenty of chances to meet attractive women just because they were afraid to approach them. Although many guys finally gather their courage and go and talk to a woman, they lose valuable points because that woman might have seen them hesitating. If she really did, they will have to try hard to make the things work. The solution to this problem is the following: approach a beautiful woman once you notice her and feel attracted to her. Remember that an instant hi is always better than a long opening line delivered after ten minutes of hesitation.
RELATED ARTICLE: 6 Steps to Attract High Quality Men
Bombarding her with questions.
Asking question is an important part of a conversation. It is understandable that you want to get to know the girl you've just met better but turning the first minutes of your acquaintance into a job interview is not the best idea. Keep in mind that almost every guy chooses this strategy when approaching a woman, so you can only imagine how she feels constantly answering those questions. In order to stand out in the crowd, tell her about yourself first and wait until she tells you about herself in return. You should get interested in each other to make exchanging questions come naturally.
Avoiding physical contact.
If you talk to a woman but keep a social distance with her and avoid even slight touches, you don't do anything to show her your romantic intentions. That is why, when you lean in to kiss her, you'll cause an awkward moment because she didn't expect such a move from you. To avoid embarrassment, start touching her as early as possible. Touch her accidentally while walking or in the middle of your conversation. You should gradually eliminate the distance between you so that your kiss will not catch her off guard.
Ignoring her friends.
If it turns out that a girl you've just approached is not alone and her female friends are waiting for her at the next table or somewhere in the vicinity, don't freak out. Just go and meet her friends. It's a usual thing that girls listen to the opinions of their friends so your success with her will depend on how her friends will like you.
---
 
Disclosure Policy:

This blog is a collaborative blog written by a group of individuals. This blog accepts forms of cash advertising, sponsorship, paid insertions or other forms of compensation. The compensation received may influence the advertising content, topics or posts made in this blog. That content, advertising space or post may not always be identified as paid or sponsored content. The owner(s) of this blog is compensated to provide opinion on products, services, websites and various other topics. Even though the owner(s) of this blog receives compensation for our posts or advertisements, we always give our honest opinions, findings, beliefs, or experiences on those topics or products. The views and opinions expressed on this blog are purely the bloggers' own. Any product claim, statistic, quote or other representation about a product or service should be verified with the manufacturer, provider or party in question. This blog does contain content which might present a conflict of interest. This content will always be identified.