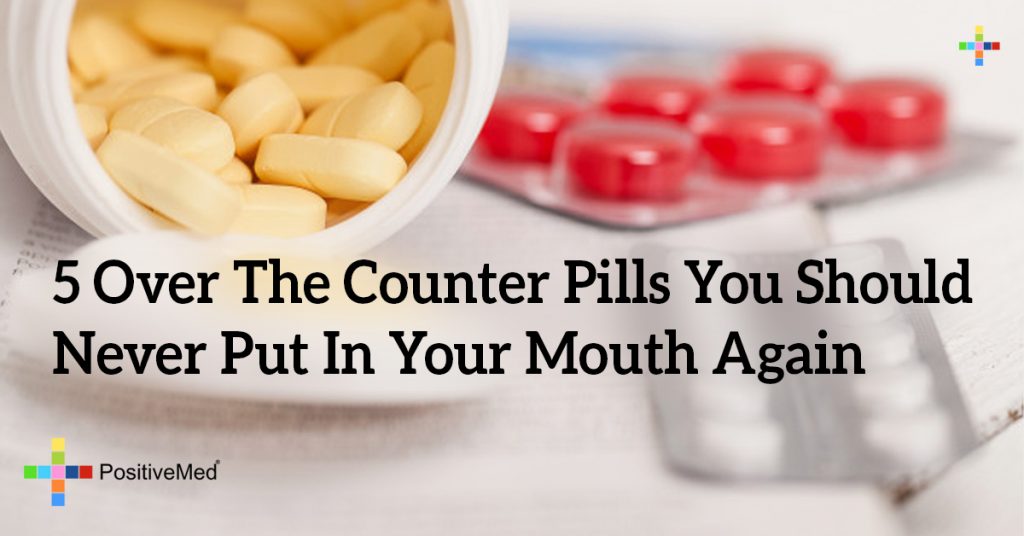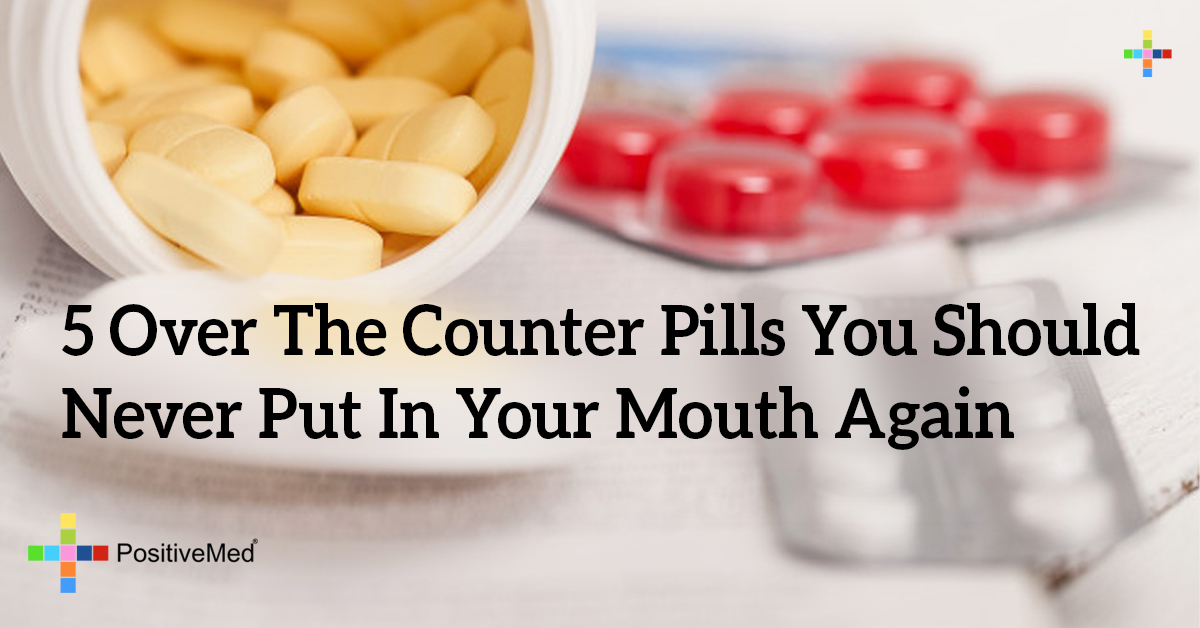 5 Over The Counter Pills You Should Never Put In Your Mouth Again
[nextpage title="…"]
What happens when someone gets sick? Often, they head straight to the doctor or pharmacist for a pill to solve their problems. Yet many pills can often lead to more harm than help. Find out what your medication has been doing to your body and natural remedies that can offer natural relief.
Multi-Symptom Products
What They Do:
Multi-symptom products, like cold medicine cough medicine and pre-menstrual medicines, can ease the pain of many symptoms. They tackle several issues at once and often relieve pain and uncomfortable symptoms fast. They are most often taken on their own without the use of other drugs.
Why They Are Harmful:
Many of these medicines are often taken to relieve two or more symptoms; yet, many patients do not show the signs of more than one symptom when taking these medications. They can also lead to overdose since more than one type of medicine or pain reliever is used in each dose. These side effects are extremely dangerous for children.
What to Buy Instead:
Opt for all-natural cough medicines and fever reducers. Tukol D and Hyland's are both options that are more natural alternatives. Just make sure to consult your doctor before combining one or more type of natural remedy as many remedies can interact with each other and lead to other side effects.
NSAIDs
What They Do:
Most NSAIDs are used for anti-inflammatory purposes and pain relief. Some of these drugs, like aspirin, can also prevent blood clots. Most people use these drugs for headache, muscle or cramp relief. They can also be used for migraines or to treat more severe pain.
RELATED ARTICLE: Natural Joint Pain Relief
[/nextpage] [nextpage title="…"]
Why They Are Harmful:
NSAIDs come with many side effects. Some can be extremely harmful to the liver or kidneys. Other NSAIDs have been known to become addictive in some patients. They might induce nausea, vomiting, diarrhea, dizziness, rash or drowsiness – even when taken according to the instructions.
What to Buy Instead:
Luckily, there are plenty natural alternatives to these types of drugs. Many arthritis sufferers find relief in turmeric. This herb is also helpful with other types of muscle pain. Magnesium can be used to treat migraines as the loss of magnesium is one of the causes of migraine headaches. Traumeel has been found effective for muscle cramping.
Antacids
What They Do:
Antacids can prevent or ease the pain of heartburn caused by too much stomach acid. They can help to neutralize the pH levels in the stomach and digestive tracks. These medications can be taken before eating a spicy or fattening meal. They can also be taken after the trigger foods have been eaten.
Why They Are Harmful:
The stomach creates acid that can help digest food. When this acid is neutralized, it can lead to digestive and gastrointestinal problems. Antacids can also lead to an upset stomach and diarrhea.
What to Buy Instead:
Ginger is one of the best remedies for antacid or an upset stomach. Eating one or two ginger candies or sucking on a slice of raw ginger can help take the sting out of trigger foods. Baking soda can also help after eating trigger foods. Simply mix one teaspoon of baking soda with one cup of water to ease discomfort.
RELATED ARTICLE: Are Diet Pills a Good Way to Lose Weight?
[/nextpage] [nextpage title="…"]
Antihistamines
What They Do:
Antihistamines block the histamines the body releases after eating or breathing possible allergens. They are usually taken orally in a pill or capsule form. They can be taken once per day in the morning or evening or when an allergy attack occurs.
Why They Are Harmful:
Many antihistamines come with side effects, like dizziness and dry mouth. They can also lead to drowsiness, digestive problems, mood issues or confusion.
What to Buy Instead:
Stinging nettle is an all-natural antihistamine that can be taken once a day and does not offer the side effects of over-the-counter drugs. Foods like apples and onions have large amounts of quercetin, which can help to reduce the uncomfortable symptoms of allergies – as long as the patient isn't allergic to onions or apples.
Pseudoephedrine
What They Do:
Offer temporary relief of signs of the common cold, including nasal congestion.
[/nextpage] [nextpage title="…"]
Why They Are Harmful:
Pseudoephedrine have some of the worst side effects of any of the drugs on this list. Many people who take these medications find they have difficulty breathing, increased heartrate, irritability and dizziness.
RELATED ARTICLE: This Is What Would Happen To Your Body When You Drink Tomato Juice For 60 Days
What to Buy Instead:
Luckily, all-natural alternatives to pseudoephedrine exist that do not have the harmful side effects of this drug. Sufferers can drink tomato tea to reduce symptoms. Honey can also help with nasal congestion and other types of ear, nose and throat congestion.
Check with your doctor to find out which methods and natural remedies can help ease your pain and uncomfortable symptoms. Not every natural remedy is right for everyone; yet natural remedies can offer relief without the side effects.
[/nextpage]