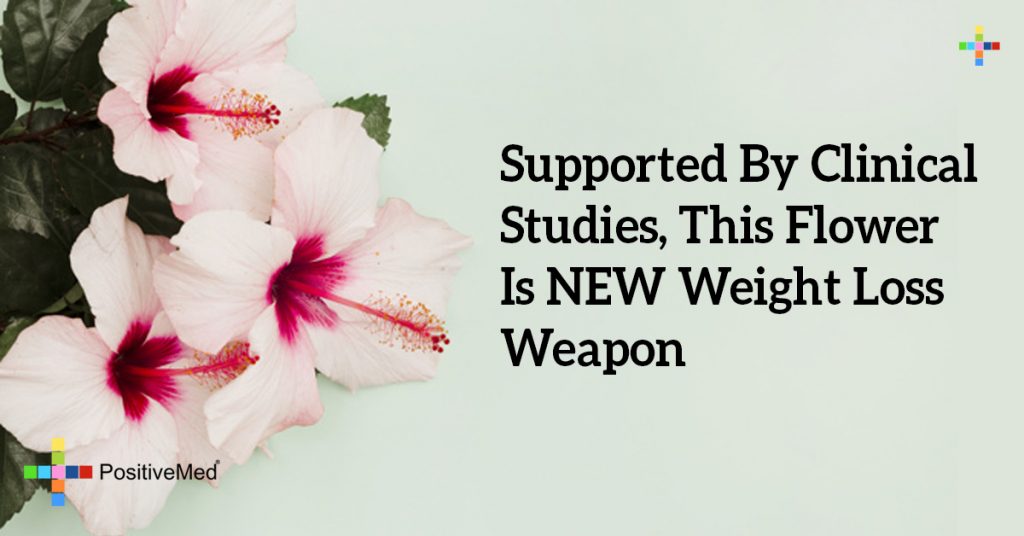 Supported By Clinical Studies, This Flower Is NEW Weight Loss Weapon
Hibiscus, known scientifically as hibiscus sabdariffa, has been used for centuries throughout the world for various cultural practices and its numerous health benefits. It is a large genus of tropical flowers that are part of the Malvaceae family, which includes okra, cotton, and cocoa. Hibiscus is native to warm climates and grows throughout the world.
Prepared by boiling parts of the hibiscus plant, hibiscus tea has become a very popular drink and is often used as a medicinal tea. Hibiscus tea has a sour taste and is ruby red in color. In some parts of the world it is known as sour tea. The popularity of brewing this flower into a healthy and tasty tea continues to grow as more people learn of its health benefits, most recently weight loss.
Scientific Study – Hibiscus and Weight Loss
In 2014, the Food & Function Journal shared the results of a human clinical study that recruited obese participants between the ages of 18 to 65. This twelve-week study was conducted at Chung Shan Medical University Hospital in Taiwan.
RELATED ARTICLE: Homemade Weight Loss Pill That Works Better Than The Ones You See On TV
Half of the study participants were given two 450 mg tablets of hibiscus extract three times daily while the other half were given two sugar tablets three times daily. Before and after the study certain parameters were analyzed including body fat percentage, waist circumference, serum lipase, blood glucose, and waist-to-hip ratio.
After analyzing the post-study parameters, researchers discovered that the participants who took the hibiscus extract had reduced their waist circumference, body fat percentage, and waste-to-hip ratio during the course of the study. Although weight loss was moderate, the results were encouraging.
The results of this study confirm that hibiscus can be incorporated with a healthy lifestyle to steadily reduce weight. Should your palate dislike the flavor of hibiscus tea, supplements can also be found in tablet form.
Health Benefits of Hibiscus
Hibiscus tea has anti-inflammatory and antioxidant properties. It also contains hibiscus protocatechuic acid which has anti-tumor properties as well as vitamin C, flavonoids, and diuretic properties. Hibiscus extract can also lower the absorption of glucose and starch to aid in weight loss. The production of amylase, which helps to absorb starch and carbohydrates is also inhibited by hibiscus, making it a popular ingredient in weight loss products. With its numerous healthy components, hibiscus offers the following health benefits in addition to weight loss:
Blood pressure management
Protects the liver
Decreases cholesterol
Offers anti-cancer, anti-inflammatory and antibacterial properties
Relieves menstrual pain
Reduces anxiety and depression
Aids in digestion
What Consumers Are Saying
There are numerous products available both in stores and online. Overall, hibiscus has a lot of positive reviews. Users have confirmed that by incorporating hibiscus into their daily routine, they have been able to lower and stabilize their blood pressure, manage weight and have steady weight loss, lower their fasting glucose level, lower levels of bad cholesterol, and feel better overall.
ALSO INTERESTING: 7 Ways $ex Changes After Extreme Weight Loss
Although hibiscus isn't a miracle for weight loss, its healthful properties can offer your body the support it needs to reach and maintain a healthy weight and fight various diseases and illnesses. The properties in hibiscus seem to make it a whole body benefit. Hibiscus is safe for many to use, however, there is a caution for use during pregnancy. If you are pregnant or have a medical condition, it is best to seek the advice of your physician before use.