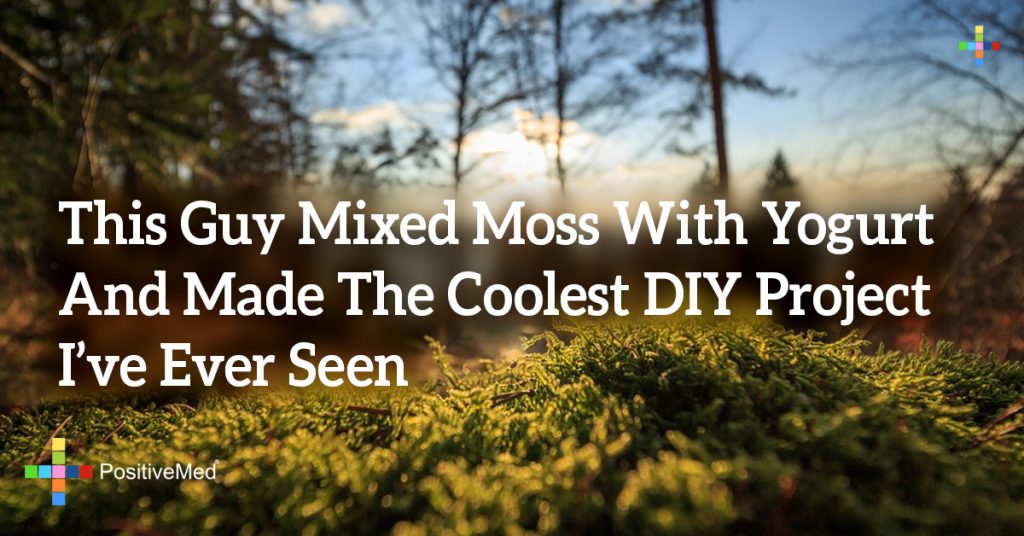 This Guy Mixed Moss With Yogurt And Made The Coolest DIY Project I've Ever Seen
Moss Graffiti could be the biggest craze to hit the artistic world since the paint brush. With a creative streak and a few everyday items, one man shows how he's preparing for spring in a most unusual way.
Step 1 – Go outside and grab a handful of moss. Moss grows on trees, in between rocks and sometimes up the side of your house. You can't miss it. It's green and fuzzy. Yes, your hands will get dirty. Get over it.
Step 2 – Wash your moss under running water to remove most of the dirt, rip it apart and throw it in a blender. There will be tiny stems hanging on. That's okay because you will need those later.
Step 3 – Add 2 cups water, 2 cups plain yogurt and 1 teaspoon sugar to the blender. Mix well but do not blend. You want your moss and seems to stay intact. If the mixture is runny, add a little corn syrup to thicken it up.
RELATED ARTICLE: DIY And Creative Ways To Repurpose Old Tires
Step 4 – Pour the mixture into a bucket and find a 1 1/2 to the 2-inch paint brush. It's time to have fun!
Step 5 – Find an outside boring wall. Take your brush and dip it in the mossy mixture and make a design. It can be letters, a shape, or the outline of an animal. The choice is yours.
Step 6 – Check on your new eco-design weekly and spray with water to promote growth. Moss loves water. Go ahead and trim it up if it begins to sprout in all the wrong directions.
If your graffiti is a little dormant or lacks fullness, try it again! Practice makes perfect, Rome wasn't built in a day and, oh well, you get the drift. Before long, you will be training your moss like a Bonsai tree. Be the first one on the block to have your own personal mossy message. Teach others this new method and turn your city into a gateway of greenery. You'll never let a stone wall depress you again.