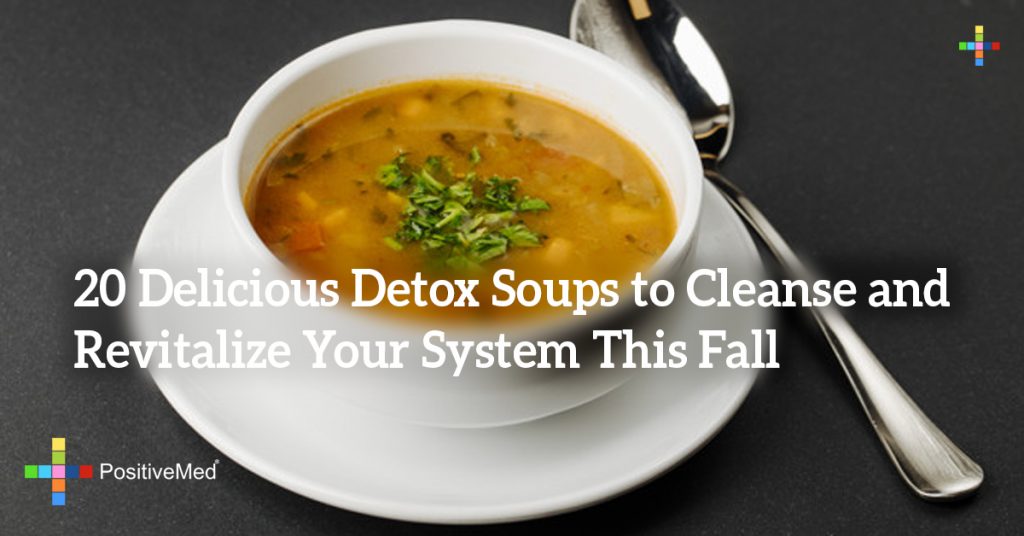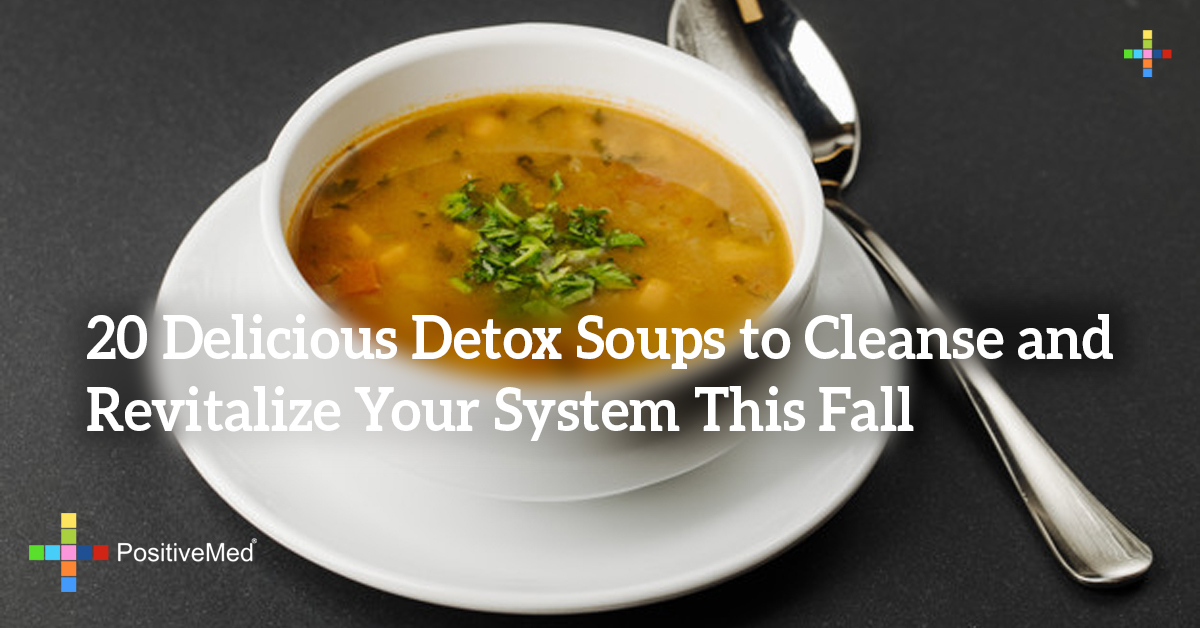 20 Delicious Detox Soups to Cleanse and Revitalize Your System This Fall
You are what you eat. For most of us this saying is truly terrifying. After quick meals in drive-thrus and sugar laden pick-me-ups to get us through the long work week, our skin is tired, our brains are foggy and our bodies could use a good cleansing. With cold and flu season around the corner, our bodies need all of the nutrients they can get. Now is the time to flush the toxins out and replenish our natural stores with all of those great vitamins and minerals we crave. So, go on, treat yourself with one of these lovely cleansing concoctions.
1-Detox Veggie Soup– Full of garlic and kale this soup will flush out toxins and cleanse your liver. Plus its loaded with hearty veggies that replenish all the good nutrients we need.
2-Spicy Detox Soup- A vegan soup that warms you heart and soul. With its broad range of spices like cayenne, red pepper, and bell pepper, this soup speeds up your metabolism and even clears your sinuses.
3-Cinnamon Cleanse Soup- Cinnamon and cumin pair well together to assist you with elevating blood sugar levels and stimulate your digestion. Cinnamon is also touted for its fat burning abilities as well as its skin rejuvenating properties.
RELATED ARTICLE: 10 Signs Your Body Is Screaming at You for a Detox
4-Turmeric Tomato Soup Detox- High in antioxidants, this soup is great for your skin. It has antiseptic, anti bacterial and anti inflammatory properties that give you a healthy glow.
5-Ginger Carrot Soup- A warm creamy soup that assists with digestion and that keeps the cold and flu at bay. Carrots are a great way to take care of your skin and balance your hormones.
6-Lentil, Kale, and Sweet Potato Soup- Lentils and sweet potatoes add fiber to keep your system flowing while kale steps in to flush out the bad vibes. This hearty soup is a very filling dish.
7-Lemon Drop Soup Detox- Lovely lemons boost your immune system with a strong shot of Vitamin C while leeks take out the toxins in your blood stream for a tasty healthy combination. This soup is great for keeping the cold away.
8-Artichoke Soup Cleanse- Artichokes assist with liver function to cleanse the blood. This helpful green also aids the digestive process.
RELATED ARTICLE: Effective One Day Detox To Re Charge Your Body!
9-Mint & Pea Soup- Mint is good for the gallbladder. By assisting with the flow of bile and breaking down dietary fats, it creates a slippery environment perfect for getting rid of those sneaky little gallstones.
10-Onion Soup Detox- Onions are the ultimate detoxing agent. These tasty little bulbs pull out harsh metal toxins like lead and mercury that can weigh your body down.
11-Seaweed Soup- Commonly known as Miyeokguk, this soup is full of vitamins and minerals. Seaweed also binds to and flushes out radioactive waste and heavy metals.
12-Sparkling Pineapple Soup- Loaded with bromelain, this digestive enzyme powerhouse can cleanse your colon and boost digestive health. It's also a very unique soup flavor sure to impress whomever you serve.
13-Broccoli & Hemp Seed Soup- Hemp is full of vitamins E & C. Together with broccoli, the fibrous duo keep the system regular.
14-Avacado & Grapefruit Soup- The superfruit full of lycopene is a fighter of free radicals. Avacado and grapefruit ban together to keep your skin glowing and fight weight gain and cholesterol.
15-Zucchini & Fennel Soup- Known for preventing colon cancer, the fennel is a tasty accompaniment in this amazing cleanser. The zucchini is a great fat burner and a delicious detox.
16-Cilantro Lime Soup Detox- Loaded with antioxidants, cilantro also utilizes dodecenal, an antibacterial compound that is effective in killing Salmonella. Limes bring in the Vitamin A & C to round out the tasty treat.
17-Cabbage Soup Cleanse- Cabbage isn't only good for digestion, it also contains indole-3-carbinol, which assists DNA repair in cells. Cabbage never tasted quite so healthy.
18-Savory Beet Soup- Beets are so much more than their colorful exterior. They fight cancer, lower blood pressure, fight infection and flush the liver.
RELATED ARTICLE: 7 Foods To Help You Detox, Naturally
19-Butternut Squash & Apple Soup- Vitamins, minerals and bile stimulating flavonoids make apples the go to fruit. They are loaded with antioxidants and really do keep the doctor away.
20-Dandelion Soup- From your garden to the kitchen, this earthy soup helps to flush toxins from the blood stream. They are a great way to flush out processed food toxins as well.
If you'd like to feel better this fall, skip the take out and whip up some home made detox soup. They're delicious proof that good for you doesn't mean skimping on taste. From hearty and rich to smooth and creamy, these soups are sure to put some pep in your step this season.