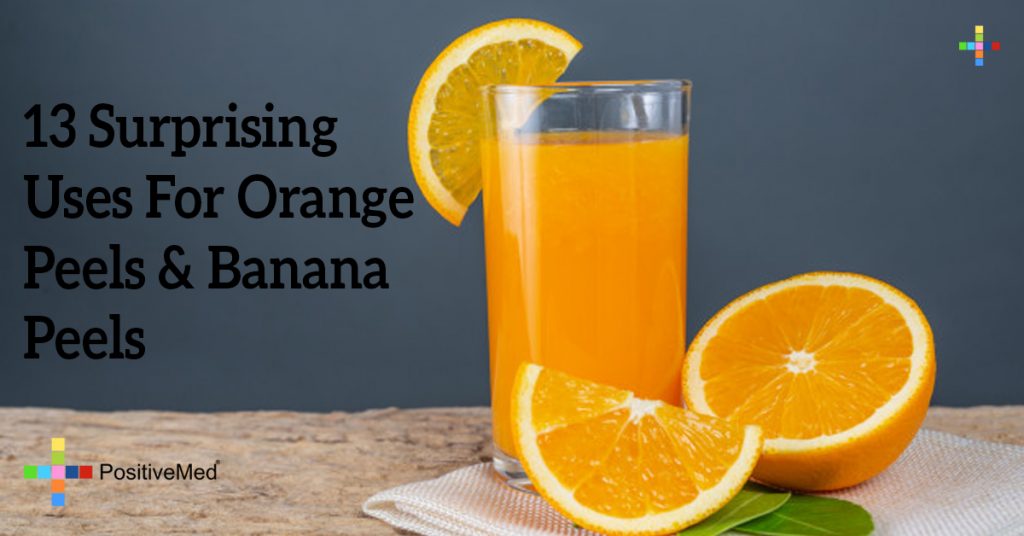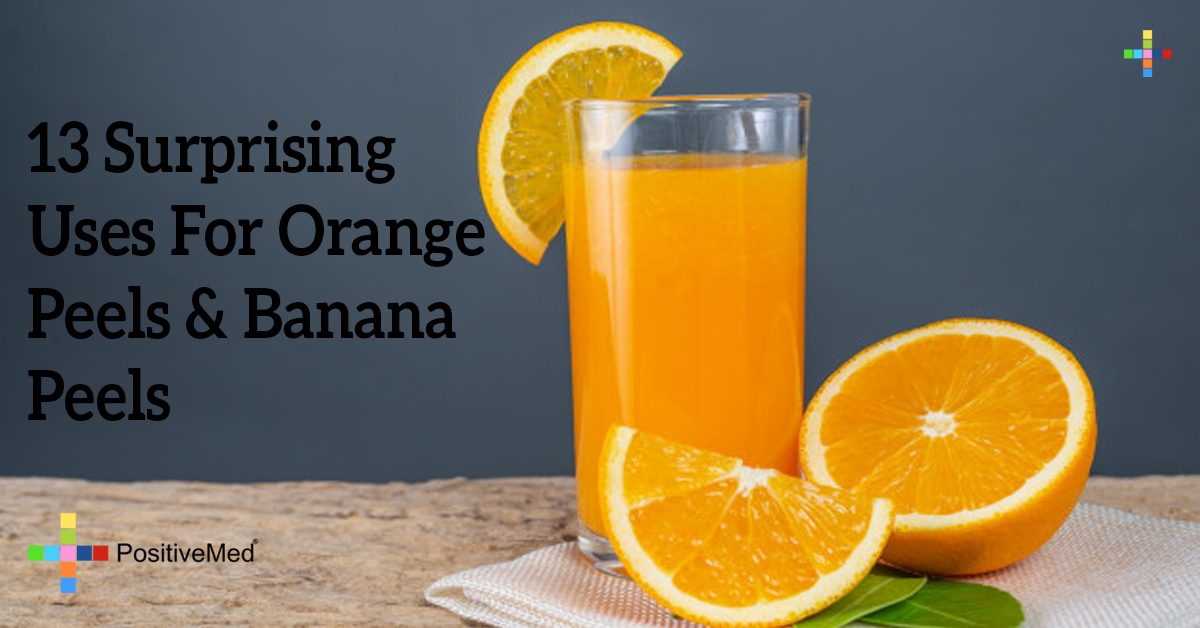 13 Surprising Uses For Orange Peels & Banana Peels

If you are a first-time visitor, please make sure to follow us on Pinterest and like us on Facebook to receive all information you need to have a happier and healthier life.
Orange peels are so useful for household chores that you should never throw them out before making the most of them! They contain natural citrus oil which is good for your skin, from cleaning metals to glowing skin, orange peels can surprise you with many things. Here are some unusual uses of orange peels:
1. Clean stainless steel
Fresh orange peels can be used to clean and shine stainless steel objects like the sink. Simply take some fresh peels and use them as you would use your sponge to scrub. The steel will also become water-spot resistant. You can use natural oil as a waterproof barrier. Avoid dishwashing liquid.
2. Soften brown sugar
Now you can keep your brown sugar from drying out. Place orange peels in the container of brown sugar and it will soften it.
3. Smelly shoes
You can get rid of smelly shoes by putting orange peels in them. Face the inside portion of the peel towards the sole of your shoes and they will absorb moisture and leave them smelling wonderful.
4. Cleaner
Keep leftover orange peel in a lidded jar and add white vinegar to it. Keep this jar in the fridge for a few weeks and shake it occasionally. Transfer it to a spray bottle and use to clean your windows, countertops, or floors.
5. Use as a cup
While pulling off the peel if you have been able to keep at least half of the peel intact you can use it as a cup and put jellies or snacks in it.
6. Orange tea
You can use orange peels in your tea. Next time you make tea add orange peels and enjoy the result.
7. Mosquito repellent
Keep mosquitoes away by spraying orange peels on your skin and rub the outside portion of the orange on your skin before heading out.
8. Body scrub
You can use the peels as a scrubber. Wrap them in gauze and rub them on your skin while you are in the shower. It will make your skin glow and give you brighter skin.
9. Lower blood pressure
Chinese medicine uses bitter orange peels as natural medicine. Herbalists suggest eating bitter orange peel to lower your blood pressure naturally.
10. Relieve anxiety and depression
The oil from orange peels can be used to relieve anxiety and depression naturally. Massage with the oil and feel the difference.

11. Emergency oil Lamp
Fill a half-orange intact peel with olive oil for an emergency lamp. Use the pith as candle wick. This is easy to do and a great alternative when there is no other arrangement.
12. Light fire
Orange oil is flammable and catches fire easily. Next time you want to light a fire use orange peels instead of newspaper to start the fire. Burning orange peels in your fireplace will also remove any creosote.
13. Deodorizer
You can use orange peels as deodorizer. Put some in your fridge to make it smell good. You can also keep some in your garbage bin to eliminate stinky odors.
Disclaimer: This article is for informative purposes only, and should not be used as a replacement for expert medical advice
20 UNUSUAL USES FOR BANANA PEELS :
13 Creative Uses For Orange Peels
BY Divya Shree
Edited by Stephanie Dawson