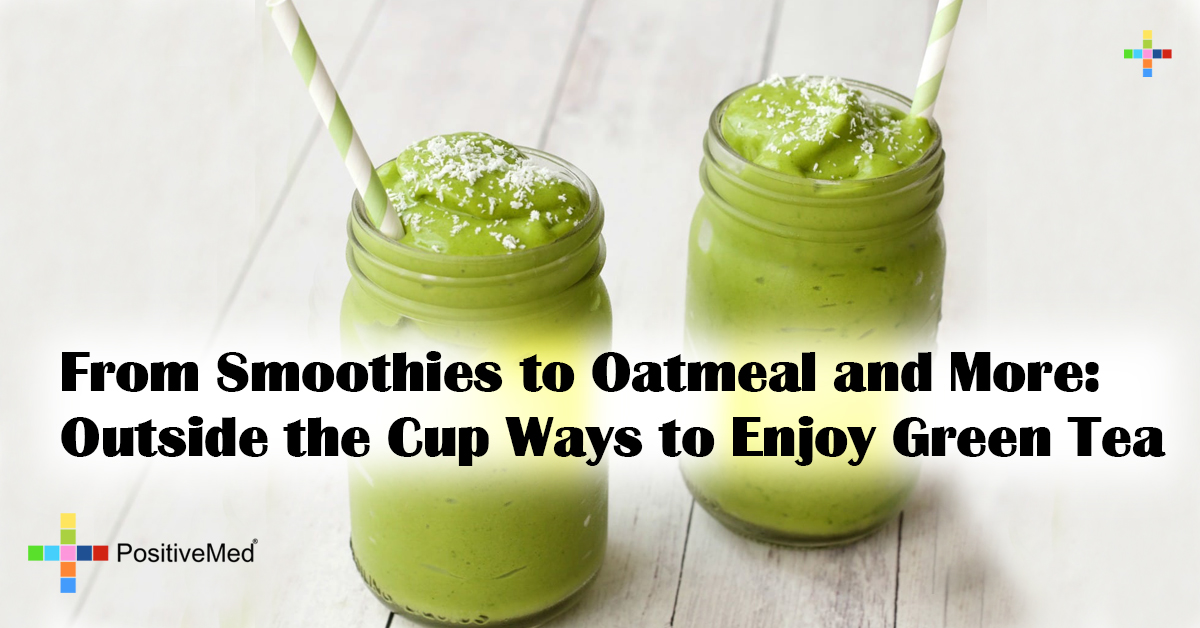 From Smoothies to Oatmeal and More: Outside the Cup Ways to Enjoy Green Tea
Green tea is one of the healthiest beverages that you can add to your diet. Because of the way it's processed, this type of tea contains an amazing amount of antioxidants and polyphenols, two ingredients that give green tea some incredible health benefits.
Although green tea is the world's most consumed beverage next to water, drinking cup after cup can get boring. Luckily, there are other ways we can reap the benefits of this incredible beverage. Brewing green tea and adding it to dishes or adding green tea powder to recipes, particularly desserts, can pump up the flavor as well as adding incredible health benefits. Using matcha green tea powder is especially easy when trying to boost your green tea consumption. Learn more about green tea and view this from Kiss Me Organics and be on your way to better health with the addition of green tea into your diet.
Green Tea Drink Twists
A boring cup of plain green tea can easily be kicked up a notch with a few added ingredients. During the hot months, iced tea drinks are a great way to cool down and be healthy at the same time.
Iced Berry Green Tea
4 cups of water
4 tea bags green tea
1 cup of mixed berries chopped or crushed
2 teaspoons honey
Orange slices to garnish
Bring water to boil in a pot and then remove from heat. Add the berries, tea, and honey and stir well. Let the mixture sit for about 15 minutes and take out the tea bags and strain the berries out. Cool the liquid to room temperature and pour into a pitcher. Let it get cold in the refrigerator and enjoy!
RELATED ARTICLE: 7 Unexpected Facts About Green Tea That Will Change The Way You Look At It
Green Tea Smoothie
Judging from the long lines at places like Starbucks and Jamba Juice, smoothies and frappuccino are a popular drink, especially in the warm summer months. Smoothies are easy to make at home with a blender and a few simple ingredients. A green tea smoothie can be made using either brewed tea or powder.
Blueberry and Green Tea Smoothie
Ingredients:
1 cup of green tea, brewed and cooled
2 cups of fresh or frozen blueberries
3 ice cubes
12 ounces vanilla or plain yogurt
Pop all ingredients in the blender and mix it up. Other berries or fruit can be added along with things like ground flax seeds, protein powder, spinach greens or whatever else you can imagine, boosting the health benefits of this drink even further.
Matcha Green Tea Smoothie
1 teaspoon matcha green tea powder
1/2 cup yogurt
2 tablespoons of honey
3 ice cubes
Blend all ingredients in a blender until smooth. You can add orange juice or almond milk instead of or in addition to the yogurt.
READ ALSO:  15 Breakfast Smoothies That Will Help You Shed Pounds All Day
Matcha Green Tea Chia Pudding
Start the morning right with some delicious pudding for breakfast. The chia seeds add even more disease-fighting antioxidants and omega-3s.
2 tablespoons chia seeds
1 cup almond milk
1 tablespoon rolled oats
1-2 tablespoons of maple syrup, honey or agave
1 teaspoon vanilla
1 teaspoon matcha green tea powder
Measure one of the tablespoons of chia seeds into a blender with the milk, oats, sweetener, vanilla, and green tea powder and blend. Transfer the pudding to a bowl and stir in the remaining chia seeds. Let the mixture sit in the refrigerator until it's a pudding-like consistency. You can make this the night before for a quick yummy breakfast the next day.
Green Tea Coconut Ice Cream
Who says ice cream has to be bad for you? This green tea ice cream is made with coconut milk, a super healthy alternative to traditional cow's milk. And with the addition of natural sweeteners, a bowl of this ice cream is not just delicious, it's good for you.
1 can coconut milk (full fat)
1 cup vanilla almond milk (preferably unsweetened)
2-3 tablespoons matcha green tea powder
1/4 cup pitted Medjool dates
1/4 honey or maple syrup
1/4 teaspoon xanthan gum (to thicken the mixture)
Add all ingredients except for the xanthan gum into a blender and blend until smooth. Then add the xanthan gum and blend again, adding more green tea and/or honey for flavor. Transfer the mixture to a bowl and let it chill for a few hours. If you have an ice cream maker, you can pour the mixture into the pre-chilled bowl and make according to your product's instructions. If not, just pour the mix into a freezer safe container and freeze. Stir the mixture every hour or so to aerate it.
Turn Meals Up a Notch with Green Tea
You don't necessarily need a specific recipe to enjoy the benefits of brewed green tea and matcha green tea powder. Sometimes just adding it into the ingredients of a meal you're already planning to cook is enough to kick your meal up a notch with its added health benefits. Brewed green tea can be used in place of water in soups, salad dressings, lemonade, marinades, and more.
Green Tea Powder as a Spice
Green tea powder can be combined with different spices to add texture and flavor to meals. Add it to a fish or chicken bake by combining it with the breadcrumbs and spices you use to roll the fish or meat in.
Marinades
Steep green tea bags in hot water and add honey, salt, pepper, and any other spices you like. Marinate your meats and vegetables in the mixture for a few hours before cooking and the sweet tea sauce will give your food an incredible flavor.
Ochazuke
In Japan, the popular dish Ochazuke is made by pouring hot brewed green tea over a bowl of rice and letting the rice steep in it to soak up all the flavor and nourishment of the tea. The addition of savory ingredients like seaweed, wasabi, Japanese pickles, sashimi, and scallions turns a bowl of plain rice into a delicious hot meal.
It's easy to incorporate green tea into your diet with a little creativity and imagination. There are tons of ways to get this amazing health food into your daily regimen. You will want to experiment with both brewed tea and green tea powder for a wide variety of delicious results.
Louise Morrison is passionate about eating healthily and nourishing her body, as well as her mind. She writes articles about the top foods to eat, and which to avoid at all costs.
---
Disclosure Policy:

This blog is a collaborative blog written by a group of individuals. This blog accepts forms of cash advertising, sponsorship, paid insertions or other forms of compensation. The compensation received may influence the advertising content, topics or posts made in this blog. That content, advertising space or post may not always be identified as paid or sponsored content. The owner(s) of this blog is compensated to provide opinion on products, services, websites and various other topics. Even though the owner(s) of this blog receives compensation for our posts or advertisements, we always give our honest opinions, findings, beliefs, or experiences on those topics or products. The views and opinions expressed on this blog are purely the bloggers' own. Any product claim, statistic, quote or other representation about a product or service should be verified with the manufacturer, provider or party in question. This blog does contain content which might present a conflict of interest. This content will always be identified.