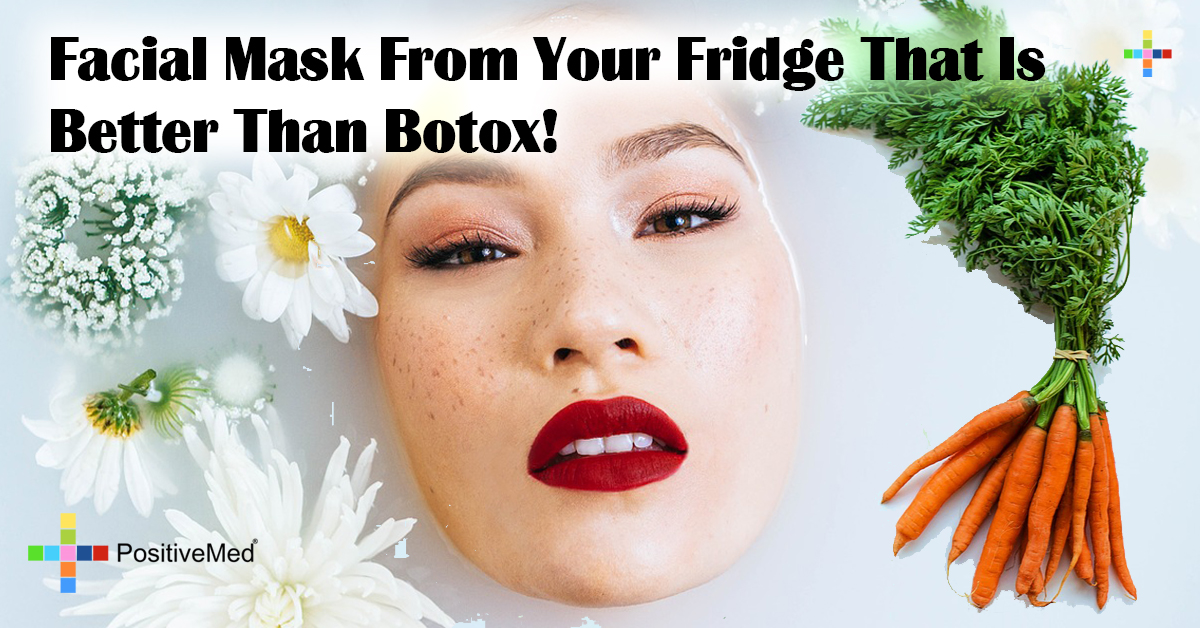 Facial Mask From Your Fridge That Is Better Than Botox!
[nextpage title="…"]
No doubt, age and the stresses of life can make the skin look tired and even old. And old-looking skin makes you look old. Fortunately, not all solutions to aging skin come as a result of a visit to the doctor's office. This natural carrot mask, made with just a few ingredients from your refrigerator and cupboard, tightens your skin like Botox, but without the doctor's visit. And best of all, it won't even cost you a fraction of what it would cost to have a procedure like Botox done.
First Things First
According to the Mind Body Green website, your skin needs a vitamin-rich diet, especially one with plenty of Vitamin A and beta-carotene, which carrots have in abundance. As we age or are exposed to the wind and weather is that free radicals can take a toll on the skin. The antioxidants in this mask help alleviate the damage done to your skin by those free radicals.
This mask also hydrates the skin, reducing the appearance of wrinkles, gets rid of acne, and has antiseptic properties, which clean up the skin. The carrot mask an all-around good mask for when your skin just looks beat up.
Before you use the mask, make sure that your face is clean. Use a gentle cleanser like oatmeal soap for extra softness.
RELATED ARTICLE: Clear Your Skin Without Wasting Money: DIY Pore Strip Removers That Really Work
[/nextpage] [nextpage title="…"]
The Ingredients
1 TBSP cornstarch
5 TBSP carrot juice, freshly squeezed
1 TBSP low-fat sour cream
Instructions for Making the Carrot Mask
Dissolve the cornstarch in a half a glass of water. Use room temperature water for easier mixing.
Whisk the water and cornstarch together.
Take out a small saucepan and add the cornstarch plus another 100 ml of boiling water.
Allow this mixture to thicken.
Let it cool down some.
Then add in the sour cream and the fresh carrot juice.
Mix the three ingredients together thoroughly.
Apply it to the face and leave it on your face for half an hour.
When you're ready to remove the mask, rinse it off with warm water.
Once you're done, apply a layer of moisturizer or cream to the face.
Tips for Making and Using the Carrot Mask
What if you don't own a juicer to make the carrot juice? No problem. You'll want to grate the carrots – go for organic for even better results – and drop them in the blender.
Once you've ground them up, strain them through a sieve to create the carrot juice.
Or of course, if you have a local health food store that sells fresh carrot juice, you can use that, too.
And if you feel like your skin could use some extra TLC, be sure to use the carrot mask for three days.
As an aside, remember also that if a healthy mask containing natural ingredients is good for your skin, your skin will look even healthier if you take care of it from the inside out. Be sure to eat foods with plenty of Vitamin A plus a good amount of Vitamin C, omega-3 fatty acids, and Vitamin E for the best results of all.
[/nextpage]