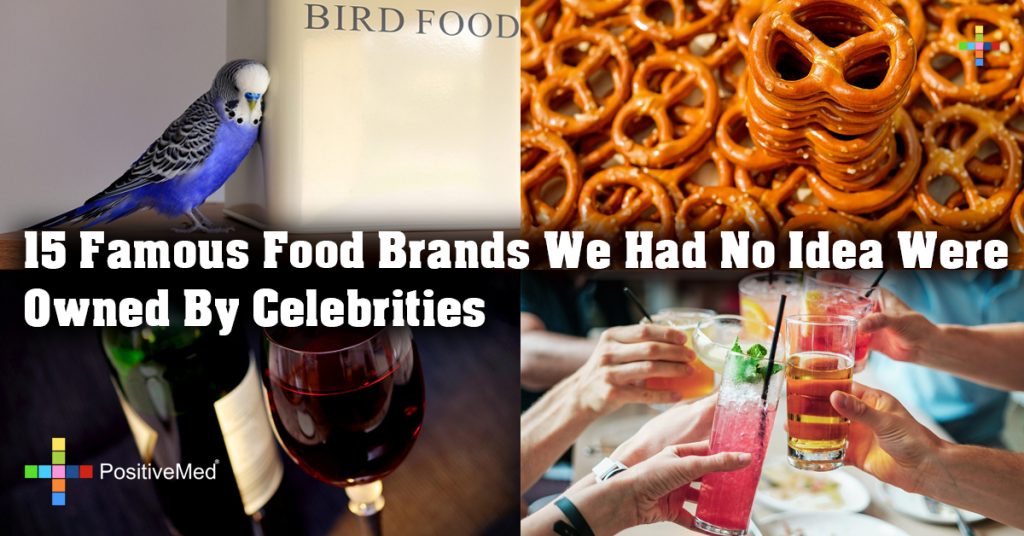 15 Famous Food Brands We Had No Idea Were Owned By Celebrities
1. Nutrish Pet Food
Rachel Ray, known for getting shown in the kitchen, caters to both humans and pets. After perfecting the best food blend, Ray released Nutrish in 2008, and since then, it has become one of the most preferred brands of pet food. While it unknown how much she invested in the company, all the proceeds from sales of Nutrish go directly to Ray's charity that rescues animals that are at-risk.
2. SkinnyGirl
Those low-calorie drinks have popped up everywhere thanks to Bethenny Frankel. As if anyone else could be more perfect to persuade us to get drunk and stay fit at the same time. While the details have not been disclosed, Frankel sold Skinny Girl to Beam Mobile in a reportedly multi-million dollar deal.
3. Pursued By Bear
Kyle Maclachlan's wine derived its name from "A Winter's Tale." keeping in the spirit, the holidays welcome this celebrity brand of wine, while others fall by the wayside and receive harsh critics. Way to go Kyle!
RELATED ARTICLE: 7 INSPIRING STORIES OF ENTREPRENEURS WHO GOT RICH LATER IN LIFE
4. Vita Coco Vita Coco is a coconut water brand, is backed by he likes of the infamous Madonna and the Red Hot Chili Peppers ' member Anthony Kiedis. Surprisingly enough, Vita Coco stands as a strong competitor against the other leading brand, ZICO, after Madonna invested $1.5 million, and sales soared 168%. Since then, both Coca-Cola and Pepsi have launched their own competitive versions, but still hold a minority stake in the market when compared to Vita Coco.
5. Armand De Brignac
Although Jay-Z is already an icon in music, he has to duplicate his success with his ownership of Armand de Brignac. As a result of a dispute concerning his original beverage, Cristal, Jay-Z invested $256 million dollars into the Armand de Brignac brand. From there, we will just have to watch to see what his next move is. With a net worth of $650 million, we can only expect more power moves.
6. Crystal Head Vodka
Badass actor, musician and entrepreneur Dan Aykroyd is the genius behind Crystal Head Vodka. Anything that will transform you into any likeness of Aykroyd is a sure winner. With a $1 million dollar investment several awards, Aykroyd has utilized that well and continues to launch special editions that receive worldwide recognition and accolades.
7. Barrymore Wines
The cute and adorable girl now grew into a respectable actress and business owner, Drew Barrymore is behind the Barrymore Wines creation, and what a journey that has been. The wines have received mixed reviews, but her Pinot Grigio earned the gold award nonetheless in France.
8. Casamigos Tequila
George Clooney. Imagine him relaxing after along day at work, preparing to take down a taste of his very own Casamigos Tequila. Actually imagine him consuming 1,000 bottles of a year. That how he stumbled into this business, true story.
9. Happy Family
This organic baby food brand owned by Demi Moore was initially a simple investment. Over the years, it grew in size and now includes healthy and nurturing foods for pregnant moms, developing toddlers and growing kids.
10. Ciroc
Our beloved Puff Daddy, now known as Diddy, became a music mogul in the late 90's and when we rang in the new millennium, he merged into other areas of business he wanted to dominate. Now the owner of Bad Boy Records, he is also the creator of the infamous vodka Ciroc, earning over $50 million dollars a year from his invest
11. WingStop
While Rick Ross may be best known as the correctional officer who converters into a hardcore rapper, he also is known for his acquisition of a chain of franchises of Wingstop in Miami, Florida. It is his hometown and his growth is just beginning, as he is contracted to purchase 24 franchises and just opened two more locations recently, And with the company having a net worth of $914 million and a 70% market share, this seems like a profitable investment for Rick Ross.
12. Miraval Rosé
Angelina Jolie and Bradd Pitt's best selling wine were introduced in 2002. Since then, the wine has sold out worldwide, with some distributors reporting waiting lists for the limited edition rose wine. This attracted Chinese counterfeiters, who began selling fake bottles of wine recently. Nonetheless, at $27 a bottle, and not to mention Brad and Angelina own the Miraval Chateau that produces the wine, Miraval Rosé continues to rank in the Top 100 wines, beating all other Rosé wines on the list.
13. Papa John's
Peyton Manning, best known a football quarterback, is also a serious businessman. With 21 Papa John franchises, he not only knows how to win the game, but how to dominate a market. While it is not clear if Peyton paid for his ownership of his 21 franchises in Denver, Co., or if they were apart of his endorsement deal, the franchise has made great strides in that area, with the legalization of marijuana in Colorado contributing to sales.
14. Auntie Anne's
Shaquille O'Neal has done it again. Just when you thought you had seen him associated with every brand possible, he strikes a deal with the grandmother of pretzels. After selling 105 Starbucks stores back to the company and made an estimated $27 million, O'Neal is now in the pretzel business. With 14 current locations and an expansion in the making, O'Neal show no signs of retiring from the food industry, he just switched from beverages to snacks.
15. Famous Famiglia Pizzeria
When traveling through the Sacramento airport, the aroma of NeNe Leake's pizzeria fills the air. This Real Housewives of Atlanta reality personality fits well with the brand. Fast, quick and oh so delicious.