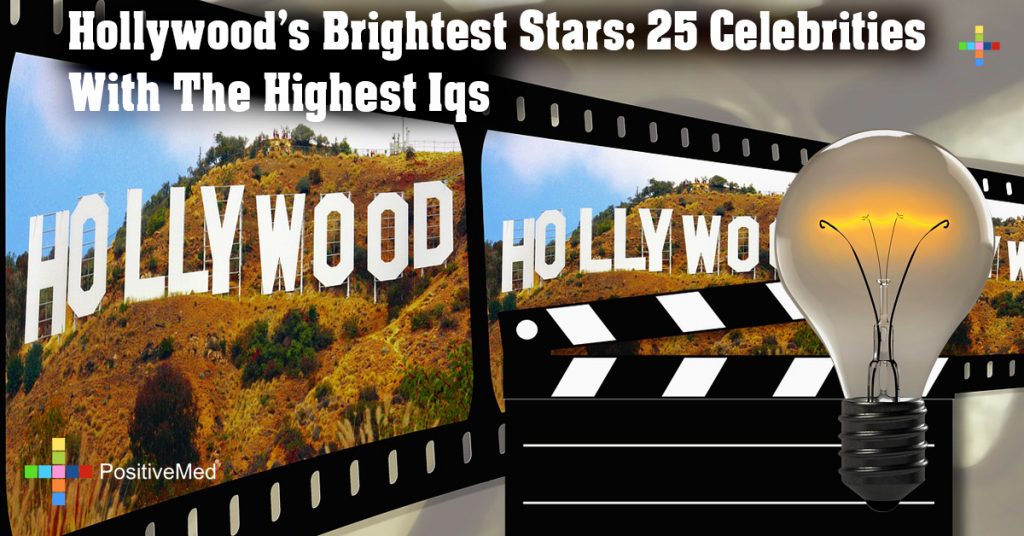 Hollywood's Brightest Stars: 25 Celebrities With The Highest IQs
The Intelligence Quotient, better known as the IQ test, was developed in 1904 by French psychologists Theodore Simon and Alfred Binet to figure out which students were at risk for falling behind in school to better help them. It focused on attention, problem solving, and memory and became the first standardized intelligence test to be used. And it is still the measuring stick for intelligence today.
Typically, though, when we think of intelligent people, scientists or mathematicians come to mind. But one may be shocked to learn that many of Hollywood's celebrities have high or genius IQs. Here is a list of twenty-five brainy stars:
James Wood – 184
To put his IQ score in context, Albert Einstein had an estimated score of 160. With the highest IQ of any celebrity on the list, Wood earned a near perfect score on his SAT and was accepted into MIT where he majored in political science
RELATED ARTICLE: 15 Celebrities Share How They Fought Their Mental Illness To Help Others Find Courage
David Duchovny – 147
Best known for his role in "The X-Files," Duchovny has a Bachelor's in English from Princeton University.
Cindy Crawford – 154
It may come as a surprise that the model graduated as valedictorian from her high school in 1984 and went on to major in chemical engineering at Northwestern University.
James Franco – 130
To date, Franco has a BA of English from UCLA, a Master's in Fine Arts from Columbia, and a PhD in English from Yale.
Ke$ha – 140
Though the singer dropped out of high school upon getting a record deal at seventeen, she earned a nearly perfect SAT score of 1500.
Ben Stein – 150 IQ
Bueller? Bueller? Actor Ben Stein is a graduate of Yale Law School and has practiced as a lawyer, in addition to being an economic adviser to Richard Nixon.
Aisha Tyler – 156
Currently the voice of Lana on the animated series Archer, she holds a degree in environmental policy from Dartmouth.
Conan O'Brien – 160
Through hard work, he graduated magna cum laude from Harvard with degrees in American History and Literature.
Alicia Keys – 154
She graduated from the Professional Performance Arts School in Manhattan valedictorian when she was just sixteen and briefly attended Columbia University before deciding to focus on her singing career.
Nolan Gould – 150
Unlike his Modern Family character Luke Dunphy, he very intelligent and even graduated from high school at the age of thirteen. Also, he is a member of Mensa International.
Rowan Atkinson – 178
Atkinson, who plays the bumbling Mr. Bean, holds a Master's of Science in Electrical Engineering from Oxford.
Tommy Lee Jones – 135
Jones' early education began at a boys' prep school and continued at Harvard. While there, he earned a degree in English in 1969.
RELATED ARTICLE: 11 Good Looking Celebrities Who Destroyed Themselves with Plastic Surgery
Ashton Kutcher – 160
Perhaps the most surprising on the list, Kutcher attended the University of Iowa for biochemical engineering before being approached by a modeling scout.
Natalie Portman – 140
Portman, who is quoted saying "I'd rather be smart than a movie star," graduated from Harvard in 2003 with a degree in psychology.
Lisa Kudrow – 160
Though she was the dim-witted Phoebe in "Friends," Kudrow has a Bachelor's of Science in Biology from Vassar University.
Sharon Stone – 154
A member of Mensa, Stone also went to the second grade at the age of five.
Madonna – 140
A genius by IQ test standards, Madonna dropped out of college to further her dancing career and worked at Dunkin Donuts to support herself.
Arnold Schwarzenegger – 135
The "governator" moved to the U.S. at the age of twenty-one, learned English during his time at the University of Wisconsin, and graduated with a BA in international marketing.
Matt Damon – 160
Damon studied English at Harvard where he penned the rough draft of what would become "Good Will Hunting."
Meryl Streep – 148
This accomplished actress has a degree in drama from the Yale School of Drama.
Quentin Tarantino – 160
Despite his high IQ and success, cult-classic director Tarantino admits to never liking school and learning to make movies from watching them.
Mayim Bialik – 150
Much like her "Big Bang Theory" character Amy Farrah-Fowler, she has a degree in neuroscience.
Reggie Jackson – 160
A baseball Hall-of-Famer, Jackson attended Arizona State University after high school.
Emma Watson – 138
The "Harry Potter" star has a degree in English Literature from Brown and is currently the United Nation's Goodwill Ambassador for Women.
Nicole Kidman – 132
The daughter of a psychologist and nursing instructor, Nicole Kidman always displayed intelligence, even attending the Victorian College of the Arts in Melbourne.
RELATED ARTICLE: 10 Hottest African American Women Of 2015
With the average IQ being ninety-eight, these celebrities are gifted with not only with talent, but intelligence. However, it took hard work and dedication to allow them to get where they are in their career. And a bit of luck didn't hurt, either.