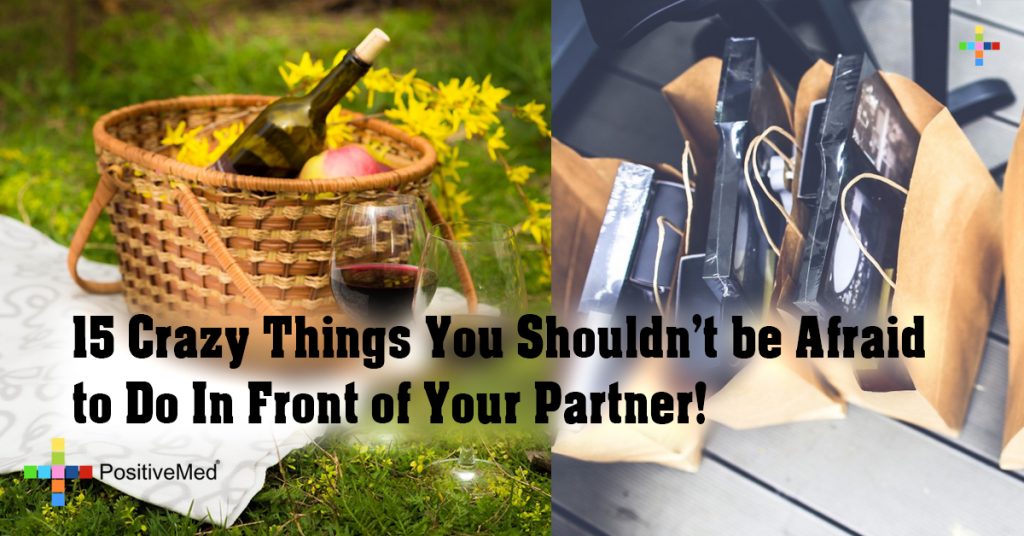 15 Crazy Things You Shouldn't be Afraid to Do In Front of Your Partner!
Marriage is like a wood stove. In order to make the heat, you have to feed the fire. Sometimes you forget to throw on the logs and the fire all but goes out. Your first thought is to quickly toss a few logs on top. This is usually a bad idea as the logs just smother the eluding embers. Just like a fire needs fuel and stokin, so does a marriage.
Everyone starts out with his or her own idea of how it's going to be; lollipops and roses, couples massages, romantic dinners, and then more times than not, marriage laughs in your face and writes you a ransom note. Who is being kidnapped? You. You have forgotten who you were before the blessed union. The dynamic duo is now fused and furious, begging to remember what it was like before the tying of the knot. Life got messy and so did your partner. You're wondering how to get that flame back.
Here are 15 crazy things you should do to get back that loving feeling:
1.
GO PARKING.
Remember how sweet is was as teenagers pulling off the road into that wooded lot with beating hearts and sweaty palms? The anticipation was almost as exciting as the kissing. Take your wife out for a romantic dinner and surprise her with an unexpected "roadside rest."
2.
VIDEO YOURSELVES SINGING TO EACH OTHER
. This may sound silly and maybe not all that crazy, but for those of us who cannot sing or who may be a little on the shy side, this is truly exciting and uplifting. Post it on Facebook or Instagram and read the comments your friends share. It is a wonderful surprise to see just how funny and cute your friends think you are.
3.
GO SKINNY DIPPING.
The vision of your partner's private places being sprinkled with "moon shine" in usually enough to get the juices flowing again.
RELATED ARTICLE: TOP 5 RELATIONSHIP SECRETS FROM COUPLES WHO MANAGED TO STAY TOGETHER FOR OVER 40 YEARS
4.
DURING A FIGHT, GRAB HER FACE
. No I didn't mean to smack or hit her face, that's just crazy. Be the one to end the fight by surprising her with a sweet face embrace. Hold her face in your hands and look deep into her eyes. She'll melt like butter.
5.
TEST DRIVE A CAR YOU CAN'T AFFORD
. So what if you know you cannot afford it. That young whipper snapper sales guy doesn't know it. Get in, drive, laugh, and dream…
6.
GO CLOTHES SHOPPING TOGETHER
. Let him pick out an outfit or two for you and have him watch you as change. Make it a little more racy than the Pretty Woman shopping scene.
7.
TEXT NAKED PHOTOS OF YOURSELF TO YOUR SPOUSE
. This is totally exciting. No need to say more.
8.
NUDIE MOVIE NIGHT.
Consider having your partner find you naked at home in the living room after work with a bottle of red and the perfect romantic movie. Popcorn optional.
9.
GET A PEDICURE AND MANICURE TOGETHER
. Thinking this sounds a little light in the loafers perhaps? Actually, men often realize they have been missing out on a wonderful way to relax. After the pampering, head home and prop up those tootsies and enjoy each other's softness.
10.
TAKE A SHOWER OR BATH TOGETHER
. Washcloths, exfoliants, back scratchers, and a little suds can turn on the stimulation you have been missing.
11.
WATCH HER PUT ON HER MAKE UP
. This is just as stimulating for her as it is for him. Knowing he is watching and admiring as you do your every day routines shows new interest that you may not have paid attention to before.
12. SURPRISE HIM OR HER AT WORK WITH A ROOT BEER FLOAT. Don't like root beer you say? You get the idea…find something yummy you know the other likes and surprise him or her with it.
RELATED ARTICLE: 8 Things You Only Learn About Your Partner By Traveling Together
13.
BUY SATIN SHEETS.
You haven't lived until you have satined your bed. Your body with thank you and so will your partner.
14.
TAKE A PHOTO SHOOT OF YOUR PARTNER.
Decide to pick up your partner from work, blindfold him or her and drive to a remote field,
stream, or abandoned building. Let your imagination take you there…
15.
DANCE IN A RESTAURANT.
Make the rest of the place ooh and ah over your impromptu slow dance.
Sometimes it takes a little outside the box thinking to put the heat back in the relationship. One woman's "crazy" is another man's "oh baby"!