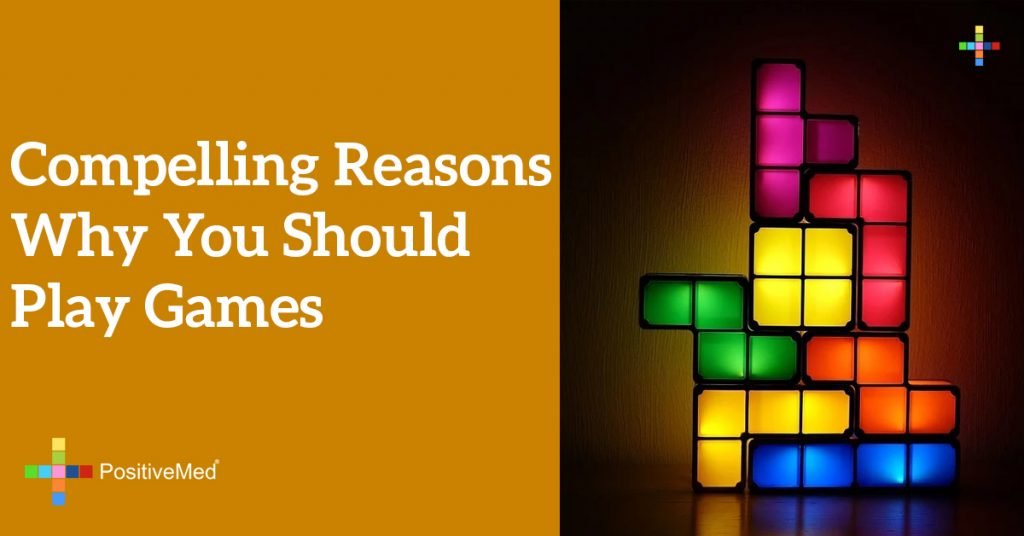 Compelling Reasons Why You Should Play Games
Games have come a long way since arcades first hit the market. Now they are more refined, accessible and in some cases, more complicated. Most importantly, they have thrown off the shell of being primarily referred to as time wasters. This piece takes a look at some of the reasons why you should play video games.
1 Games make doctors better at their jobs
A study on small incision specialists found that gamers who played games for 3 hours a week made 32% less mistakes in practice procedures when compared to their counterparts that didn't play any games.
2 Games can help fight cravings
Players that are battling with alcoholism and smoking may find themselves reaching for a controller instead of a cigarette or a bottle of alcohol. Recent reports say playing Tetris can help stop cravings for food, drugs and other addictive behaviours and there are many other titles that can induce that effect.
3 Games requiring focus helps people with dyslexia
Most action games feature constantly changing environments and therefore require a good dose of concentration. The same can be said of online slots games like those on some of the sites covered here on luckyadmiral. These games help fight dyslexia because according to scientists, playing such games offers focus on training with counters attention difficulties which is the key component of dyslexia.
RELATED ARTICLE: Can't Resist Sweets And Bread Cravings? Here's The Reason
4 Games can improve sight
When played in moderation, games can improve sight instead of strain it like you were led to believe while growing up. A study showed that regular players were able to see different shades of grey that didn't exist to non-gaming participants.
5 Gaming can help you in your career
Most popular genre of games centres on ensuring safety for your community, stocking up on provisions, claiming new territories etc. Researchers have since established the fact that some of the players can display a correlating motivation when faced with real life challenges in the career. The improvising feature in games can therefore make you think faster on your feet when an office problem arises.
6 Games can counter pain
One of the simplest methods of countering pain is to distract the body from it or focusing on other body mechanisms but apart from that playing games can actually act as an analgesic in the body's higher cortical system. This is especially the fact with more immersive games. It is the reason why virtual reality systems can become very prevalent in hospitals in the near future.
7 Games make kids get active
Only a handful of games require you to use the whole body during interactions but even those that only require a simple handheld controller can push children to become more physical. Sport games like tennis and basketball encourage players to try some of the skills outdoors.
8 Games may improve balance in sufferers of MS
MS is a disorder that affects multiple nerves causing the sufferers to have problems with balance. Till date, no medications have conclusively proven to be a trustworthy remedy. Interestingly however, there is research stating that MS patients that played games requiring physical interaction while on a balance board were able to display improvement in the end.
9 Gaming helps create new social connections
Gamers are sometimes referred to as being isolated from real life but this is no longer the case. MMORPGs have thrown off that generalisation. Gamers can now socialise with players from around the globe. You also have to take a look at the rising popularity of eSports and the crowds that gather for events in that category to see that gamers today can now meet more people than non-gamers.
10 Games can help you make decisions faster
You must have seen someone that somehow seems to think faster than normal people. They are able to retrieve information very fast. For many, that ability can only be improved on through gaming. Gamers adapt more quickly because new information is constantly being displayed. A recent study showed that gamers responded 25% faster to questions regarding an image that they had just seen when compared to non-players.
11 Games can reduce stress
RELATED ARTICLE: A Specific Supplement That Reduces Anxiety and Stress
Some games get very stressful especially when you see your character dying many times but for some other games, the opposite is true. A study that tracked gamers over a period of six months showed that specific titles led to 50% reduction in adrenaline response for them.
With these benefits, you now have more reasons to embrace you favourite game titles!
---
Disclosure Policy:
This blog is a collaborative blog written by a group of individuals. This blog accepts forms of cash advertising, sponsorship, paid insertions or other forms of compensation. The compensation received may influence the advertising content, topics or posts made in this blog. That content, advertising space or post may not always be identified as paid or sponsored content. The owner(s) of this blog is compensated to provide opinion on products, services, websites and various other topics. Even though the owner(s) of this blog receives compensation for our posts or advertisements, we always give our honest opinions, findings, beliefs, or experiences on those topics or products. The views and opinions expressed on this blog are purely the bloggers' own. Any product claim, statistic, quote or other representation about a product or service should be verified with the manufacturer, provider or party in question. This blog does contain content which might present a conflict of interest. This content will always be identified.