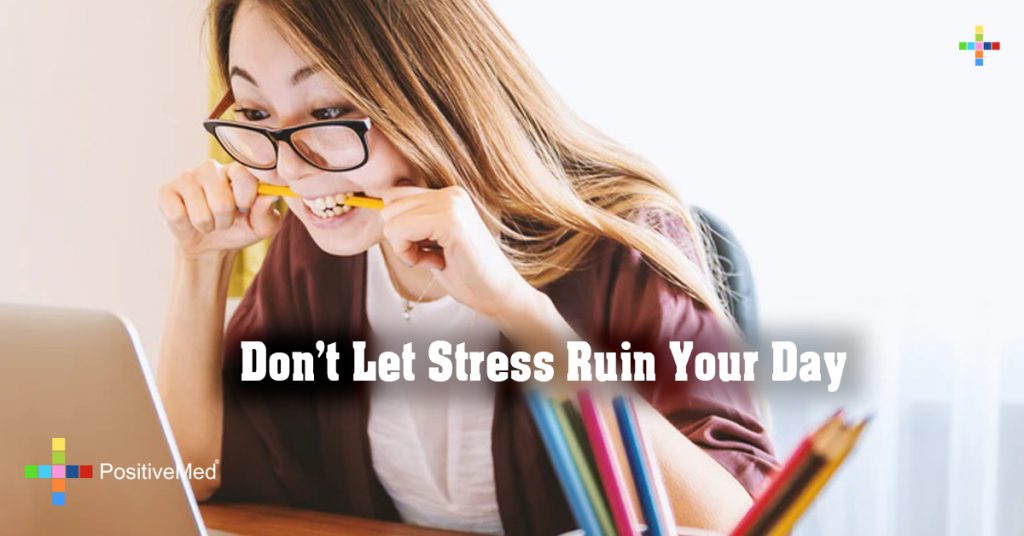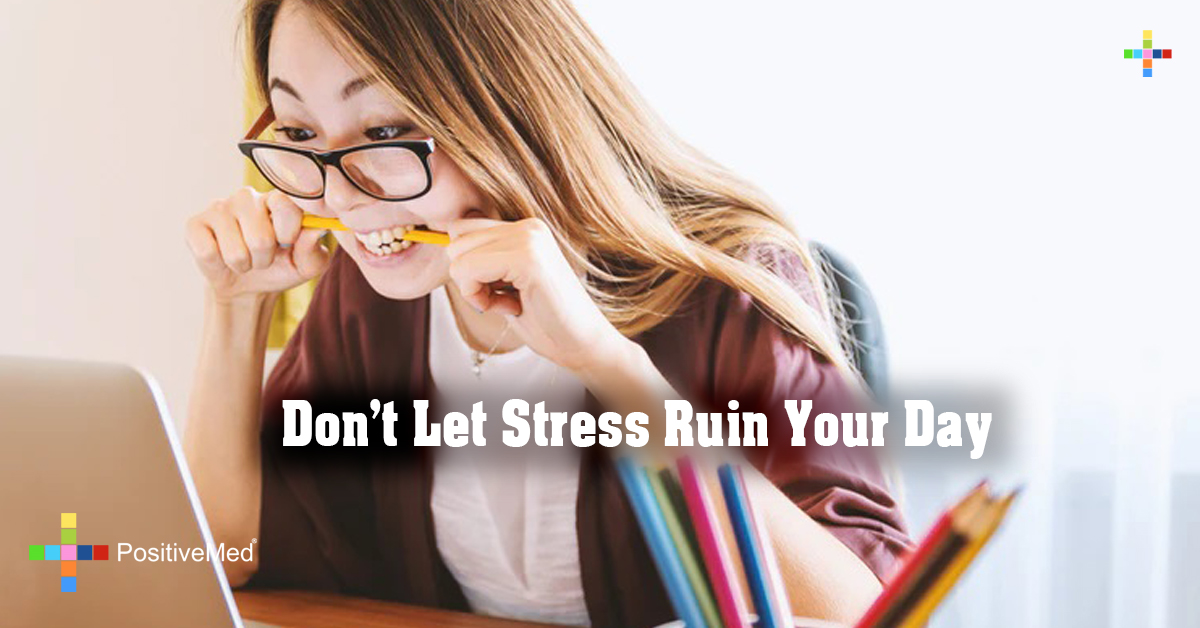 [nextpage title="…"]
Don't Let Stress Ruin Your Day
Life can be complicated, and it's easy to let the pressures of daily living feel like a heavy weight on your shoulders that you can't escape. We all know what stress feels like, and it doesn't feel good.
Stress is dangerous, more so than most people realize. Doctors and therapists know that most problems, both physical and mental can be tied to stressful situations that can be short lived or ongoing.
People get stressed for a variety of reasons. Whether it's work stress that gets you tied up in knots, or relationship stress from arguing with your partner at home-or even just having to face the continuous demands of growing children-we all need a little rest and relaxation every day. The problem is, that most people don't take care of stress when it happens. For one reason or another, they decide that they don't have time to slow down.They fail to recognize the signs of stress at a point when they could get relief from it and let it fade away.
RELATED ARTICLE: This Common Herb Is Nature's Solution To Stress
The buildup of stress, no matter how it happens, could ultimately lead to a compromised immune system or poor health, manifesting in things like obesity, minor illnesses to more serious health conditions like stomach ulcers, stroke, asthma, diabetes and heart disease, sleep problems or disorders, depression, brief episodes of emotional imbalance, or long term serious psychological problems. Chronic, untreated stress is often attributed to serious medical conditions such as heart attacks.
So what happens to you, when you become stressed?
Physical effects
Being in a stressful situation triggers immediate chemical changes in your brain. Neurotransmitters like dopamine, epinephrine and norepinephrine start building up. Hormones like adrenaline start spiking and you get those feelings that you want to fight or get away from the situation.
Then, the release of chemicals causes physical effects like rapid heart rate, and raised blood pressure. You feel stress in various ways like muscle tension, headaches, and stomach aches. Stress can disrupt your normal bodily processes like digestion and respiration, causing nausea, pain, vomiting, heartburn, constipation, acid reflux and diarrhea.
RELATED ARTICLE: 5 Exercises for Anxiety and Stress Relief
Emotional effects
There are also many unnatural emotional effects that are caused by stress. Among them are mood changes, anxiety, phobias, panic attacks, irritability, frustration, anger, impatience, and feelings of insecurity. And these emotional imbalances can cause serious concerns in your work situation, by reducing productivity or causing you to miss work, or at home by ruining your relationships with your partner, your friends, and your family, including your children.
[/nextpage] [nextpage title="…"]
Stress affects every part of your life, so it is important to keep a close eye on it, and do what you can to keep it at a minimum. The old expression "serious as a heart attack" seems really appropriate here.
RELATED ARTICLE: 5 Things to Do to Help Your Partner with Social Anxiety!
What do people do about stress?
Stress has become so common in our society that there are many practices and therapies that have been developed by professional medical practitioners to help reduce it. Some of the most common ways are:
physical activity

yoga

meditation

massage

church groups
One way that people deal with stress (and also have fun) is by engaging in physical activities, like working out, playing on a baseball team, doing aerobics, running, swimming, biking, hiking, etc. And some individuals choose something more challenging, like bodybuilding, or participating in athletic events or competitions like marathons and triathlons is another way that people relieve stress. A new approach to yoga, hot yoga or Bikram yoga, has become very popular around the country. Yoga is a Hindu practice that focuses on breathing control, stretching, physical postures and meditation for physical conditioning and stress relief.
Meditation is widely taught and used to help individuals deal with stress on a spiritual level. It teaches people to focus inward, to relax and practice self-compassion and non-judgment. Meditation works on removing distractions by placing emphasis on breathing, concentration, clarity and calmness
Massage is a very popular way of treating stress through the relief of muscle tension, especially for short term acute stress. Studies show that even one half-hour massage session can lower heart rate, insulin and cortizone levels. Research shows that massage helps to relax muscles, increase production of endorphins (feel-good hormones) in your brain, and to lower blood pressure.
Church groups and community organizations spend lots of time assisting those who suffer from stress through various services and activities. Members of church groups generally address the topic of stress by emphasizing the individual's relationship to their Creator, and using prayer, religious studies, group therapy and meditation to help people find relief.
Simpler methods of fighting stress
Other ways to deal with stress can be more simplified, like just getting more rest every day, or taking a few days off work. Some people take short trips out of town to escape the pressures. Sitting by a lake or stream is an especially effective way to unwind.
Another idea is to get creative and make your home environment more stress free, like cultivating a garden, or designing a patio with a water fountain that is surrounded by plants and trees. There is something therapeutic about the sound of falling water; it has a calming effect on most people, allowing them to feel better and less stressed.
Or, you could create a peaceful place in your home that is set aside as a quiet room where you can take time to relax by reading or listening to your favorite kind of music, which is also one of the most effective ways to get away from it all. You can also purchase various kinds of DVDs of nature and forest sounds on them, which are created specifically to help people relax.
You can also find simple stress relief outside your home by going out to dinner or to a concert or movie. Spending time with friends and getting involved in something else, helps you stop thinking about whatever is bothering you.
RELATED ARTICLE: 10 Effective And Fast Ways To Relieve Stress In 5 Minutes Or Less
Whatever you do, it is always a good idea to always stay connected to your inner self, and monitor how you feel every day. Then when stress happens, you are aware of the signs of it and ready to do what is necessary to let it go. It is important to remember that you must first take care of your own health issues, so you can be better able to care for the people around you.
About author: Karen Bresnahan is a writer, photographer and artist from Boise, Idaho. She is published as a feature writer and photographer for the Valley News in Meridian, ID, and the Owyhee Avalanche in Homedale, ID.
Karen Bresnahan is a writer, photographer and artist from Boise, Idaho. She is published as a feature writer and photographer for the Valley News in Meridian, ID, and the Owyhee Avalanche in Homedale, ID. She currently works as a freelance writer and occasionally writes about stress relief products.
Karen is a small business owner and is currently working on developing a web portfolio of her creative work, which includes Romantic Idaho Weddings, KBLifelines positive quotes, and Idaho Naturals Desertscapes artworks. She was born and raised in Idaho and is the mother of 3 grown children. Her goal is to motivate, educate and inspire others through her writing and photography. You can connect with her through email at [email protected]
or on twitter @idaho1111
---
Disclosure Policy:
This blog is a collaborative blog written by a group of individuals. This blog accepts forms of cash advertising, sponsorship, paid insertions or other forms of compensation. The compensation received may influence the advertising content, topics or posts made in this blog. That content, advertising space or post may not always be identified as paid or sponsored content. The owner(s) of this blog is compensated to provide opinion on products, services, websites and various other topics. Even though the owner(s) of this blog receives compensation for our posts or advertisements, we always give our honest opinions, findings, beliefs, or experiences on those topics or products. The views and opinions expressed on this blog are purely the bloggers' own. Any product claim, statistic, quote or other representation about a product or service should be verified with the manufacturer, provider or party in question. This blog does contain content which might present a conflict of interest. This content will always be identified.
[/nextpage]