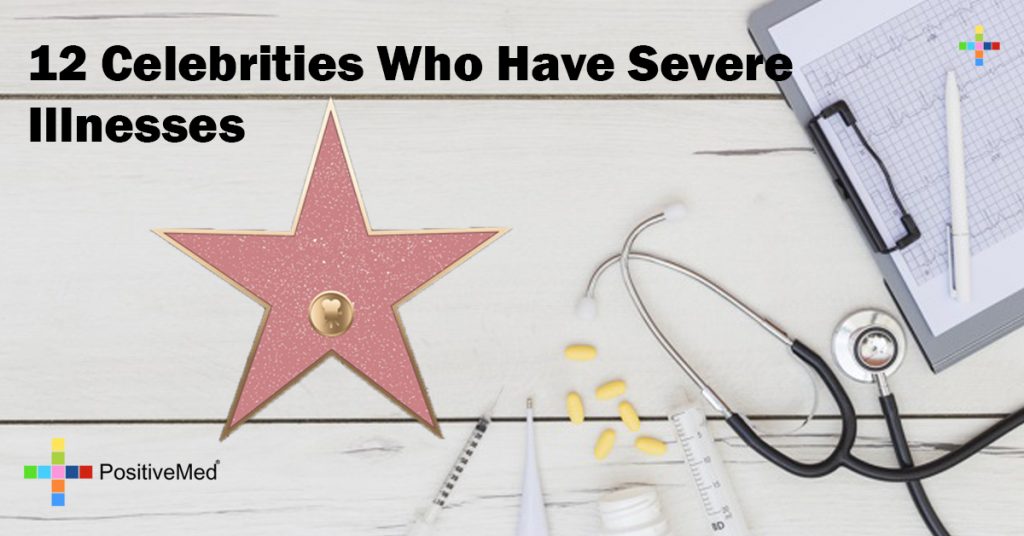 12 Celebrities Who Have Severe Illnesses
[nextpage title="…"]
We often look up to celebs to the point that there are no longer viewed as human but the truth is they are just like the rest of us; And just as with many things in life, chronic diseases do not discriminate against the rich and famous. The 12 celebrities on this list courageously fight with health challenges they face everyday.
Tony Braxton
The Grammy Award winning singer was diagnosed with systemic lupus erythematosus (SLE), a potentially life-threatening inflammatory disease at only 15 years of age. Lupus is a chronic autoimmune disease that may affect many parts of the body, such as skin, heart, kidneys, lungs, joints and nervous system. Her brother also suffers from this condition. Her uncle has already lost his life from this brutal disease.
Lupus What's it? Signs and Symptoms
Prince
The famous singer has suffered from seizures since he was was a child. He revealed in a 2009 interview, that he was born with epilepsy and that his "mother and father didn't know what to do or how to handle it but they did the best they could with what little they had."
10 Things You Should Know About Epilepsy
Alec Baldwin
Alec Baldwin announced his suffering from chronic lyme disease in 2011 when speaking to the New York Times. Lyme disease is a bacterial infection that can be spread through the bite of a tick. Talk to your doctor if you think a tick may have bitten you.
Morgan Freeman
Freeman went public with his diagnosis of fibromyalgia in 2013. His symptoms include "excruciating pain up and down the arm." Fibromyalgia is a condition in which a person has chronic pain and tenderness in the joints, muscles, tendons, and other tissues. Between 3-6 million people in the United States alone suffer from Fibromyalgia, and doctors are still not sure what causes it.
Fibromyalgia Causes and Treatments
Cher
The famous single was diagnosed with Myalgic encephalomyelitis (ME)/chronic fatigue syndrome (CFS) in 1991. ME/CFS is a severe illness that refers to severe, continued tiredness that is not relieved by rest and is not directly caused by other medical conditions. This condition can lead to symptoms that affect the brain and gastrointestinal, immune, and cardiac systems.
How To Treat Chronic Fatigue Naturally
Tom Hanks
The famous Hollywood actor, producer and writer has been living with diabetes type 2 since the age of 36. Type 2 diabetes usually shows up in adults. In this more common type of diabetes the body's sugar and insulin levels are out of normal range. You may be producing excessive insulin because your body has developed a resistance to it, or the insulin is not getting to the places where it's most needed to deal with blood sugar.
Diabetes Symptoms and Treatments
Catherine Zeta Jones
The Welsh actress who has won Academy, Screen Actors and BAFTA awards suffers from bipolar disorder. Bipolar disorder is a brain disorder marked by bouts of extreme and impairing changes in mood, thinking, and behavior.
[/nextpage] [nextpage title="…"]
In April 2011, Catherine checking herself into Silver Hill Hospital in New Canaan, Connecticut and sought treatment for bipolar II disorder.
Bipolar Disorder Signs and Symptoms
Jack Osborne
Best known as the son of Black Sabbath rocker, Ozzy Osborne, Jack announced in June 2012, that he had been diagnosed with relapsing-remitting multiple sclerosis.
Multiple sclerosis, more commonly known as MS, is a central nervous system disease that impacts the brain, spinal cord, and optic nerves. MS may be severe or mild. In severe cases of MS the patient might become paralyzed while in mild cases limbs may become numb.
Symptoms of Multiple Sclerosis (MS)
Lil Wayne
The rapper was diagnosed with epilepsy and hospitalized for close to a week after three consecutive seizures. The attacks come on without any warning: "No warning, no nothing I don't feel sick. I get headaches real bad. And the headaches? I didn't get no headaches or nothing," he told MTV News correspondent Sway Calloway in May. "I go to sleep and wake up in the hospital. I don't feel anything."
10 Things You Should Know About Epilepsy
Robin Roberts
The Good Morning America co-anchor was diagnosed with breast cancer in 2007 and myelodysplastic syndrome, a rare blood-related disorder in 2012. This chronic disease affects the production of some forms of blood cells, known as myeloid cells.
Kim Kardashian
Kim Kardashian was diagnosed with psoriasis in 2011. Psoriasis is a common skin disease that affects the life cycle of skin cells. Psoriasis causes cells to build up rapidly on the surface of the skin, forming thick silvery scales and itchy, dry, red patches that are sometimes painful. According to the National Psoriasis Foundation, psoriasis affects 7.5 million people in the United States alone.
LeAnn Rimes (Two-time Grammy-winning singer) and CariDee English (winner of America's Next Top Model) are other celebrities who suffer from this condition.
9 Natural treatments for Psoriasis
Halle Berry
At the young age of 22, Hollywood star Halle Berry was diagnosed with diabetes and even went into a diabetic coma for a week.
"Diabetes caught me completely off guard," she says.
"None of my family had suffered from the illness and although I was slightly overweight in school, I thought I was pretty healthy."
Diabetes Symptoms and Treatments
[/nextpage]