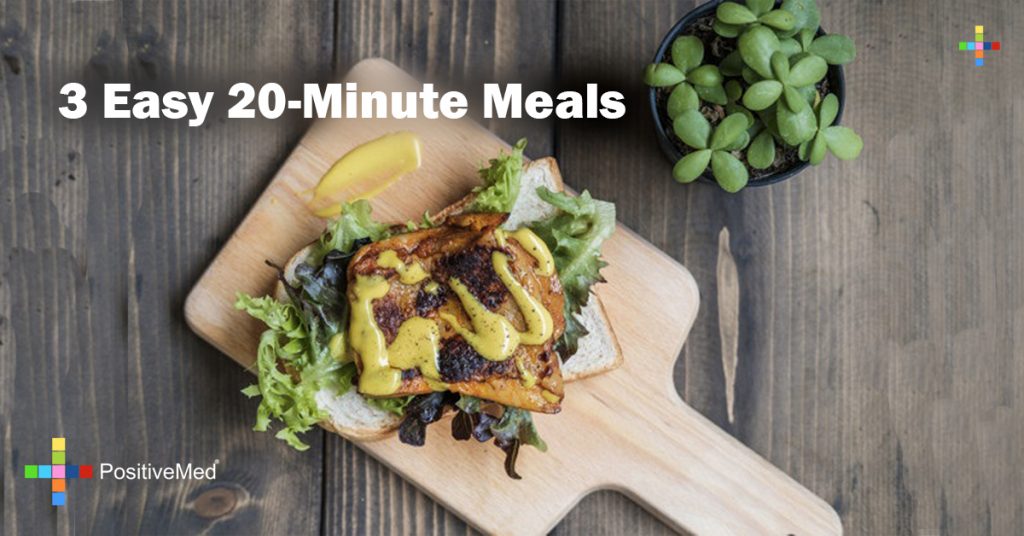 Feeling like you don't have much time for … anything? Don't include meals into things to let go off! What you eat is truly very important for you and your family's health. Bring the family dinner back! We found some extremely easy and quick dinner recipes so you can eat well no matter what's going on. These recipes are 2 servings, but can easily be doubled, or even tripled. Enjoy!
Rosemary and Arugula -Mustard Chicken

Ingredients
• 2 4 ounce chicken breasts (skinless, boneless)
• 1/2 cup white wine
• 1 tablespoon fresh rosemary or 1/2 teaspoon dried rosemary
• 2 large handfuls baby arugula
• 2 tablespoons whole-grain mustard
• Salt and pepper
• Cooking spray
Spray a nonstick pan with cooking spray. Sauté chicken over medium-high heat until browned, 2 to 3 minutes per side. Deglaze pan with white wine; stir in rosemary and mustard then reduce heat; simmer 5 minutes. Add the arugula to a platter and drizzle very lightly with olive oil. Serve together and season with salt and pepper to taste.
Lemon-Caraway and Basil Salmon
Ingredients
• 1/2 teaspoon caraway seeds
• 2 6 ounces salmon fillets
• 2 teaspoons olive oil
• 1 teaspoon butter
• Handful of basil
• 1 lemon
Press 1/4 tsp. caraway seeds into each fillet. Rub oil in a heavy skillet, then heat skillet to high heat. Saute fillets for 3 minutes per side. Add basil on top and serve.
Tofu with spinach, shallots & avocado
Ingredients
• 1 teaspoon sesame oil
• 3 tablespoons sliced shallots
• 1/3 cup cubed extra-firm tofu
• 2 teaspoons grated fresh ginger
• 1 1/4 cups spinach
• 1 tablespoon light soy sauce
• Cooked soba noodles
• 1 avocado
Heat oil in a nonstick skillet and add shallots; cook for 3 minutes then add tofu and ginger; cook, stirring frequently, 3 to 5 minutes. Stir in spinach and soy sauce; cook until spinach is just wilted. Then drop with noodles and add the sliced avocado.