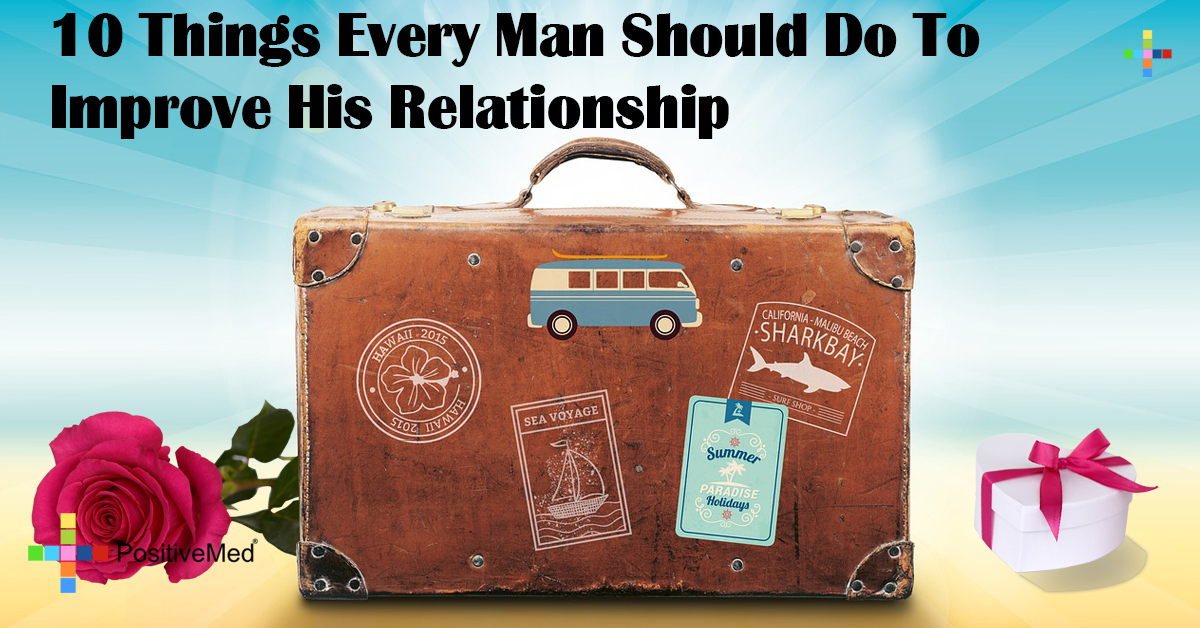 10 Things Every Man Should Do To Improve His Relationship
[nextpage title="…"]
Any romantic relationship that begins consists of two people who are attracted to one another both physically and emotionally. The man has an important role in the relationship and often leads the direction that it heads towards when working as a team. For men who want a stronger bond with their significant other, there are a few ways he can improve his relationship and allow it to thrive long-term.
1. Listen
Women want to be heard, whether they're making small talk or are addressing concerns that they have in the relationship. It's important to listen to her needs and give her attention when she talks to show her that you care. Ask her questions and bring up small details in the future to show her that you listen to what she says.
2. Avoid the Blame
According to www.netdoctor.co.uk, it's important to avoid blaming your significant other for issues that you may be working on in your relationship. Take your share of responsibility and avoid pointing the finger, which can cause her to become defensive.
3. Plan Surprises
It's important to keep the romance alive in the relationship by bringing home flowers, taking her on surprise trips, and showing your how much you love her with unexpected gestures that will sweep her off her feet. The thought that you put into the relationship will show her that you want to continue impressing her and allowing her to feel loved.
4. Set Goals
As a man, it's important to lead the relationship by setting goals for both you and your partner. This means taking the first step when it comes to saying, "I love you," being the first one to bring up the topic of marriage, and setting financial goals together to ensure that you succeed.
[/nextpage] [nextpage title="…"]
5. Encourage Your Significant Other
Make it a point to compliment your significant other on a routine basis by expressing what you specifically love about her. This includes encouraging her with her strengths with her hard work ethic, her love of adventure, and her good looks. Speaking kind and encouraging words to her will allow her to feel empowered and will help her to feel more confident in who she is as a woman.
RELATED ARTICLE: 11 Things Man Should Do Consistently To Make His Wife Happy
6. Improve Communication
Women are naturally better communicators than men and are known to talk more with both their girlfriends and their significant other. It's important to improve your communication by expressing your feelings, sharing your day's activities, and asking her questions about her own day to strengthen your bond and connection with one another.
7. Remain Present
When you spend time with the woman you love, it can be easy to allow your mind to drift to other places when you're deep in thought or are distracted. It's important to remain present, which will show that you care about your partner and are invested in the relationship when you spend time together.
8. Tell Her She's Beautiful
Every woman wants to be told that they're beautiful at any age, which allows them to feel appreciated and confident with their appearance. Make it a point to compliment her on her looks when she dresses up for you or even if she's lounging around the house in her pajamas.
9. Practice Acts of Service
According to time.com, it's important to make grand gestures that you shows you enjoy serving your partner. This can include brewing her a cup of coffee or picking up her dry cleaning to help her in life and show that you care.
10. Be Sensitive
It can be normal for women to be more emotional than men, which is why it's important to remain sensitive to your loved one's feelings. Whether she's had a bad day or is experiencing anxiety, remain sensitive with how you interact with her. She'll take notice of your gentle care and demeanor, which will allow her to feel safe in the relationship.
[/nextpage]